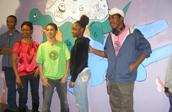 Teen Classes - Spring 2020
March 30, 2020 - June 20, 2020
Teen Project Studio
Instructor(s): TBA
Time: Tuesdays and Thursdays, 4:30 - 6:30 PM
Location: BRAC - 3-D Studio (4th Floor)
Ages: 15 - 26
Fee: $0
Teen Project Studio + 2.0 is an intensive, 10-week, digital and fine arts program for teens and young adults ages 15-26. This free program is limited to 15 students and is available by application only. TPS+2.0 is a unique opportunity to experience and learn about the visual arts & creative industries in an interactive and challenging way. It is also an opportunity to meet other teens with similar eagerness to learn and create.
Please click HERE to fill out our application form and submit by the due date of March 25, 2020. Successful applicants will need to be interviewed at BRAC in order to attend this once in a life time opportunity.
---
Advanced Painting
Instructor(s): Joel Adas
Time: Saturdays, 2pm-4pm
Location: BRAC - 2-D Studio (4th Floor)
Ages: 20 - 85
Fee: $120
Painting and Drawing for Adults: Collage in Many Forms
We will take an artistic tour through the history of collage, with it's beginnings with Picasso and Braque. We will study surreal photo collages, Matisse's late work in the medium, and on to Donald Baechler's contemporary works.
---
Cartooning
Instructor(s): Segun Braithwaith
Time: Tuesdays, 4:30pm - 6:30pm
Location: BRAC - 2-D Studio (4th Floor)
Ages: 11 - 15
Fee: $95
Sequential Art
How are Comics and Manga made? How can you create your very own? In this course, students will develop an original short comic story featuring their very own characters! Students will learn about lettering their stories, drawing backgrounds efficiently and effectively using perspective, as well as creating dynamic compositions. Work will be hand drawn with pencil and ink, students seeking additional challenge can add color to their work and will be guided on how to select colors that "pop"! Past BRAC Cartooning students will find this series as "the next step" in their development. Beginners with a strong interest in comics, cartoons, and art are welcome!
---
Ceramics
Instructor(s): Ana Ruiz-Castillo
Time: Saturdays, 2 - 4 PM
Location: BRAC - 3-D Studio (4th Floor)
Ages: 20 - 85
Fee: $120
We will build upon the basics of ceramics with an emphasis on the creative use of clay to produce a unique body of your own work. Participants will be guided to expand their creative ceramics skills while creating uniquely formed objects such as vases, boxes, cups, pots, realistic and abstract sculptures. Students will continue perfecting their different modeling techniques such as pinching, coiling, slabs and glazing, with a basic introduction to the potters wheel. Emphasis will be on working on independent project goals.
---
Digital Illustration
Instructor(s): Maria Ferrari
Time: Wednesdays, 4:30-6:30
Location: BRAC - Computer Lab (2nd Floor)
Ages: 11 - 16
Fee: $95
Learn Photoshop - Create Great Art
Photoshop skills and knowledge provide great creative possibilities.In this class we will work on projects that will incorporate Photoshop tools & techniques that will serve students well as they progress into higher education and beyond. This class teaches basic skills and good work habits that are essential to mastering Photoshop – skills that will prepare for a lifetime of creating digital art with ease. This class will be both fun and valuable – lessons learned will enable students to build portfolios suitable for high school submissions or college applications. At the end of the course each student will be able to exhibit prints of their work.
---
Digital Photography 102
Instructor(s): Hosea Johnson
Time: Saturdays, 11:00AM-1:00PM
Location: BRAC - Computer Lab (2nd Floor)
Ages: 14 - 85
Fee: $120
Digital Photography 102
This course will emphasize studio photography and natural light photography. Students will be encouraged to study commercial still life and portrait photography. Techniques like Natural light, fill light, flash fill, meter reading, color balance, professional strobe and continuous light source equipment use will be covered. This course will cover the basic concepts and practice of digital photography, including understanding the history and use of the camera, lenses, and other basic, light meter, photographic equipment. This course will use Photoshop for editing. The course will address aesthetic principles as they relate to composition, space, exposure, light and color. Technological requirements of digital formats will be addressed, such as file types and resolution. Basic digital manipulations of images will be taught in preparation for creating a photo portfolio of images.
---
Drawing
Instructor(s): Tiffany Miller
Time: Mondays, 4:30-6:30 PM
Location: BRAC - 2-D Studio (4th Floor)
Ages: 6 - 12
Fee: $95
Learn To Draw By Drawing
Drawing is one of the oldest forms of communication and storytelling. Discover the beauty, magic and power of this artistic discipline in a relaxed, supportive environment. Learn to express your own personal visions, ideas and observations. Draw with charcoal, graphite pencils, colored pencils, markers, pastels, paint, etc. Draw from life, imagination, reference materials and class exercises. All levels are welcome.
---
Registration Information:
Fee Information:
Please note: It is a first come, first serve policy. Reserve your spot as soon as possible!
Click HERE to Register online at https://bracbx.eventbrite.com
All fees must be paid in full at the time of registration.
Or contact us at info@bronxriverart.org or call 718.589.5819
Cancellation Policy If a class does not meet capacity, it may be canceled, in which case students will have the option to either take another class or receive a full refund.
Unless otherwise noted, all classes include materials and use of professional equipment.