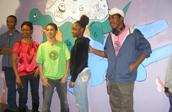 Teen Classes - Summer 2019
July 8, 2019 - August 10, 2019
Teen Project Studio
Instructor(s): Art Jones
Time: Tuesdays and Thursdays, 2pm - 4pm
Location: BRAC - Computer Lab (2nd Floor)
Ages: 15 - 26
Fee: $0
Teen Project Studio + 2.0 is an intensive, five-week, digital and fine arts program for teens and young adults ages 14 -26. This free program is limited to 15 students. TPS is a unique opportunity to experience and learn about the visual arts & creative industries in an interactive and challenging way. It is also an opportunity to meet other teens with similar eagerness to learn and create.
From July 9 to August 10, students will meet Tuesdays and Thursdays from 2-4pm, at the Bronx River Art Center located at 1087 East Tremont Ave, Bronx NY, 10460. There will also be 2 field trips to art exhibitions and cultural events.
Working with 3-D Design and sculptural fabrication, participants will have the opportunity to bring their own public bench designs to life for a private seating area along the Bronx River commissioned by the McInnis Cement Company.
It's free to participate, but you must complete our application form. Please fill out, scan, and email to mbrody@bronxriverart.org.
---
Advanced Painting
Instructor(s): Gil Robles
Time: Saturday, 2-4pm
Location: BRAC - 2-D Studio (4th Floor)
Ages: 13 - 80
Fee: $75
Portraiture and Beyond
Learn how to paint portraits, still life's or landscape, you choose the subject you would like to paint and the instructor will help you develop your painting as well as teach you how to use the paints (acrylic, watercolor or gouache). The instructor will also go over how to compose your painting utilizing the space on your paint surface and breaking down patterns of light and dark as well as learning how to place warm and cool colors to create a vibrant painting. Reference photos will be provided to work from or you can bring your own in to work from.
---
Photography
Instructor(s): Roy Baizan
Time: Saturday, 11am-2pm
Location: BRAC - Computer Lab (2nd Floor)
Ages: 15 - 80
Fee: $95
Photography
In this 5 week, 3 hour photography class, students will go over the basics of photography while also creating small bodies of work around the theme of documentary work. Emphasis will be on meeting outside for photo-walks and having group photo critiques. The class will culminate in a presentation of student work.
---
Portfolio Preparation
Instructor(s): Joel Adas and Tammy Wofsey
Time: Fridays, 11-1
Location: BRAC - 2-D Studio (4th Floor)
Ages: 11 - 18
Fee: $11
Fridays, 11am - 1pm
July 19 and August 2
Portfolio Prep - NEW SUMMER CLASS
Our professional Teaching Artists will work individually with students to help them prepare a well representative portfolio for HS Auditions and College applications. Students should be prepared to bring in already produced work, so instructors can beter guide them in their portfolio presentation.
Tweens/Teens ages 11 -18
($11 per workshop)
---
Registration Information:
Fee Information:
Please note: It is a first come, first serve policy. Reserve your spot as soon as possible!
Register before June 18 to receive a 10% discount!
All fees must be paid in full at the time of registration.
Or contact us at info@bronxriverart.org or call 718.589.5819
Cancellation Policy If a class does not meet capacity, it may be canceled, in which case students will have the option to either take another class or receive a full refund.
Unless otherwise noted, all classes include materials and use of professional equipment.