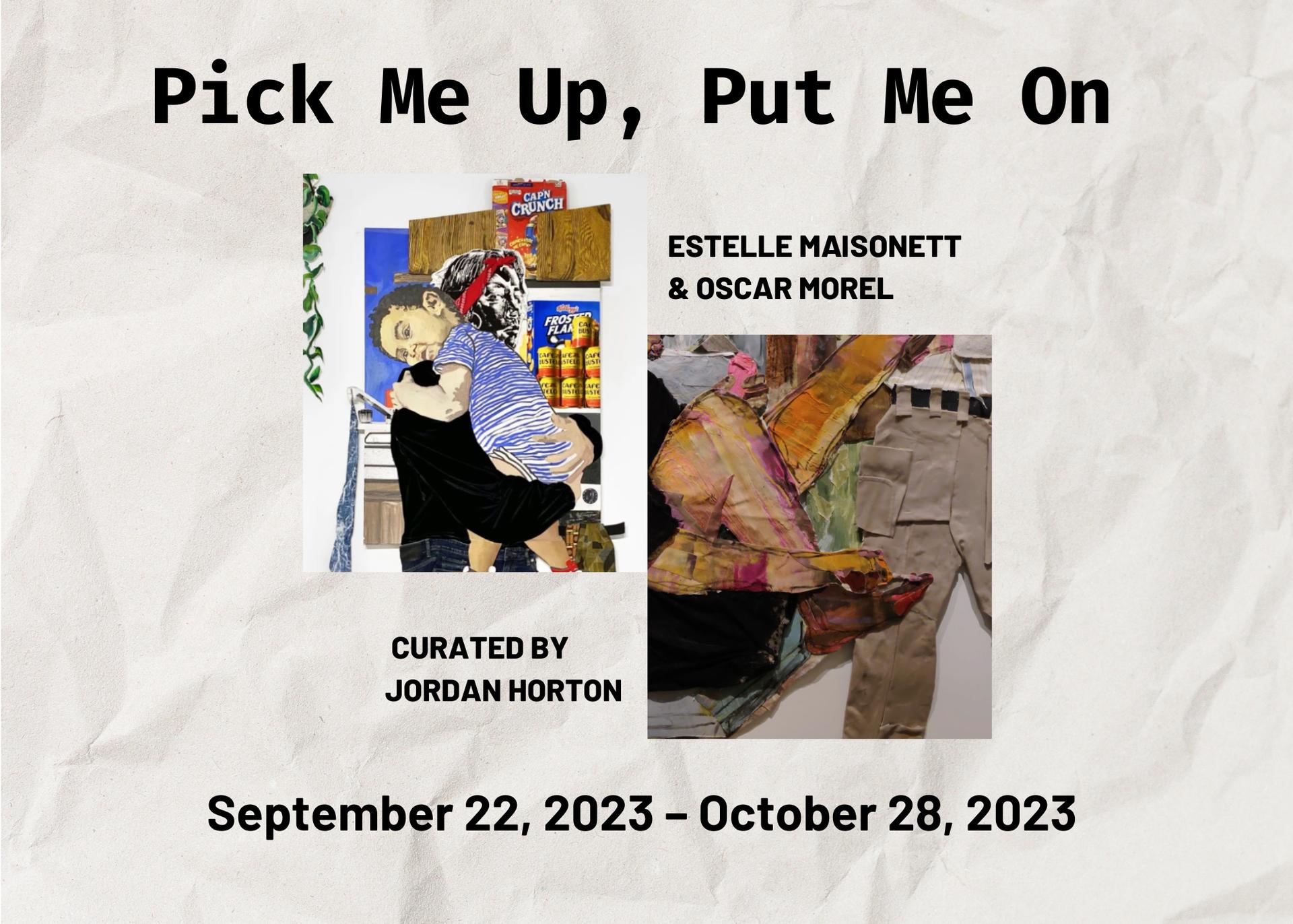 Pick Me Up, Put Me On
September 22 - October 28, 2023
Opening Reception: September 22nd 6-8pm
Artist Talk: October 28th 5pm
Pick Me Up, Put Me On, Curated by Jordan Horton
Pick Me Up, Put Me On is a visual conversation between Estelle Maisonett and Oscar Morel, two Bronx-born artists who exemplify the enduring resonance of collage through themes of community, identity, and place. Their works celebrate everyday scenery, familiar objects, and subjects deeply personal to the artists yet resonant with a broader shared experience that transcends borough bounds. While Maisonett and Morel work in different stylistic manners, the Bronx can be noted as a foundational inspiration origin. The community harbored there weaves its way through their artistic practice, manifesting as a common thread that binds their work together. Pick Me Up, Put Me On invites us to transcend boundaries, explore the intricate tapestry of community, and celebrate the many dimensions of home.
About the Artists: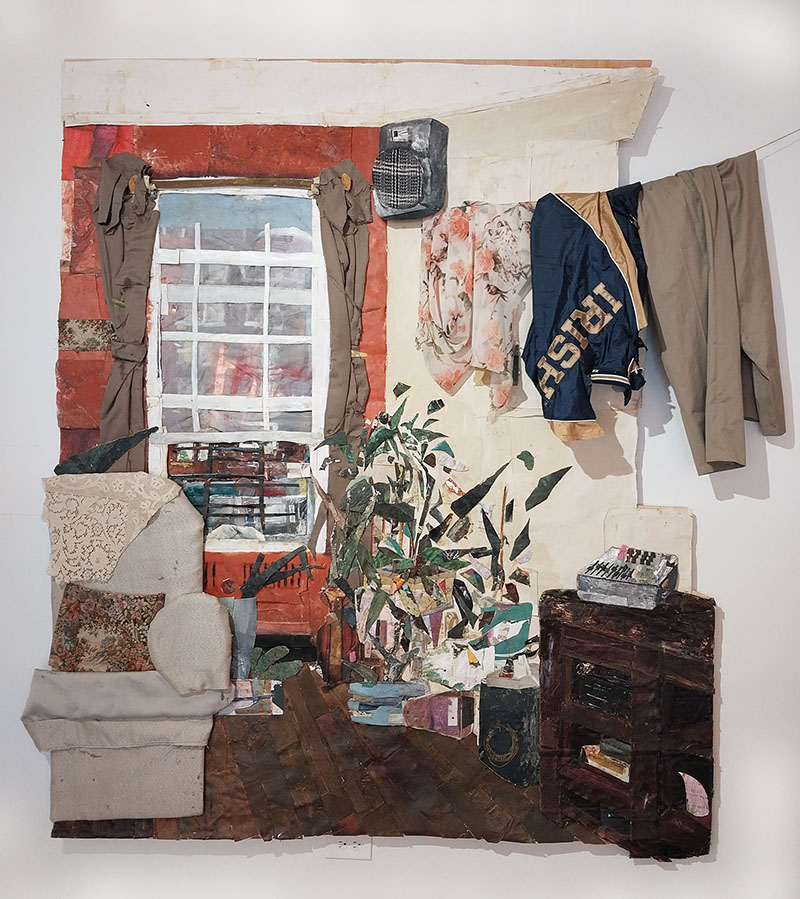 El Patio Interior, 2023, Mixed Media on canvas, 77"x68"x1"
Oscar Morel
Born 1997, Bronx, New York - Lives and works in the Bronx, New York
Oscar Morel was born in the Bronx in 1997. Morel received his BA from DePauw University in 2019, focusing on Studio Art and Computer Science. He later received his MFA from Boston University in 2022. Using everyday materials collected from home and sourced from his local community, Morel is a figurative collage artist who offers glimpses into Afro-surreal storytelling. Morel reimagines personal experiences and creates self-agency by intentionally altering moments, amalgamating materials, and referencing art history to control the narrative of the community, its cultural richness, and systemic inequalities.
As a Dominican child of immigrants, Morel explores the loss of agency in one's history and the absorption of surroundings to adapt to unknown spaces. Morel builds upon its figurative properties, with abstraction in mind, manifesting themselves the longer it is observed. Fragments of the medium, iconographic textiles, shapes, and symbols begin to find meaning in their placement in the narrative. Morel's work expresses a deep need for a contextualized meaning in a world bombarded with absurd information without clarity.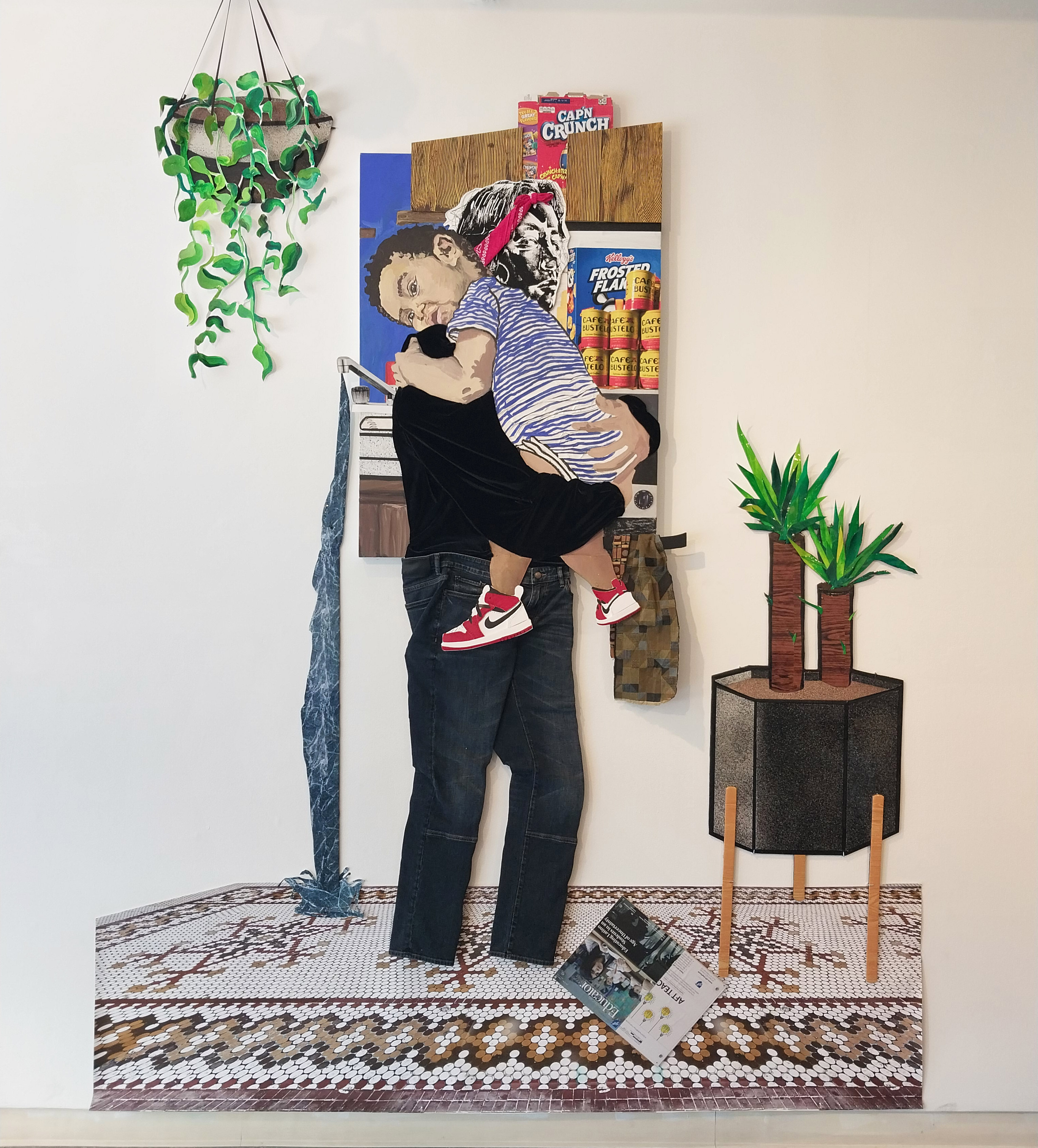 Carino, 2021, Mixed Media Installation, 156"x48"x2"
Estelle Maisonett
Born 1991, Bronx, New York - Lives and works in Queens, New York
Estelle Maisonett is an interdisciplinary artist born and raised in the Bronx, New York. Her work is an investigation of how personal and socio-cultural relationships to objects and materials inform preconceived notions of identity. With a practice spanning photography, printmaking, sculpture, painting, and video, Maisonett's life-size collages explore how fragments of cultures locally and abroad have historically composited Latinx identity.
Maisonett received her MFA in Painting and Printmaking at the Yale School of Art in 2023 and her BFA from SUNY Purchase College in 2013. She is an arts community worker and educator who has worked with the Parsons School of Design, NYU, New York City Housing Authority, Department of Education NYC Schools, Bronx Children's Museum, and additional community spaces in New York City. She was a recipient of the Latinx AIR Fellowship at NYU (2023), Quinn Emanuel Residency (2023), the Barry Cohen Scholarship (2023), the Alice Kimball Travel Grant
Fellowship (2022), the NewWave Artist-in-Residence (2021), the Artist in the MarketPlace Fellow at the Bronx Museum of the Arts (2018), the BronxArtSpace Artist in Residence (2018). Estelle has exhibited at The Bronx Museum of Art, Chashama, Field Projects, Bronx Art Space, El Barrio ArtSpace at PS109, Latchkey, Longwood Art Gallery, The Andrew Freedman Home, Hostos College, and The School of Visual Arts, amongst others.
About the Curator:
Jordan Horton
Born 1996, Newark, NJ - Lives and works in Newark, NJ
Jordan Horton is a curator and art historian deeply invested in working closely with living artists and institutional critique. Horton's interests center on the internet as a geographical space with special considerations of sonic and digital aesthetics, virtual subculture spaces, and translations of internet-based communication systems into everyday life. Additionally, Jordan is interested in performance art, dance, and film.
Jordan received their MA in the History of Art at Williams College/ The Clark Art Institute in 2023 and a BA in Art History at DePauw University in 2019. During their time at Williams, Horton was a Mellon Curatorial Fellow at the Williams College Museum of Art. As a Fellow, they have curated exhibitions utilizing the permanent collection, such as Sweaty Concepts (2021) and Remixing the Hall (ongoing). They have also worked with living artists for shows such as Frantz Ze?phirin: Selected Works(2022), Beatriz Cortez: The Portals (2023), and Mirrored Interiors: Films by Cecilia Aldarondo (2023).
Community and accessibility lie at the center of Horton's curatorial practice. Jordan sees curation as an act of care for the art, artists, and all who encounter it. Because of this, they believe additional exhibition programming and various forms of interpretation are critical for viewers to experience art to the fullest.
Curatorial Statement
Pick Me Up, Put Me On explores the medium of collage. Collage, assemblage, and found objects are all forms of art that complicate the distinction between two and three-dimensional surfaces. Somewhere between the illusionary picture plane and sculpture, collage and all of its iterations became ideal mediums to capture the noise, speed, time, and duration of the urban industrial experience in the United States. In New York, artists such as Romare Bearden and Robert Rauschenberg transformed the depictions in which the social and political influences of the city formed around them.
While this form was said to have reached its pinnacle during the latter half of the 20th century, it remains as vital and relevant today as they were then. Contemporary artists continue to harness their transformative power, using them as personalized vehicles for documenting the riveting historical narratives of their time. Enter Estelle Maisonett and Oscar Morel, two Bronx-born artists whose works exemplify the enduring resonance of this medium. Their creations do more than testify to the vitality of this technique; they also underscore the profound ways collage continues to communicate themes of community, identity, and place.
The phrase Pick Me Up, Put Me On carries many meanings. It embodies the act of deliberate or spontaneous selection that defines the collage artist's craft. Simultaneously, it alludes to the ritual of dressing, an action so deeply ingrained in our daily lives. Beyond these interpretations, the phrase encapsulates a sense of uplift reminiscent of the social support systems one relies on. "Pick me up" speaks to the comfort of connection, while "put me on" represents engaging with the world. Collage, assemblage, and the inclusion of found objects have become more than artistic techniques; they emerge as the ideal conduits for capturing the essence of an evolving city landscape.
Maisonett and Morel invite us into their everyday lives, revealing the artistry that lies within mundane moments and familiar objects. Their works beckon us to explore facets of widespread consumption, architectural gestures, and routine acts, such as taking the train or visiting the neighborhood bodega. Yet, despite the divergence in their approaches to materials and surfaces, both artists share a common muse: the influence of their home, The Bronx. These works are steeped in Bronx-specific nostalgia, celebrating objects and subjects deeply personal to the artists yet resonant with a broader shared experience that transcends borough boundaries.
In their use of similar materials, we discover unique perspectives on the same place, revealing the local culture of the Bronx. This exhibition marks the return of Maisonett and Morel to New York after obtaining their MFAs from Yale School of Art and Boston University. During their time away, they carried the Bronx with them, not just as a physical location but as a foundational aspect of their practice. Maisonett and Morel use personal experiences, photography, and memory to shape their work. Community weaves its way through their artistic practice, seen prevalent in Maisonett's Que Bandera Bonita and Morel's Camino a Casa, respectfully manifesting as a common thread that binds their work together.
In a world that yearns for authenticity and seeks connections amid disarray, Pick Me Up, Put Me On is a testament to art's enduring power. It asks us to transcend boundaries, explore the intricate tapestry of community, and celebrate the many dimensions of home.
Our "face" to the community, and the city at large, is our exhibitions program, which offers five or more annual exhibitions of energetic contemporary art in our ground-floor, 2,000 sq. ft. gallery. This program has become known for both its deft curatorial vision and its ability to produce ambitious and challenging exhibitions with ingenuity and immediacy. We strive to expose various paradigms of contemporary art to the litmus test of our local Bronx community and the cultural, economic, and social landscape that defines it.
BRAC's exhibitions are designed to affect cultural and social change through art that is both innovative and educational. We support our guest curators to present fresh arts experiences to the Bronx while nurturing our local talent. A focus of our vision is to blur the lines between professional art practice and community self-expression. Many of the artists we show embrace a social-practice mode of operation that is as much about making a sociopolitical statement as it is about creating a resonant visual experience. For each exhibit, we include community engagement activities such as tours, panels, and workshops, as well as mixers and virtual art productions that align with the pulse of our community.