Press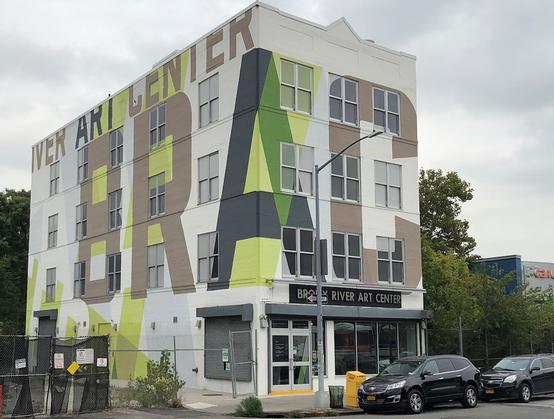 This is the Bronx, 10/25/18
WEEKDAY MAGAZINE – Bronx River Arts Center
By Elisa Valentino | web link
At this point in time, the world is well aware of the entertainment talent that has come out of the Bronx. Singers, musicians, film stars, motion picture writers and directors have had their praises sung for decades, bringing awareness to the talent born and bred in New York City's northernmost borough.
So, should it come as any surprise that the Bronx is also overflowing with visual artists – painters, sculptors, photographers, street artists and up and coming live performers and wonderful visionaries!
Gail Nathan, Bronx River Art Center (TTBX screen shot)
One of these visionaries, committed to bringing awareness to rising artistic stars, through the development of a multi-arts center is Ms. Gail Nathan, the director of the Bronx River Arts Center (BRAC). BRAC is the culturally diverse, multi-arts, non-profit organization that is the brainchild of Gail Nathan, who has proven what unwavering and tireless commitment can achieve. Her vision to nurture the creative talent and youth within the community has given way to one of the most exceptional venues for extraordinary and gifted individuals residing in the Bronx.
In fact, the words "tireless" and "commitment" might actually be understatements to describe Gail's efforts to bringing BRAC and all it offers to the Bronx and beyond. Her vision of creating a professional arts program to a culturally underserved population, began thirty years ago and has withstood numerous hurdles in its pursuit. The effort to realize her dream of creating a special place in the community for art classes in all mediums and genres, live performances and of course, studios for professional artists has finally become a reality!
Gail never gave up on her dream, even while enduring a seven-year period of virtual exile, during the renovation of the current BRAC building, when all exhibitions and classes were forced to be held in temporary facilities or as pop-up events.
With heartfelt perseverance, she and her team came through and finally celebrated a much-awaited reopening of the center this past Spring. The beautifully renovated building with its colorful exterior is in the heart of the West Farms community of the Bronx and enjoys the natural backdrop of the Bronx River.
Gail's thirty-year effort provides a nurturing forum for artistic talent and a place of inspiration and creative support for Bronx youth and art enthusiasts. And with a beautiful new space to do so, it would appear that the sky's the limit for ongoing expansion of BRAC's education, exhibitions, and artist studios.
The Bronx River Art Center before renovation (photo: BRAC website)
For me, as a lover of the arts, its supporters, and the American entrepreneurial spirit, Gail's story hits home because in bringing her dream to fruition, she is not only helping nurture the development of artistic gifts, but she is also a role model to the community, proving that dreams are attainable with hard work and commitment.
So, what's new and exciting at BRAC?
Actually, a few newsworthy tidbits! The gorgeous BRAC building at 1087 East Tremont Avenue was recently
The exquisitely designed new building that houses the Bronx River Art Center BRAC) at 1087 East Tremont Avenue was selected this month as an Archtober "Building of the Day" for Wednesday, October 10, 2018. Movers and shakers in the architecture world were invited to visit and tour the building on that day.
Archtober is New York City's Architecture and Design Month, and this October marked the eighth annual month-long festival of architecture activities, programs and exhibitions.
Bronx River Art Center (photo: Gary Axelbank)
Organized by the Center for Architecture in collaboration with more than 60 partners and sponsors, the 2018 installment of Archtober gathers events ranging from daily building tours and lectures by design experts, to architecture-themed competitions and parties. This was a well-deserved honor for for BRAC, whose 100+ year old building, was completely redesigned by the architectural firm of Sage & Coombe beginning in 2008 to reinvent the structure to reflect Gail's vision.
As Gail herself points out, one of the finest features that this building possesses, among many, is its large windows throughout, allowing for magnificent natural lighting, perfect for the creation and viewing of the vast array of two-dimensional and three-dimensional artwork. Currently, the center offers eleven different art classes and has hosted three exhibits since opening.
Another exciting happening at BRAC is the exhibit that opened in September and ran trough October: Authentic Necessary & Constructed Selves, curated by Betty Sue Hertz.
The basis of this exhibit was conceived by Betty Sue's interest in "Intersectionality", which is the idea of how such combined factors as race, gender and ethnicity, to name a few, are all part of the way in which people create the concept of who they are and construct their identity in a 3-dimensional way.
The exhibit also explores the impact and influence that modern technology over the past 25 years, like virtual reality, virtual worlds and social media, has changed our relationship to the notion of our identity, and the question of "who we are."
Some very striking and fascinating pieces of art are featured as part of this art display. One of these include 3-dimensional "faces" which were constructed from DNA found on public places in New York City. Quite remarkably, the artist used the DNA readout and information obtained, to create her 3-dimensional "mask" sculptures. Amazing!
From 'Authentic Necessary & Constructed Selves' at the Bronx River Art Center (photo: Gary Axelbank)
I'm confident this is only the beginning of great things to come from BRAC and the creative mind of Gail Nathan and her team!
Elisa is co-founder of Travelin' Cousins travel blog, A native New Yorker, Fordham graduate, and world traveler, she is passionate about The Bronx as a travel destination for locals and tourists.