Irina Danilova
BRAC Teaching Artist, Drawing and Painting, 1999 - Present
Irina Danilova is a visual, media and performance artist, curator, founder of Brural series and Executive Director of Project 59, Inc. Born and raised in Kharkov, Ukraine, she lived and worked in Moscow, but now lives in Brooklyn, NY. Irina Danilova has an MFA from the School of Visual Arts (1996) and is an Associate Professor at Kingsborough College of CUNY (Art Department). Since 2003, Irina has worked in collaboration with Hiram Levy.
As a teaching artist Irina has a range of experiences from teens (at BRAC) to senior citizens (at BAC SPARC program). She has been teaching academic drawing and 2D design, color theory and composition at Kingsborough Community College of CUNY since 2002, and was Visiting Professor at Pratt Institute in 2008-2010.
Why I Teach:

"

My teaching can be divided into two categories: sharing experiences as an experimental artist and sharing skills.

These are different kinds of teachings although in some ways interconnected. While sharing experimental experiences, I use skills, and vice versa while teaching skills, I connect them to my experimental experiences. Sharing experimental experiences in art helps to analyze and systematize my projects, gives them in-depth exposure and feedback.

Teaching skills is very practical and fruitful. The main rewards are the satisfaction from sharing knowledge and the student's visible growth.

Studio art classes are better suited for studios. I have figured out how to teach them on Zoom, limited but still an option. Giving my feedback to the students takes much more effort. Students take pictures of their works in progress, text them to me, and I then give verbal or "finger drawn on the phone" recommendations. Being away from the art materials, plaster casts, and other equipment is very inconvenient. However, students learn and that is the ultimate goal.

"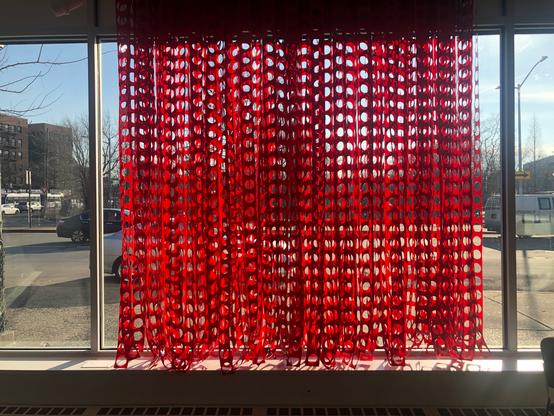 59 Holes, 2020 - 59 Strips with 59 holes in each. This installation made possible thanks to the Materials for the Arts, NYC.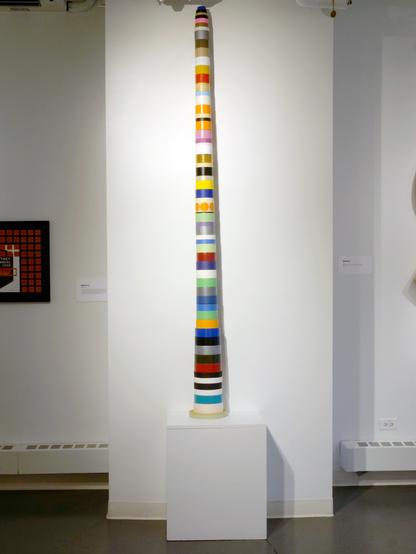 A Column, 2020 - 59 tape rolls (from private collections)
Talk to the Artist