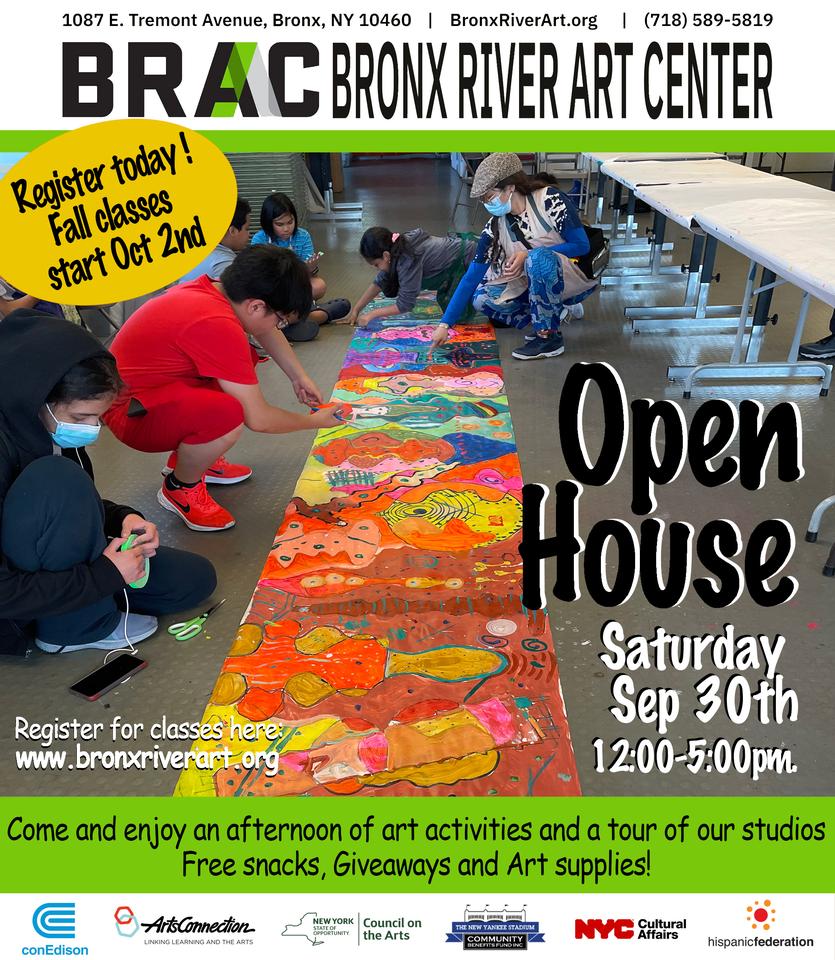 BRAC Open House & Registration Day 2023
On Saturday, September 30th, Bronx River Art Center (BRAC) will host an Open House & Registration Day from 12pm to 5pm. The event is an open invitation to the community of West Farms and beyond to visit our facilities. Parents, children, teens, and adults are welcome to participate in a lovely afternoon of artmaking workshops led by local artists. There will be free snacks, art supplies, and giveaways.
BRAC's Fall 2023 education classes begin on Monday, October 2nd and run until December 16th. In addition to our regular weekly classes in Drawing, Painting, Ceramics, Cartooning, Digital Illustration, Photography, and more, this semester BRAC is also offering three-hour workshops on Fridays covering subjects ranging from figure drawing to video production. In addition, interested participants can apply for admission to the FREE program, Teen Project Studio +2.0. Beginning October 16th, TPS is an intensive, eight-week interdisciplinary arts program for teens and young adults ages 14-to-25, and is a unique opportunity to experience and learn about visual arts & the creative industries in an interactive and challenging way, taught by professional artists and designers.
12:00pm - Meet & Greet
12:30pm - Printmaking Workshop with Tammy Wofsey
1:30pm - Gallery Tour with Jordan Horton
2:00pm - Painting Workshop with Marta Blair
3:00pm - Latin Music & Piano with Victor Santos
4:00pm - Fine Arts, Ceramics & Computer Lab Tours
4:30pm - Art Sale & Giveaways
Special thanks to Con Edison and ArtsConnection for their support!