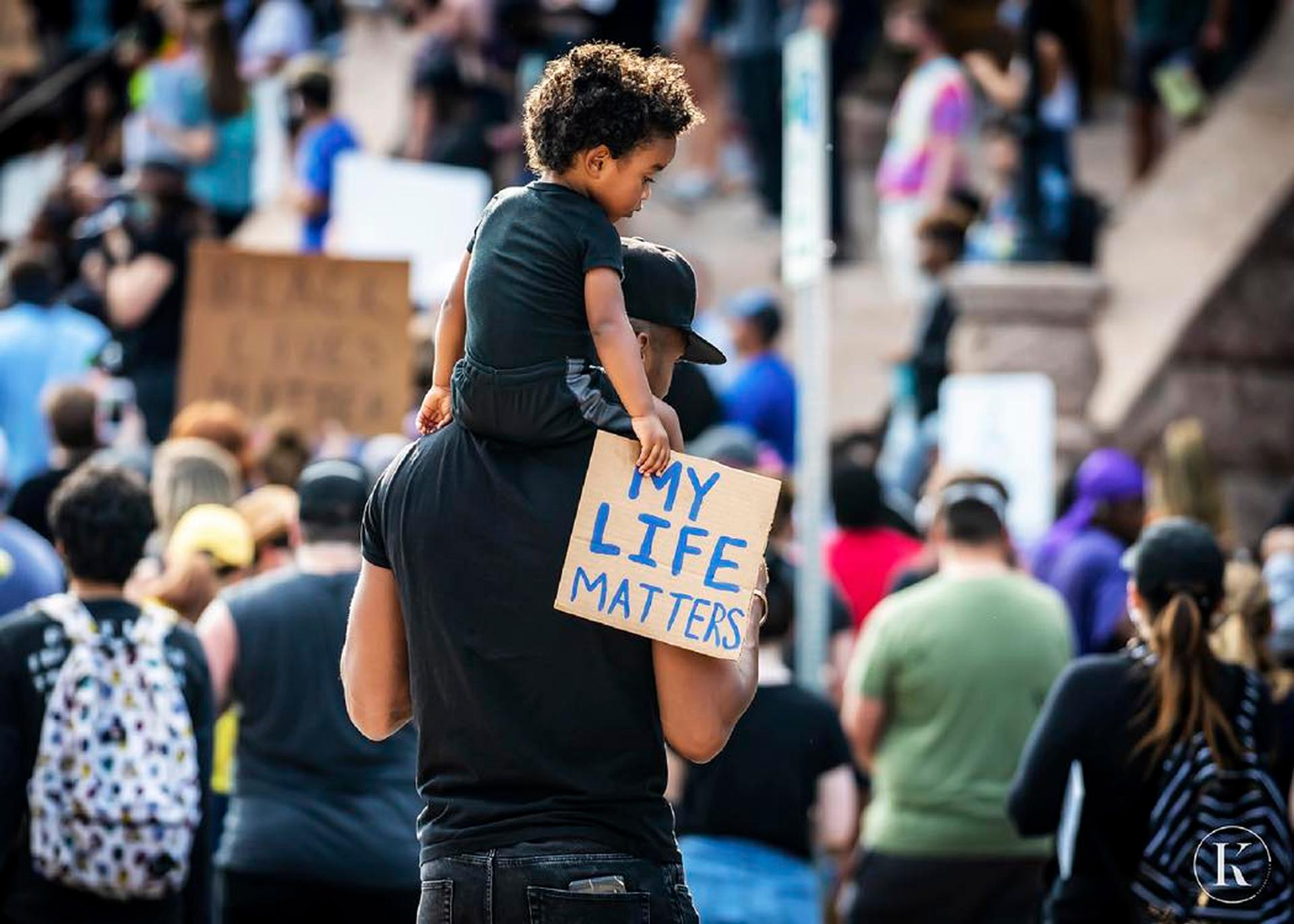 In Honor of Black Lives Matter
On View from May 22, 2021 – July 17, 2021
Bronx River Art Center Presents:
In Honor of Black Lives Matter
Curated by
Shawn Batey, Caroline Mardok, Ruvan Wijesooriya, and KaN Site Curators
May 22 through June 26, 2021 July 17, 2021
Opening Reception: Saturday May 22nd - 5:00 to 7:00pm
The exhibition reception was followed by the kickoff of BRAC's 2021 Bronx River Sounds Performing Arts Festival. More info here.
---
In Honor of Black Lives Matter brings together politically engaged curators who have been actively collecting and/or photographing the Black Lives Matter movement. Their curation offers a wide array of photographers and perspectives on BLM that Capture the Movement - as Shawn Batey had named her collection of photos that seek to answer the question, "Who is a protester?". Through the lenses of these often unrecognized Black photographers— Adreinne Waheed, Jarrett Robertson, Darwensi, Sade Fasanya, Christian Onuoha, they share their experience in the Black Lives Matter Movement with intensity and pathos.
Ruvan Wijesooriya created an archive entitled NYPD VS NEW YORKERS: A Collective Vision a slide show of 30 artists' work (including Shawn Pridgen, Sean Waltrous, Deborah Fong, Ryan McGinley, Lanscine Janneh) to reflect the similarities of the murder of George Floyd and The NYPD's approach to policing protestors. Five of the woman photographers in this slide show: Erica Lansner, Phoenix Robles, Chae Khin, Lucy Baptiste. are also teaching a course titled Activism and Photography for BRAC's signature TPS+2.0 (teens and young adults) Design Project Studio program.
Caroline Mardok honors the ongoing work, sacrifice and power of Black Women and Black Trans women who have led the protests and societal change in NYC and beyond, in her work "Not tired yet". Recognizing the new leaders as a force for renewal in our city and beyond, she envisioned them in a lush greenery that represents the respect that women have for life.
Caroline Mardok also collaborated with KaN Site Curators, Worthless Studios, and BRAC's TPS+2.0 program on a project focused on public art and activism, from which models, photographs and designs that the young adults created during the project will also be on display in the show.
More about the show:
"Capture the Movement" by Shawn Batey
Sparked by the death of George Floyd in May 2020, protesters across the country took to the streets demanding change, seeking an end to police brutality and the senseless taking of Black lives. Activist and protester, Shawn Batey created Capture the Movement, the Fall of 2020 in New York City, with the idea of amplifying the BLM movement via visual art while spotlighting Black Photographers in the BLM Movement who often go unrecognized. The exhibit was born from Shawn sending a post on Instagram requesting images solely from Black photographers covering the BLM Movement. The full Capture the Movement exhibit comprises 60 images from 60 Black photographers varying in age and experience, 34 of which will be presented in this exhibition. Organized in one month by a crew of volunteers, funds were raised for printing the images. The exhibit was first seen by the public in Brooklyn, New York October 4, 2020 at Bedford Stuyvesant Restoration Plaza. www.capturethemovement.org
"Not tired yet" by Caroline Mardok
Black women have been at the forefront of profound change in the United States for centuries, from historical figures like Harriet Tubman, to more recent champions of civil rights like Rosa Parks and Angela Davis. In the summer of 2020, they were again at that forefront, leading many of the protests in NYC following the death of George Floyd and demanding justice for Black Lives lost at the hands of police. Caroline Mardok wanted to shine a light and present them in all their strength and beauty in a setting removed from the intensity and pressure of the protests. She photographed and interviewed many of these new leaders and through that process gained a deeper understanding and appreciation of their work and how far-reaching its impact has been felt. Their constant struggle on the streets and through governmental institutions have led to profound policy changes that seemed well beyond reach until recently. These policy changes include repealing 50A, which put an end to qualified immunity for police in New York State, but their efforts have not been limited to New York. Prior to November of 2020, they organized an initiative to travel to Georgia and help voters overcome systemic barriers to voter registration. This initiative likely helped to shift the tide in both the 2020 Presidential election and in Georgia's Senatorial election. Finally, their eyewitness testimony and constant pressure from the protests were instrumental in holding a policeman accountable for his actions in the death of George Floyd.
Because these new leaders are a force for renewal in our city and beyond, she envisioned them in a lush greenery that represents the respect that women have for life. She also drew inspiration from notable moments where women have been at the forefront of societal and policy changes. From the French revolution, and Delacroix's "Liberty Leading the People", to Shepard Fairey's "We the People" series and 2017's Women's March of the United States. Caroline Mardok thanks the gallery Happy Lucky No 1 and Liane Fredel for their support in this project.
"NYPD VS NEW YORKERS: A COLLECTIVE VISION" by Ruvan Wijesooriya
Last year a series of national police riots sought to undermine and overwhelm public outrage and protest over the murder of George Floyd, a Black man in Minnesota. The police force has historically used its monopoly on violence to dominate minority communities, protesters and groups that pose a threat to white supremacy and the system of power. Many citizens considered the act a public lynching - worse than murder. Rather than engage conversation the police took to the streets and waged war against those protesting the police status of being self-governed and above the law.
With dozens, if not hundreds, of people documenting the streets day after day in New York City, no single person's coverage could scratch the surface of the vastness of New Yorkers' expressions for Black Lives Matter, equality, immigration reform and other actions against the corruption in NYC's law enforcement. The collective image archive helps us understand this unprecedented explosion of activism and protest.
NYPD VS NEW YORKERS was sourced through a call for submissions and by reaching out to photographers who had content from less popular times and places. The collective archive only represents an estimate of 1/10th of the total actions around justice and equality in NYC, 2020. The archive receives ongoing submissions and can be edited into many different categories - i.e. signs, portraits, small groups of people and individuals across dramatic urban landscapes.
"NYPD VS NEW YORKERS: A Collective Vision" represents two main categories in chronological order: 1. The groups of New Yorkers who took a risk during a pandemic to show up for equality and 2. TheNYPD presence, interaction and violence at the protests.
The project includes the works of over 30 photographers. The race, gender, age, etc and other characteristics of the documentarians is never taken into consideration when sourcing the material for this archive. Each photographer was led by their intuition and passion to represent the Civil Rights Movement in New York City.
BRAC Students' Photos and Sculptures
Caroline Mardok and KaN Site Curators (Karine Duteil & Nadej Hocini) were the winners of a contest organized by Worthless Studios, The Plywood Protection Project, which is a mission-driven initiative to collect the plywood used by businesses during the pandemic and BLM protests and redistribute it to artists, extending and repurposing the life of this material. worthless studios collected over 200 boards of plywood and initiated an open call for artists, with the intention of selecting five local makers to participate in a unifying public art project across all five boroughs of New York.
In this show the team will present photos of their award project, an interactive sculpture of multiple cut-out figures made of plywood, and applied with collage and photographs from the @ny.strong project. As people walk through the portals they are transported into the energy of the protests of 2020: the unified experience of citizens across ethnicities and genders fighting for freedom and justice for Black lives. This installation is currently on view at the Edgar Allan Poe Park on the Grand Concourse in the Bronx until November 2021. This project engaged youth from BRAC's TPS+2.0 Winter semester. Students from the Bronx to California have participated in numerous sessions with guests, activists, architects and photographers and resulted in very personal sculptures on which their photos are applied.