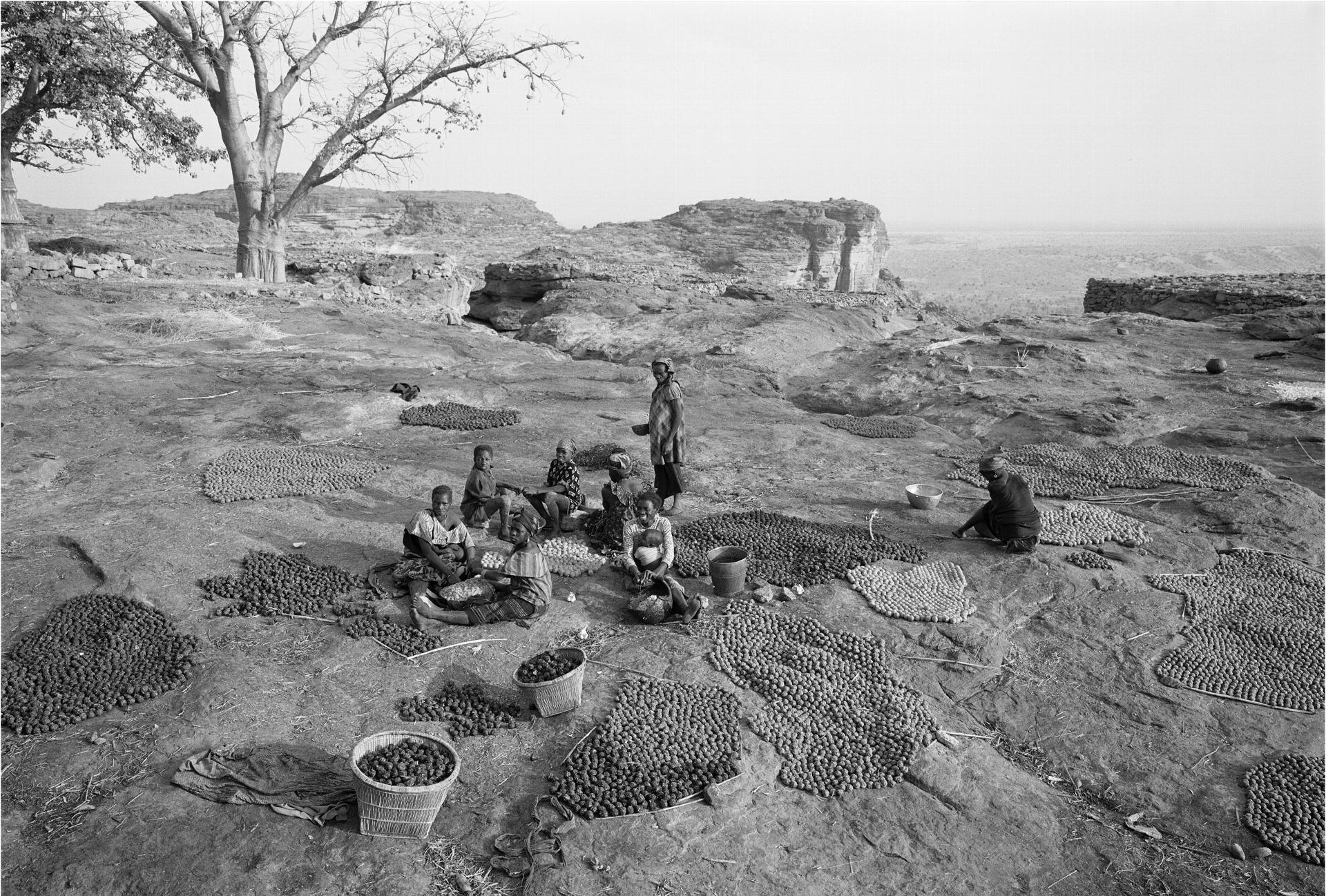 WOMEN OF THE IVORY COAST AND MALI
On View from July 08, 2022 – August 20, 2022
Bronx River Art Center Presents
WOMEN OF THE IVORY COAST AND MALI
Photographs of a Heritage
NANCY LENSEN-TOMASSON
July 8 - August 13, 2022
*Exhibition extended to August 20th*
Bronx, NY……Bronx River Art Center is pleased to announce an exhibition of documentary photographs by professional photographer Nancy Lensen-Tomasson. Lenson-Tomasson finds inspiration and subject in the simplest matters of human endeavors. From various trips to unique locations in America like New Orleans, LA, to far reaching places and cultures such as Russia, Italy and West Africa, she has sought out and documented people in their daily activities or village life, to reveal the depth of their culture and humanity that infuses their existence in their own time.
Book Release Reception
August 13th / 4 - 6pm
Photo: Dogon Women Making Onion Balls to Sell at Market, Bandiagara Escarpment, Mali, 1992
This series of 22 silver print, black and white photographs of women of the Ivory Coast and Mali, are from 1989 and 1992, a time when the subjects' cultures were still deeply steeped in centuries of their heritage. Lensen-Tomasson captures these native women engaged in their daily tasks of washing, reaping food, dancing, making pottery and cooking foods to sell in the marketplace, all the while tending to their multi-generational families.
Now, after more than three decades, two wars and occupations by some of the worlds most violent jihadist terrorists, these photographs bear witness to cultures that may now be unrecognizable or lost forever. Like the best of documentary photographers, Lensen-Tomasson brings a stark focus on human nature in all its depth of meaning. This exhibition is presented in conjunction with the 2022 book publication of these photographs, which will be available for purchase during the run of the show. An additional 24 images will be projected digitally in the gallery.
Nancy Lensen-Tomasson received her MA and MFA degrees in photography from the University of New Mexico under the tutelage of Van Deren Coke and Beaumont Newhall. She is an Associate Professor Emerita of the School of Fine Arts at Virginia Commonwealth University in Richmond VA., and now resides in Washington, DC. Her photographs are in the collections of several renowned Museums including the Museum of New Mexico, Santa Fe, the Museum of Fine Arts, Houston, Texas, the Corcoran Legacy collection and the Katzen Arts Center of American University, both in Washington, DC, and the New Orleans Museum of Fine Arts, among others. As a participant in a Ford Foundation Grant she was the sole photographer of Indian Jewelers of the Southwest, her images of which are now in the collection of the Smithsonian National Museum of American Indian in Washington, DC.
####
BRAC Gallery Hours:
Tuesday - Friday: 2 - 6 PM
Saturday: 12 - 5 PM
Entry is Free
Photo: Senufo Woman Preparing to fire Pots, Dabvaraka, Ivory Coast,1989
COVID-19 vaccination proof requirements have expanded to include younger children and to require full vaccination:
For all attendees, including children 5 and up, proof of full vaccination to the recommended level of booster shots for each age category.
Attendees will also be required to be masked.
This program is made possible with support from the NYC Department of Cultural Affairs in partnership with the City Council, including the Bronx Delegation. Additional support is from Bronx Borough President Vanessa Gibson, the NYS Council on the Arts with support from Governor Kathy Hochul and the NYS Legislature including Senator Luis R. Sepúlveda. Foundation support is from Con Edison: The Power of Giving, BronxCare Health System, New York Community Trust and private donors.