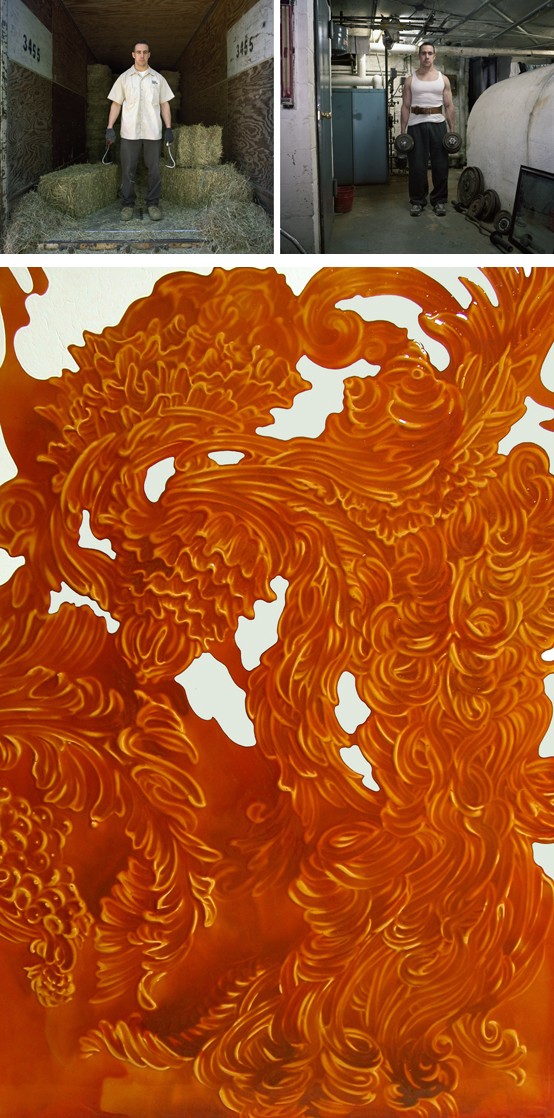 Zooborhood by Eric Slayton  |  Paintings by Mark Giglio
On View from September 14, 2007 – October 20, 2007
Bronx River Art Center unveils their 2006-07 Exhibition lineup with two solo exhibitions that feature the photographic and painting work of NY-based artists Eric Slayton and Mark Giglio.
In Gallery 1, Eric Slayton presents the photographic installation Zooborhood , which began in 2004 while working as a field biologist on the grounds of the Bronx Zoo. The project documents the cultural and social relationships that are mediated by Bronx Zoo employees who also live in the Bronx . As Slayton states, "The zoo employees, from animal keepers to administrators, merchandising to food service, security to transportation, who live in the Bronx represent unique contemporary views of nature because of their direct links to urbanity and wilderness."
The resulting images present the duality of each of Slayton's subjects in their respective work and home locations. This pendulum of environments is captured through a photographic adaptation of the biographical narrative that is reminiscent to family album portraiture or the vacation snapshot. Slayton's back of the house access to the zoo grounds and its employees, which has never been granted to a photographer before, offers a visual entry into manicured and dramatic ecological environments and the intimate urban realities and stories that surround them.
Additionally, each pair of photographs is flanked by short anecdotes of wall text extracted from questionnaire and interview sessions that the artist also conducted. By working closely with more than forty-five individuals over the past three years, this project also reveals that dignity in the workplace along with a strong neighborhood affiliation creates a "Pride of Place." In the future, Eric Slayton plans to continue the Zooborhood project by exploring other national and international zoos that are located in dense urban areas.
In Gallery 2, Mark Giglio playfully tostles the push and pull between abstraction and representation in his elegant and whimsical acrylic paintings. Giglio's body of work takes cues from decorative arts motifs that are based on nature while offering witty nods to Baroque-style painting and ornamentation. This interplay of imagery is created by Giglio's use of various painting processes to generate relief surfaces that are then countered by flat graphic shapes that intersect the picture plane.
This new visual and topographical territory consequently becomes the site for a set of hidden narratives in a fantastic animal kingdom. Embedded into these seemingly decadent patterns are tales where animals and creatures struggle for dominance and existence. At times it is unclear if these patterns are turning into life or if these kingdoms are hardening into stone or marble. This process of transformation offers a continuous moment of movement and stasis and embarks the viewer in a visual hunt that is reminiscent of the "Where's Waldo?" books from the 1980's.