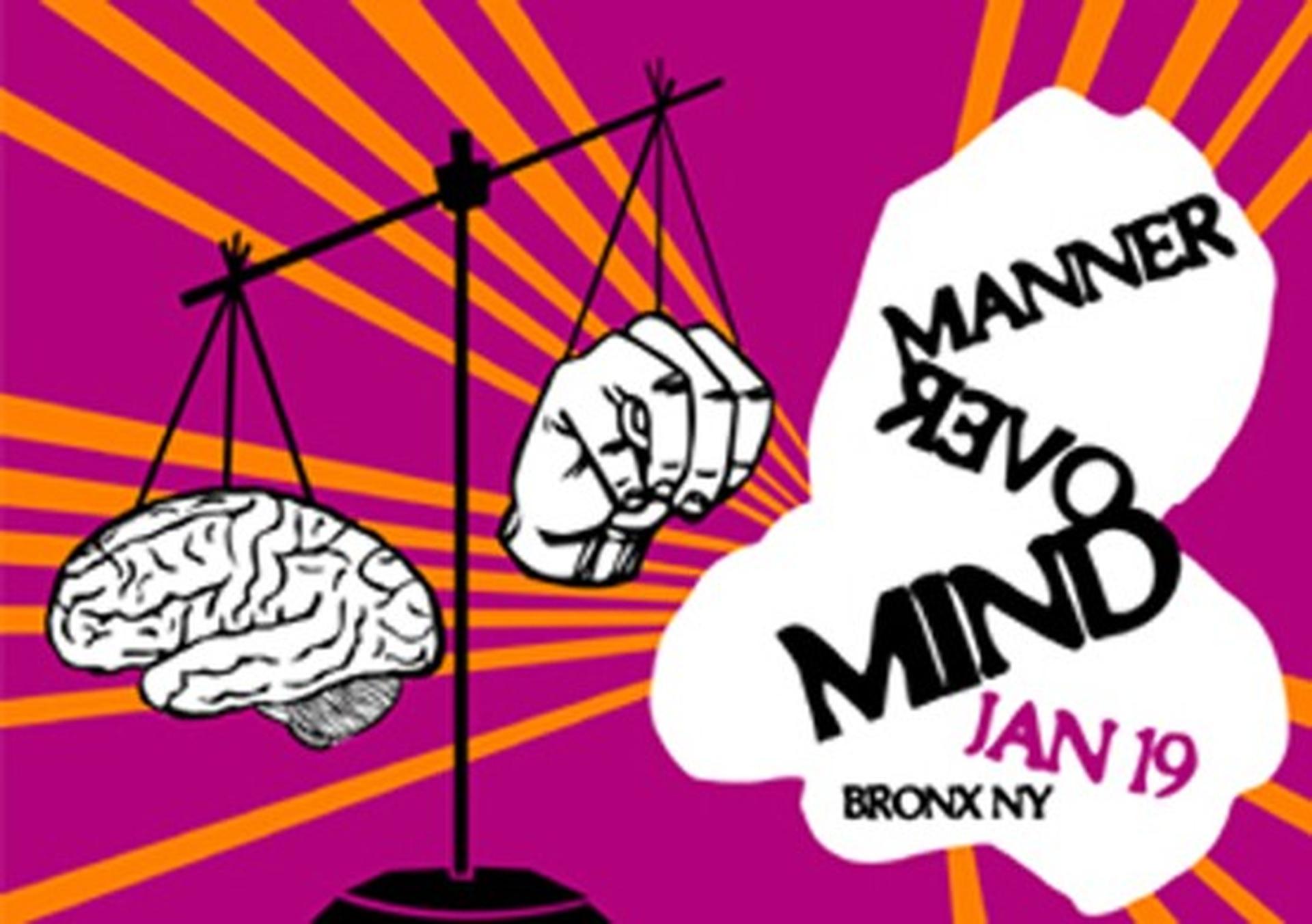 Mind Over Manner
On View from January 19, 2007 – February 24, 2007
curated by José Ruiz
Mind over Manner brings forth seven interdisciplinary emerging artists whose actions and gestures deconstruct Conceptual Art's overarching methodology and historical canon. By entertaining the notion of post-conceptualism, the artists in this exhibition bestride the fence of past and future idea-based artwork with a desired manner of production; an amalgamation of performance, installation, video, photography and sculpture, with artistic tactics of subversion, humor and absurdity for good measure.
White Noise / White Boise by Brian Balderston (Brooklyn, NY) is a sculptural station housing video, sound and sculptural objects. Setup as an architectural vitrine, Balderston uses minimal modernist gestures, such as the sharp fabrication and high gloss finish of his objects to entice the viewer into a cultural void or state of blankness. Once inside, an audio feed extracted from a sleep aid CD streams a constant waterfall that co-exists with masses resembling ziggurats or even abstracted modernist furniture. As the viewer encircles the main structure they come face to face with a video of the artist presenting a suite of lectures on dry erase board on hot button topics such as whiteness, the relationship between surface and structure, subjective notions of progress and the human being, as well as personal narratives on geographic and cultural dislocation. These vignettes are an obvious nod to Joseph Beuys's chalkboard lectures and attempt to dislocate the slick cultural sheen apparent in our society as well as the mutability derived from it.
The J.B. Pyramid: Art is Excellence, Excellence through Purpose, by Jason Balicki (Brooklyn, NY) is a performance installation consisting of a large walk-in pyramid that serves as the production and fabrication facility for consumer-sized gold souvenir pyramids, each stamped with the J.B. monogram and insignia that reads: Art is Excellence. During the opening reception, the souvenir pyramids will travel on a conveyor belt from the production area to the Scatter Your Seed Packing Area where they will be individually wrapped, boxed and dispensed by a live mummy proletariat, Balicki himself, as he hastily works in the production tomb and gathers himself in the Creation Station Break Room throughout the evening in an attempt to raise his level of achievement.
Kathryn Cornelius (Washington, DC) construes the term performance and its use in the art and business worlds to decipher the ratio between output and expression and the process by which meaning or product is siphoned from one's individual performance. Deliverables is a faux-vintage video that appropriates the visual language of a corporate management training seminar while referencing Erving Goffman's text, "The Presentation of Self in Everyday Life" (1959) and a collection of performance measurements aptly titled, "Perfect Phrases for Setting Performance Goals" (Douglas Max & Robert Bacal, 2004). By juxtaposing two different studies on performance, Cornelius sets off a playful critique on performance art's tenuous role within the contemporary art market. The video is further amplified by the sculpture and performance, Do Nothing Machine, an enlarged replica of a crafty relic commonly used in the carpentry field as a beginner's woodworking exercise and as a toy or trinket for kids. The Do Nothing Machine does what its name suggests; nothing. During the opening reception, Cornelius will operate the Do Nothing Machine in direct quotation to mainstream society's view on contemporary art, "It doesn't do anything..."
Jean-Michel Crapanzano (France/Netherlands) explores the edge between propaganda and visual art. Before the age of Photoshop or tabloid magazines' constant doctoring of images to sell a story, the use of falsified photography has been a long running strategy to control public perception and memory. The most notorious cases come from Stalinist Russia where it was commonplace for Soviet history to be rewritten with inconvenient participants clumsily removed from all forms of pictorial existence. Even those who had aided the Communist Revolution in its early stages could easily turn from heroes to villains overnight and crudely disappear from all official Soviet photographs. Leon Trotsky is perhaps a perfect example. Adopting this visual form of erasure, Jean-Michel Crapanzano's project is comprised of new photographs and wall paintings that displace identity in figurative images. From local hipsters in Eindhoven, Netherlands, where the artist lives, to the recent G8 Summit held in Russia, the blatant and apparent disappearance of certain figures exalt a notion of creating new histories rather than attempting to discredit past ones.
Dies from Garo by Marc Ganzglass (Brooklyn, NY) is a large-scale installation comprised of hundreds of steel rule dies formerly used by the Garo-Savon Die Cutting Co. to stamp out the fabric shapes necessary to produce clothes, bags, hats, etc. Due to recent outsourcing of jobs to India and China, this longtime Brooklyn business declared bankruptcy and after twenty-plus years closed its operations in 2006. Ganzglass had been renting out a portion of Garo-Savon's factory as an artist studio and they had the typical relationship of a failing small business and homesteading artist. When Garo Savon closed its doors Ganzglass inherited crates full of dies, worth tens of thousands of dollars. The dies shown here are a glyphic record of many of our consumer goods and now represent the last vestiges of the American garment industry. As a collection they serve to archive both a global economic shift, and the awkward local phenomena of art subsuming industry. These dies will be available for free, as a collection or as individual pieces to anyone who is interested.
For more than two years, Mechele Manno (New York, NY) has maintained a symbolic and almost compulsive au-plein-air practice of archiving her everyday routines to investigate her role as a consumer. Manno's ongoing project, Untitled (gathering napkins), is a mapping and tracking system of the amount of napkins systematically given to her by a vendor after purchasing a coffee or a beverage throughout New York City. Each stack of napkins, inscribed with the date and time of the exchange, suggests an artistic moment. The amount in each stack alludes to the relationship between customer & vendor and the number of stacks outlines the artist's personal needs. A missing date says more. Where was Manno that she did not need a beverage? The napkin, as object, is a metaphor for cleanliness, personal comfort and the assumptions made between two strangers.
In one corner, Chad Stayrook (New York, NY) checks in with Boxing with the Stars, a six round performance and installation in which the artist goes head to head with his conceptual predecessors in an attempt to break free from their historical shadows and influence. In his sculptural boxing ring, complete with ropes, punching bag and a set of robotic arms acting as the collective entity of his opponents, Stayrook will battle Marcel Duchamp, Vito Acconci, Joseph Beuys, Andy Warhol, Paul McCarthy and Matthew Barney one grueling round at a time. All six of these legends have held the Conceptual Heavyweight title belt at one point in their careers so it will not be an easy match for the young Stayrook. They will make their presence known via streaming videos embedded inside a punching bag and aside from mocking and belittling Stayrook; these heavies will also take the time to honor the crowd with vignettes on their work and grand ideas. On a more intimate level, the work also references an artist's need to stand out and shine through the dynamics of a group show in that each round purposefully symbolizes the other six artists included in Mind over Manner.