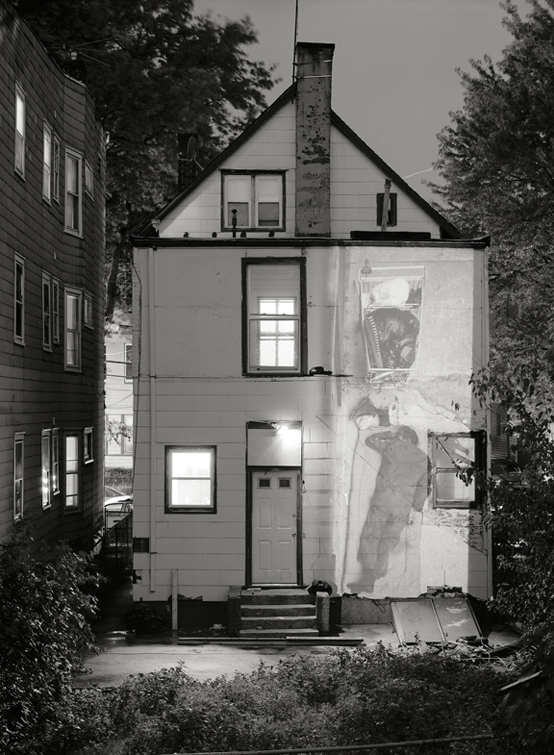 KEYS OF LIGHT - a solo exhibition by MANUEL ACEVEDO
On View from July 16, 2010 – August 28, 2010
Opening Reception: Friday, July 16, 6-9pm
curated by José Ruiz
Keys of Light encompasses significant projects made by Manuel Acevedo over the past ten years across a wide course of artistic practices such as photography, video/animation, drawing, and site-specific installations/interventions.
While not a survey or a retrospective, the show collates Acevedo's underlying interest in the metaphysics of light and optics as a concrete material for intervention in public/urban and private/domestic spaces. In each of the works, the artist's use of projections, whether physical or envisioned, is embodied with imagery native or responsive to the given work's surrounding architecture, city or community. The effect not only casts juxtaposed utopian/dystopian illusions but also penetrates physical space to mediate the tension between material surface and the act of "looking through"—while simultaneously commenting on the tenuous relationships between the urban landscape and its citizens during pivotal moments of transformation.
Through this exhibition, BRAC also acknowledges Acevedo's career and conviction to primarily work with alternative, non-profit and community-based art centers as an integral model for artistic activism and pedagogy. To this end, Keys of Light also poises the possibilities of transformation during an important moment in BRAC's organizational history, as it will mark the last exhibition in its current gallery, which it has occupied for over 25 years. This fall, the Center will break ground on a major Capital Program and undergo a 7 million dollar renovation to its facility and enter a 2-year phase of roving arts programming while the building is being reconstructed.
It is in these types of contexts that Acevedo's practice gleams. One new, site-specific work creates a large-scale camera obscura that subtly projects the real-time exterior landscape onto the walls. In his Untitled (Night Projection) series from 2002, an archetypal house in Newark becomes a screen for the city's collective condition. WTC Tropism 2007 studies the site of Ground Zero from the same angle, as seen through his studio window while in residence at the Lower Manhattan Cultural Council's Workspace Program, through numerous manipulated Polaroids that propose alternatives to architectural memorials.
In other works, Manuel Acevedo carries the same interest in blurring the division between interior and exterior and further illuminates the process and craft of the optics of light with direct, subversive artwork that serves as evidence and documentation of projected ideas.
ABOUT THE ARTIST:
Manuel Acevedo was born in 1964 in Newark, NJ and lives in Queens, NY. Acevedo is a recipient of the 2009Visual Artists Network, New Orleans, LA; Artist in Residence for the Camera Communis project, Knoxville, TN; Center for Book Arts, AIR Workspace Program 2007; Visiting Artist at NYU 2007; VAN Award 2007; SPACES' World Artists Program 2006 and LMCC Residency Program 2006. His awards include the Joan Mitchell Foundation Grant 2005; Longwood Arts Project: Digital Matrix Commission 2005; the Mid-Atlantic Foundation's Artist as Catalysts Award 1999 & 2001 & The Studio Museum in Harlem, AIR 1998-99. Group exhibitions include Museo de la Ciudad, Spain; Museo de Arte de Puerto Rico, Real Art Ways, Exit Art, Queens Museum of Art, PS 1, El Museo del Barrio, the Drawing Center, Westfaelischer Kunstverein, Germany with solo exhibitions at Jersey City Museum and the Los Angeles Center for Photographic Studies.
Acevedo is currently working with El Museo del Barrio, the Newark Museum, and Playwright's Theatre as an artist educator, developing and teaching workshops such as the Transformations and Re-visions projects, which transform the properties and impact of text and language through flipbook animation, drawing, and photography while exploring visionary concepts of urban development, community representation, and the suburban and city landscape.
Image Captions:
1. Untitled (Night Projection), 10.30.2002, gelatin silver print, 11" x 14"
2. WTC Tropism 2007, 03.31.2007--11:36am, drawing on Instant Color Film, 4.25" x 3.5"
3. WTC: Tropism 2007, 04.03.2007--3:37pm, 3:26pm, 2:13pm, 4:46pm, 4:36pm, drawings on Instant Color Film, 4.25" x 3.5" each
4. The Manley Place (composite), 2008-09, c-print, 30"x45"
5. Camera Communis: Knoxville Hilton Installation, 2009, 10' x 10'

Beer lovingly provided by Brooklyn Lager
Wine warmly donated by The Winery of Harlem