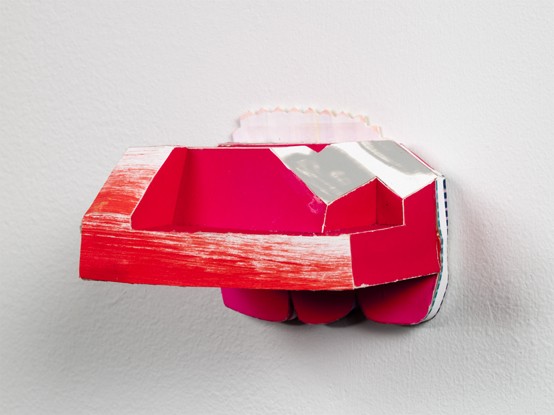 The Working Title
On View from March 25, 2011 – April 29, 2011
A 32-artist group survey of recent abstraction organized by Progress Report
Opening Reception: Friday, March 25, 6-9pm
Temporary Gallery Location: 305 E 140th St #1A Bronx, NY 10454
Bronx River Art Center (BRAC) is pleased to present The Working Title, a 32-artist group survey of recent abstraction organized by Progress Report, opening on March 25, 2011. The exhibition, which runs until April 29, 2011, is the third in a series hosted in our temporary location, "On the Block", at 305 E 140 St. #1A, Bronx, NY, while we undergo a seven-million dollar renovation to our West Farms facility.
Artists featured: Amy Feldman, Benjamin King, Britton Tolliver, Cordy Ryman, Dennis Hollingsworth, Douglas Melini, EJ Hauser, Eric Freeman, Gary Petersen, Halsey Hathaway, Ian Pedigo, Inna Babaeva, Ivin Ballen, Jasmine Justice, JD Walsh, Jered Sprecher, Joshua Abelow, Joy Curtis, Keltie Ferris, Kris Chatterson, Lauren Luloff, Letha Wilson, Matthew Deleget, Omar Chacon, Osamu Kobayashi, Pamela Jorden, Patrick Brennan, Stacy Fisher, Tamara Zahaykevich, Tisch Abelow, Vince Contarino, Yadir Quintana
The name of the exhibition refers to the changing classification, description, or title that is given to abstraction. By nature, abstraction resists tradition and categorization transforming itself into a highly visual moving target. These artists employ abstraction as a means to investigate different approaches to materials, systems, media and content. Rather than following a pre-established doctrine of romantic sentimentality, most of the works elicit an air of experimentation, familiarity, and an overall sense of purpose.
The Working Title brings together different perspectives on abstraction in conversation with each other. Minimalism, post-modern, geometric, gestural, formal, color filed, video and process-driven works occupying the same room, creating unpredictable relationships through contrasting approaches.
Having direct access to technology has become an important tool for artists to share and discuss their practice, making connections on a regional and global level. The collective stance and attitudes on making art are less defensive than they used to be, opening up conversations with the past by seeking out and elaborating on previous approaches that may have been marginalized or forgotten.
The Working Title is less about seizing the moment, but more of a selection of current voices that use abstraction as a starting point to create work that expands the trajectory of what is possible.
This exhibition was organized by Progress Report, a visually-driven project that offers a glimpse of the creative process that share various perspectives from the working artist's point of view.
*A 92-page full color catalog of the show with essays by artist Shirley Kaneda and independent curator Jon Lutz is now available on Blurb.*
Image Captions:
1. Tamara Zahaykevich, glowing teef, 2009, foam board, paper, acrylic paint, watercolor, ink and glue, 2.375" x 2.25" x 2.875"
2. Douglas Melini, Fluent Green, 2011, acrylic on canvas with hand painted frame, 23.5" x 19.5"
3. Letha Wilson, Double Dip, 2009, wood, digital prints, 80" x 5" x 38"
4. Pamela Jorden, Echo Music, 2010, oil on linen, 44" x 60"
5. Ian Pedigo, Within Its Recesses, 2010, wood, charcoal, string, window film, linoleum tile paint, 76" x 60" x 30"
6. EJ Hauser, spaceman, 2010, oil on canvas, 16" x 12"
Exhibition installation
Opening night of the exhibition
Full house on opening night