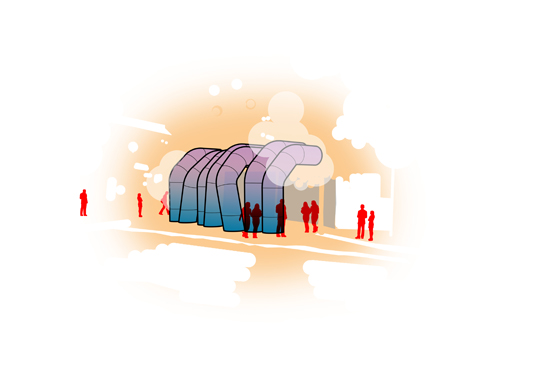 Process and Progress: Aaron Jones and Art Jones
On View from December 07, 2012 – January 01, 2013
Location: 305 E. 140th Street, #1A, Bronx, NY 10454
Reception: Friday, December 7, 6-9pm
Bronx River Art Center (BRAC) is proud to announce Process and Progress: Aaron Jones and Art Jones, the second in the series of four exhibitions that invites artists and architects to engage with systems of urban development in the Bronx and beyond. Process and Progress is presented in BRAC's temporary gallery space in Mott Haven while its facility is undergoing renovation.
The exhibition series, Process and Progress: Engaging in Community Change, highlights the Bronx River Art Center's development during a time of significant structural and cultural change in the borough. BRAC's major building renovation project, now underway, is leading the way for more environmentally sustainable and technologically advanced designs within the West Farms Community. At the same time, the surrounding area has become home to new and imminent urban development projects that plan to dramatically alter the landscape and its residential makeup. A proposed real estate development located across the street from BRAC's facility will be the largest housing complex initiative in the Bronx since Co-op City, one of the largest cooperative housing developments in the world. In addition, the West Farms Rapids section of the Bronx River Greenway, slated to open alongside our facility in the near future, will allow direct access to the river and will link BRAC with the Bronx Zoo and other important sites in the borough along a new corridor of green space. These developments will inevitably transform the built environment, social fabric, and cultural composition of our community.
Artists Aaron Jones and Art Jones have individually researched these and other urban development projects in the West Farms area during a focused one-month period. For the second exhibition in the series Process and Progress, the artists created new works that are directly informed by their time engaged with the neighborhood.
Artist Bios:
Aaron Jones is a 5th generation Oklahoman, having since practiced architecture in both Texas and Michigan. He holds a Bachelor of Architecture from Oklahoma State University and Master of Architecture from Cranbrook Academy of Art. Aaron was a summer Fellow within CEMAT - Centre d'Etudes Maghrébines à Tunis - based in North Africa and sponsored by the US Dept. of State. Professionally Aaron maintains his practice on Detroit's east side and teaches various architectural coursework within Lawrence Technological University's College of Architecture and Design. This past summer Aaron served as Architect in Residence for the Bronx River Arts Center, where he developed work in the West Farms neighborhood.
Aaron's architecture often concerns itself with the internet and digital media. This focus resonates within the confused structures left behind by contemporary techno-progress and advocates a future built upon their radical reevaluation. This relationship between technology and context nurtures an optimistic embrace of existing conditions (THE NOW) met through architectural experimentation and implementation at full scale. Aaron's practice is enthusiastic about architecture and excited to engage culture at large across multiple platforms
Art Jones is an image/sound manipulator working with film, digital video, audio and hybrid media. His films/videos, CD-ROMs, live audio/video mixes, and installations concern the inter-relationships between music, visual culture, history and power. His work makes extensive use of popular music and mainstream media as raw material to be sampled and re-combined in order to examine implicit meanings or suggest new ones. He has collaborated with musicians and artists including Soundlab, DJ Spooky That Subliminal Kid, Phillip Virus with Alec Empire, Teleseen, Amiri Baraka, Femmes with Fatal Breaks, and Anti-Pop Consortium. He lives and works in New York City.
This project is made possible with support from the National Endowment for the Arts, The Andy Warhol Foundation for the Visual Arts, New York City Department of Cultural Affairs, The New York State Council on the Arts, Deutsche Bank Americas Foundation's Art and Technology Program, Bronx Borough President Ruben Diaz Jr., Majority Leader Joel Rivera, the Bronx Delegation of the New York City Council, and The Andy Warhol Foundation for the Visual Arts.