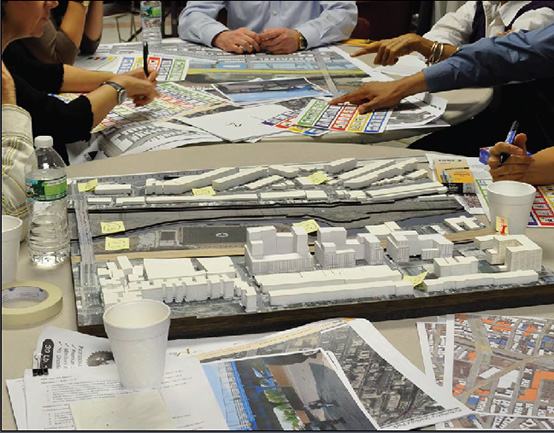 Process and Progress 5: Brooke Singer, SLO Architecture, NYC Department of City Planning, 596 Acres, BRAC's Teen Project Studio
On View from May 31, 2013 – June 22, 2013
OPENING RECEPTION: Friday May 31st, 2013, 6-9pm
at our temporary gallery space
BRAC on the Block
305 E. 140th Street, #1A, Bronx, NY 10454
GALLERY HOURS: Wednesday–Friday, 3pm–6:30pm / Saturday, 12pm–5pm FREE ADMISSION
Bronx River Art Center (BRAC) is proud to announce Process and Progress: Brooke Singer, SLO Architecture, New York City Department of City Planning, 596 Acres and BRAC's Teen Project Studio. This is the fifth and final exhibition in the series Process and Progress: Engaging in Community Change. Over the last eight months, this series has provided a framework for artists, architects, community organizations and neighbors to engage with systems of urban development in the Bronx and beyond. This exhibition will be presented in BRAC's temporary gallery space in the Mott Haven neighborhood of the Bronx.
Process and Progress: Engaging in Community Change is an interdisciplinary exhibition series that highlights the Bronx River Art Center's development during a time of significant structural and cultural change in the borough. BRAC's major building renovation project, now underway, is leading the way for more environmentally sustainable and technologically advanced designs within the West Farms community.
Process and Progress 5: Brooke Singer, SLO Architecture, NYC Department of City Planning, 596 Acres and BRAC's Teen Project Studio highlights strategies employed by architects, artists, urban planners, neighborhood activists, and local youth to articulate and improve the environmental and infrastructure challenges that face our South Bronx community. This exhibition expands the traditional notions of what an "art exhibition space" is by incorporating a diverse group of voices to enhance and enrich complex conversations about the role of art, community organizing, and urban planning within our borough and beyond.
In her online data visualization project Superfund365 and photo documentary series Sites Unseen, artist Brooke Singer maps toxic contamination sites throughout the country. These projects trace the development and confluence of industry, economy, ecology, land use, and environmental health over time, creating an alternative reading of the history of the United States.
SLO Architecture will present several projects exploring the past, present, and future of the Bronx River. Bronx River Crossings is a floating scale model that traveled the span of the Bronx River. The model was made in collaboration with 100 local youth, students, architects and activists using recycled materials. It was based on the watershed's seen and unseen layers to bring attention to the natural and manufactured history of the area around the Bronx River. In addition, SLO will be showing Bronx River Right of Way, a project that proposes a strategic framework for transferring an abandoned railroad station to the adjacent waterfront. This project will become a cultural and ecological node of a revitalized Bronx River waterway and greenway.
New York City Department of City Planning will present a scale model, photographs and diagrams from the Sheridan Expressway-Hunts Point Land Use and Transportation Study. The Sheridan Expressway is 1.25 miles long, linking the Bruckner and Cross Bronx Expressways. Conceived by Robert Moses in the 1960s, this roadway has been a site of contention since its construction. This interdisciplinary study explores the neighborhoods and infrastructure surrounding the Sheridan Expressway as well as the expressway itself in order to address community concerns about land use, waterfront access, transportation, and economic development so that local residents can take advantage of emerging opportunities for new housing and retail. The planning process has helped prioritize the land use and transportation needs of the Bronx, local residents, business communities and the broader region, and helped shape the city's view about transforming the built environment of Bronx communities.
596 Acres will show the newest map of hundreds of acres of vacant public land that is concealed in plain sight in the Bronx. Often hidden behind chain link fences, these lots are concentrated in neighborhoods disproportionately deprived of beneficial land uses. 596 Acres works closely with local organizations and residents to find ways to advocate for land access and utilize the empty lots and bring new uses to them.
BRAC's Teen Project Studio worked with 596 Acres to mark empty lots in the West Farms neighborhood. The teens worked with teaching artist Manuel Acevedo to imagine and create new digital images using iPads, sketches, digital photographs in order to envision possibilities for new uses for those empty lots and adjacent parts along the Bronx River.
Artist and Partners:
Brooke Singer

Brooke engages techno-science as an artist, educator, non-specialist and collaborator. Her work lives "on" and "off" line in the form of websites, workshops, photographs, maps, installations, public art and performances that often involves participation in pursuit of social change. She is Associate Professor of New Media at Purchase College, State University of New York, a former fellow at Eyebeam Art + Technology Center (2010-11) and co-founder of the art, technology and activist group Preemptive Media.
SLO ArchitectureAlexander Levi and Amanda Schachter are co-founders and principals of SLO Architecture, founded in Madrid in 2005, and based in New York since 2007. They are native New Yorkers, collaborating since 1996. Prior to starting their office, which is licensed both Spain and New York, they were involved in numerous public building projects both in the States and in Europe, where they resided from 1998-2007. They have won numerous awards including the New Practices New York 2012, a biennial award of the New York Chapter of the American Institute of Architects. They are also recipients of the 2011 Richard L. Blinder Award of the James Martson Fitch Foundation, for Bronx River Right-of-Way among many professional accolades.
596 Acres
596 Acres are land access advocates who build online as well as on-the-ground organizing platforms for land access advocates to use in New York City. They map hundreds of acres of vacant public land that is hidden in plain sight behind chain-link fences in the five boroughs. They build tools for communities to open the many rusty fences and the opportunities within them to improve the areas we all live in. 596 Acres creates tools to help neighbors find lots in their communities by making municipal information available and by placing signs on vacant public land that explain the lot's status and steps that the community can take to be able to use the land. They also provide education about city government and ways to participate in decisions that shape neighborhoods; and they assist communities with legal support and campaign-development on land use issues, thus maintaining a network that allows communities to share knowledge and relationships with decision-makers. 596 Arches also works with groups after they get access to land to build sustainable community governance, as they become stewards of a public and inclusive resource and advocates for municipal agencies to increase participatory decision-making surrounding public resources.
New York City Department of City PlanningThe Department of City Planning (DCP) promotes strategic growth, transit-oriented development, and sustainable communities in the City, in part by initiating comprehensive, consensus-based planning and zoning changes for individual neighborhoods and business districts, as well as establishing policies and zoning regulations applicable citywide. It supports the City Planning Commission and each year reviews more than 500 land use applications for actions such as zoning changes and disposition of City property. The Department assists both government agencies and the public by providing policy analysis and technical assistance relating to housing, transportation, community facilities, demography, waterfront and public space.
BRAC's Teen Project Studio (TPS)
TPS is an intensive art program for teens taught by professional artists who work in a variety of media. Students develop skills in traditional and new art forms such as drawing, illustration, sculpture, digital photography and digital design. TPS students also gain leadership experience to cultivating stewardship of our natural resources, including the Bronx River. Each class focuses on a specific real-world project to engage students in the community while learning new media. This program is unique in its approach to youth development and enhancing the students chances for successfully attending college.
Photo courtesy of New York City Department of City Planning, community charrette in the Bronx, 2013
The Andy Warhol Foundation for the Visual Arts
This project is made possible with support from the National Endowment for the Arts, The Andy Warhol Foundation for the Visual Arts, New York City Department of Cultural Affairs, The New York State Council on the Arts, Deutsche Bank Americas Foundation's Art and Technology Program, Bronx Borough President Ruben Diaz Jr., Majority Leader Joel Rivera, and the Bronx Delegation of the New York City Council.