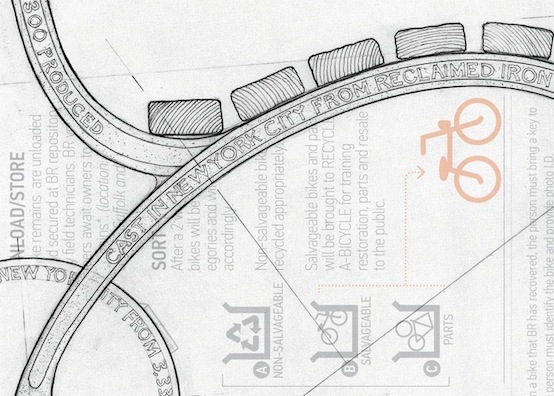 Small Projects. Big Change. An Exhibition by Pilot Projects Design Collective
On View from October 02, 2013 – October 26, 2013
Bronx River Art Center (BRAC) is proud to announce Small Projects. Big Change. by Pilot Projects Design Collective - the first in a series of five exhibitions - Curatorial Practice- that invites curators to engage with the community on art and social practice. The show is presented in BRAC's temporary gallery space at 305 East 140th Street, #1A, Bronx, while our permanent facility in West Farms undergoes renovation.
Tour and Lecture by Pilot Projects and Guests -- Friday, Oct. 11, 6-8pm
"Introduction to Design" Workshop for Teens & Adults -- Tuesday, Oct. 15, 5-7pm
Closing Reception -- Friday, Oct. 25, 6-9pm
Can forty recycled shipping containers clean up Brooklyn's Gowanus Canal? Could an ugly 1970s car park be turned into a cyclist's paradise? What if we replaced decaying planks in the Brooklyn Bridge promenade with sustainably harvested wood from Guatemala, and help preserve rainforests in the process?
What's up with all those abandoned bicycles chained to city signposts, and why can't we do anything about them? Could we lose our costly bottled water habit and start using public drinking fountains again?
Since its inception in 2010, Pilot Projects Design Collective has been asking these and other provocative questions about city infrastructure and culture, exploring where decisions about each affect the other. In this round-up of the visuals—sketches, renderings, charts and photos—related to their favorite interventions, both real and yet-to-be-realized, the Pilot Projects team presents a vision of how we might co-create a better New York City.
http://pilot-projects.org/blog/entry/pilot-projects-party-in-the-bronx-friday-october-25th-6-9pm
GALLERY HOURS
Wednesday-Friday 3-6:30pm
Saturday 12-5pm
ADMISSION FREE
GALLERY LOCATION
305 E. 140th Street, #1A, Bronx, NY 10454
The exhibition series, Curatorial Practice, seeks to enrich our borough through a dynamic collaboration between guest curators and Bronx River Art Center students. Talented minds from across New York City will bring fresh perspective to the unique enclave of South Central Bronx and organize public programming, such as artist lead tours, lectures, and performances.
Ultimately, Curatorial Practice will create a paradigm where community-¬centric contemporary art and the work of curators can serve as tools for public service; enable youth to acquire and build skills to explore and investigate broader aspects of culture and society; and provide new opportunities for cultural participation, in order to foster a more inclusive definition of community.
For additional information/press images, please contact Karine Duteil: 718.589.5819 x14 or kduteil@bronxriverart.org
This project is made possible by the National Endowment for the Arts, The New York City Department of Cultural Affairs, and the New York State Council on the Arts with the support of Governor Andrew Cuomo and the New York State Legislature. Related education and public programs are supported, in part, by the José E. Serrano WCS-NOAA, Lower Bronx River Partnership Program, Simón Bolívar Foundation, The Deutsche Bank Americas Foundation, Con Edison and The New York Community Trust.
The Bronx River Art Center expresses its appreciation for the support of The City of New York, Mayor Michael R. Bloomberg, Bronx Borough President Ruben Diaz Jr., New York City Council Majority Leader Joel Rivera, and members of the Council's Bronx Delegation.