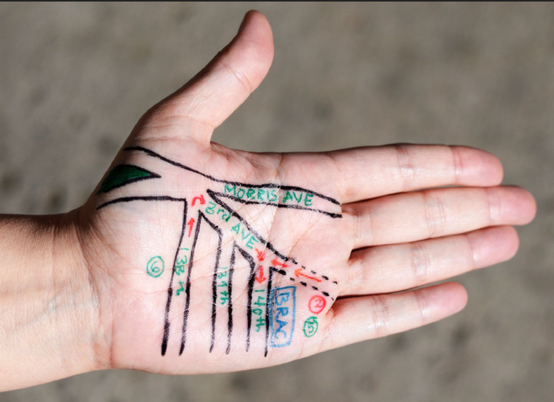 MAPnificent! Artists Use Maps
On View from November 21, 2013 – December 21, 2013
View and interact with works created by 18 artists that feature contemporary works on paper, sculpture, video and installation performance. For these artists, a map is "a work of art." The show's title borrows from a Google-Map application, MAPNIFICENT, which calculates the travel time between places via public transportation.
Curated by Yulia Tikhonova
Opening Reception/Curator & Artist Tour - Friday, Nov. 22, 6-9pm
The works on exhibit take on several approaches to illustrate a scientific research in demographics, a flow of capital, or the distribution of patterns. They also present the artists' reverence for maps. For some of the exhibiting artists, mapping is a tool to create interactive visuals with the help of sophisticated tools for image manipulation that arrange numbers into intricate geometrical forms. The artists in this show are:
Lynn Avadenka, Nicky Enright, Irina Danilova, Paul Fabozzi, Alaistar Noble, Ariane Littman, Mannahatta, Glendalys Medina, Hand Drawn Map Association, Marie Christine Katz, Aga Ousseinov, Amy Pryor, Asya Reznikov, Yumi Roth, Paula Scher, Viviane Rombaldi Seppey, Andre Vida and Bice C. Wilson
There will be several events throughout the run of this exhibition to which the public is invited to meet the artists and engage with their work:
Wednesday, Dec. 4, 6-8pm
Performance/Installation - Artist Marie Christine Katz will begin her interactive performance/installation Knitting, I Need You, that coincides with Bronx Culture Trolley Night.
Saturday, Dec. 7, 2-4pm
Lecture - Eric W. Sanderson, Senior Conservation Ecologist, from the Wildlife Conservation Society will present his current work- a gorgeous web-based data mapping project- Weilikia Bronx, which is a creative visualization of the historical ecology of the Bronx. This project grew out of the Mannahatta Project that was on exhibit at the Museum of the City of New York in 2009.
Friday, Dec. 20, 6-9pm
Closing & Performance/Installation - BRAC will celebrate MAPnificent's closing with an End-of-Year Party that includes around the globe spinning by Bronx DJ Lightbolt and a closing performance/installation by artist Marie Christine Katz.
GALLERY HOURS
Wednesday-Friday 3-6:30pm
Saturday 12-5pm
ADMISSION FREE
GALLERY LOCATION: 305 E. 140th Street, #1A, Bronx, NY 10454
ABOUT THE CURATOR
Yulia Tikhonova is an independent curator dedicated to community based curating. She is the founder of the Brooklyn House of Kulture, which is dedicated to supporting artists from diverse immigrant backgrounds, in particular Eastern Europe. Her recent project, Creative Diasporas, hosted ten evening presentations by poets and visual artists whose art making is inspired by their multicultural backgrounds. MAPnificent continues and extends her research into the process of assimilation.
About Curatorial Practice at BRAC
The exhibition series, Curatorial Practice, seeks to enrich our borough through a dynamic collaboration between guest curators and Bronx River Art Center students. Talented minds from across New York City will bring fresh perspective to the unique enclave of South Central Bronx and will organize public programming, such as artist lead tours, lectures, and performances.
Image: Artist, Yumi Roth, Digital Image 2013.