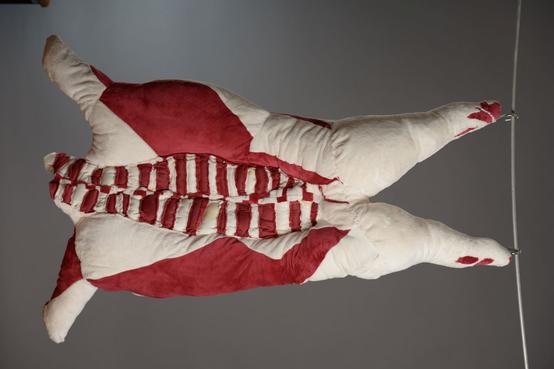 The Sculpture of Food
On View from March 20, 2015 – April 11, 2015
The second of the exhibition series Food Systems, Surroundings & Sensibilities:
Opening reception: Friday, March 20th, 6-9pm
305 East 140th Street, Bronx, NY
Saturday, April 11th - Foraging Tour by SPURSE
The Bronx River Art Center (BRAC) is pleased to announce The Sculpture of Food, the second in a year-long series of five exhibitions that will run through 2015, entitled Food Systems, Surroundings & Sensibilities. The exhibition will open with a reception on Friday March 20th from 6 to 9pm at BRAC's temporary gallery space in Mott Haven, the Bronx.
If sculpture can explore the physical, tactile implications of material and all of the cultural significance that it brings with it, then The Sculpture of Food achieves this transference of meaning through that which we eat. In the works on display, food is both a building block for an art object and an idea to be conveyed. The materials chosen by each artist to construct the works, whether they be stone, fur, paper or candy, create significance that could contradict or add to the cultural weight that belongs to an everyday package of candy or a bloody side of beef.
Curated by Karine Duteil, The Sculpture of Food is part of BRAC's larger curatorial effort to draw attention to food as a creative medium and muse, indicator of culture, and pressing social and political issue, most importantly specific to the Bronx.
The exhibition will feature:
Robin Antar's passion for sculpting is expressed in her creation of the virtual records of contemporary culture. She captures everyday objects in carved stone, using a technique she invented more than 20 years ago. She mulls over the food she wishes to replicate as historical evidence for future generations, asking herself, 'Will a bottle of Heinz ketchup exist in 2100 CE?'
Rachel Major's work explores the customs and rituals surrounding food and eating. Her investigation of this multi-layered topic involves probing the history of food and how it has been transformed from purely sustenance into a culture of symbols and identity. Because it is imbued with so much power, mythology and history, she is specifically fascinated with meat. Much of her work is about exploring contradiction through juxtaposing materials (for example soft fur) with subject matter (meat) as well as juxtaposing imagery (for example meat and cake).
Colin McMullan d/b/a Emcee C.M., Master of None presents a project about the land, and how it can provide for human sustenance, if we live in close connection with it. Set with antique dinnerware, the paper booklet engraved from maple blocks sings an ode to the wild.
Plant Sculptures is a meditation on how plants sculpt our urban ecosystems and ourselves, by SPURSE (Iain Kerr and Matthew Friday) who is working in the South Bronx area with the help of the Bronx River Alliance and in collaboration with Anna Adler. Adler will present Vessels from the Voids, an intervention that explores what we find, take, and leave behind in an urban landscape. Working with the physical voids that uprooted plants and shifted objects leave behind, the artist will create 5-7 vessels based on negative/positive renderings of hollows in the ground located around the gallery. The vessels will then be used to serve foraged food and ultimately returned to (re)fill the spaces they signify, standing in for what was once there.
Hannes Bend, who lives as a nomad often based in the Bronx and Brooklyn, presents Sweet Streets, a pre-launch of a series of bike tours to take place in spring and summer 2015 in the South Bronx. With local organizations such as Transportation Alternatives, they will discover the most dangerous potholes, which will then be scanned and 3D printed and filled with liquid and slowly solidifying candy. The materiality of the candy casts highlights the density of processed and high sugar foods predominant in low-income neighborhoods, the areas where the most and deepest potholes have so far been located. The project addresses socioeconomic topics (diet, street conditions in low-income neighborhoods), and cultural issues (collaborative public interventions through technology and art).
Esperanza Cortes, a long time artist active in the Bronx, is working in residency at Conti's Pastry Shoppe to design a cake that will encompass all her skills as an accomplished sculptor. Located in the design studio adjacent to the Pastry shop she will work in close collaboration with the pastry professionals of Conti's, established in the Bronx since 1921.
April 11th Foraging Walk by SPURSE from 2-5pm - Meeting at 2pm at the gallery walking to neighborhood community garden Brook Park.
SPURSE will lead a foraging walk and host a picnic that explores the complex entangled relations that humans and plants have in co-shaping the urban ecosystem. We will follow histories, migrations, and evolving shared dependencies that both shape our present lives and perhaps offer alternative ecological and food futures. This walk will compose a delicious spring foraged meal.