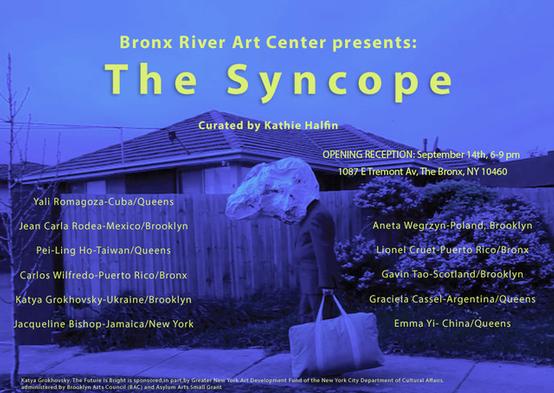 The Syncope
On View from September 14, 2019 – October 19, 2019
Curated by Kathie Halfin.
Artists:
Yali Romagoza - Cuba/Queens
Jean Carla Rodea - Mexico/Brooklyn
Pei-Ling Ho - Taiwan/Queens
Carlos Wilfredo - Puerto Rico/Bronx
Katya Grokhovsky - Ukraine/Brooklyn
Jacqueline Bishop - Jamaica/New York
Aneta Wegrzyn - Poland/Brooklyn
Lionel Cruet - Puerto Rico/Bronx
Gavin Tao - Scotland/Brooklyn
Graciela Cassel - Argentina/Queens
Emma Yi - China/Queens
Each person's life is dominated by a central event, which shapes and distorts everything that comes after it and, in retrospect, everything that came before. Svetlana Boym, the acclaimed critic, takes Nabokov's word Syncope to describe immigration in "Speak, Memory".
The word means a change of rhythm in music or a brief loss of consciousness in life. It is the gap between lives. This show chooses to focus on immigrants' and migrants' experiences of time and place as a break, or the Syncope, as Nabokov puts it.
Evidently, this zone of discontinuity is unsettling. The "gap in between lives" sets a challenge for the immigrants as they are compelled to find a new sense of belonging and preserve personal identity, which is often conflicting. For some, Syncope represents resistance to the oppressive stereotypes of the dominant culture and the need to find a safe space in the new surroundings. For others, it is an emptiness caused by disintegration from their cultural environment.
In the show, artists reflect on and propose ways to address the Syncope. From the storytelling to activism, from gestures of solidarity to idiosyncratic personal experiences, artists suggest the interpretations of the Syncope and ways to live with it.
Show runs from September 14th through October 19th.
Opening Reception September 14, 6-9 PM
The Syncope exhibition, which will be presented at both the Main Gallery and the Rooftop Garden, will bring together the diverse community of immigrant artists whose work addresses challenges posed by immigration, cultural transition, and the change of environment. From fictional storytelling to activism, from gestures of solidarity to idiosyncratic personal experiences, artists work in a variety of interdisciplinary practices of visual and performance arts, reflect on their experiences of immigration, and suggest ways to live through and with this experience.
During the opening reception, The Syncope exhibition is delighted to feature a special program of four live performances by Katya Grokhovsky, Yali Romagoza, Jean Carla Rodea, and Pei-Ling Ho, in collaboration with Emily Smith. These woman artists from diverse cultural and artistic backgrounds will share their interdisciplinary practices of performance art, sound, experimental music, movement, and dance with the community and present their pieces at the Main Gallery and at the rooftop garden.
This special program also includes screenings of short videos produced by the artists in this show. The screenings will be featured at the rooftop garden during the opening reception. The videos center around the experiences of immigration and highlight the issues of memory, identity, belonging, and labor.
Opening Night Performances

Yali Romagoza, 90 miles, 2018
Photo by Lindsey Whittle
Yali Romagoza
"The Mistress of Loneliness" is an ongoing multidisciplinary project based on Romagoza's experience growing up in Cuba and as a recent immigrant to the US. Romagoza will present a version of the video installation "The Mistress of Loneliness" - Chapter 1: The Departure - as a live performance using her alter-ego Cuquita The Cuban Doll to explore the idea of the body as a nation.
Katya Grokhovsky, The Future is Bright, 2017
Photo by Miao Jiaxin
Katya Grokhovsky
In her multimedia project "The Future Is Bright" , Katya Grokhovsky explores disillusion, migration, identity, rediscovery, and the failed utopian promise of ideology through the artist's family history. Focusing around the narrative of the character of Grokhovsky's 94-year- old, only surviving grandmother, a veteran of World War II, the project investigates formation and deconstruction of migrant identity through an extraordinary story of survival, humanity, and legacy.
Jean Carla Rodea
In her multimedia installation "Looking For Maria", Jean Carla Rodea focuses on the life of a Mexican woman known as "Malinche". Her name was transformed in the term "malinchismo", which is used by Mexicans and Mexican origin populations in the US to refer to community members who "sell out," adopting the value system of the dominant culture. Jean Carla argues that Maria had the agency to speak up and challenge those in power, therefore starting a decolonial practice and disrupting normative narratives still assigned to women.
Pei-Ling Ho and Emily Smith
In "Noodled Pioneers", Pei-Ling Ho and Emily Smith use their bodies and objects as vehicles to reflect and rethink the complex identities in the US as women and witnesses. From two perspectives and backgrounds, they respond to the same anxieties and confusion through nationality and daily lives.
---
Workshops through October:
September 18th, 4-6 pm
Katya Grokhovsky Presents: Performance in the Everyday
A performance art workshop by artist, curator, organizer, and educator Katya Grokhovsky, in which everyday actions are highlighted and explored as potential material for constructing live performances.
Performance in the Everyday is a hands-on group workshop, in which participants explore and mine their everyday routines for potential raw material, in order to develop multidisciplinary works of performance art. Mundane gestures are isolated, repeated, and workshopped, in combination with found objects, movement, voice, sound, body, and visual elements, as well as peer collaboration, in order to investigate the various possibilities of a live medium.
September 28th, 4-6pm
Yali Romagoza Presents: Who Am I in This Society? Crafting Alter-Egos
Inspired by her experience as an immigrant artist, Yali Romagoza created her alter-ego "Cuquita the Cuban Doll", responding to displacement, isolation, and self-alienation. Participants in the workshop are invited to transform into an alternate version of themselves and play different roles in today's contemporary society using fabric, yarn, magazine clippings, and embellishments.
October 12th, 4-6pm
Aneta Wegrzyn Presents: Home
The watercolor workshop will explore the theme of belonging and home from current sociopolitical situations, our culture, and geographical roots. Participants will paint and draw on plaster tiles handmade by the artist, similar to what is used in her work. After a short discussion about the personal meaning of home - a physical space, mental space, certain objects, people, etc. - participants will briefly learn how to use watercolor and create a final piece on an individual tail.
Watercolor bleeding into plaster forces the participants to give up control and adjust to the unpredictable material. The process of painting on plaster, similar to the immigrant experience, requires letting go of control, being open to the new/unknown, constantly adjusting, and at the same time, keeping an identity and expressing oneself freely. The workshop will be a personal journey of self-discovery within a creative and safe and supportive community.