Press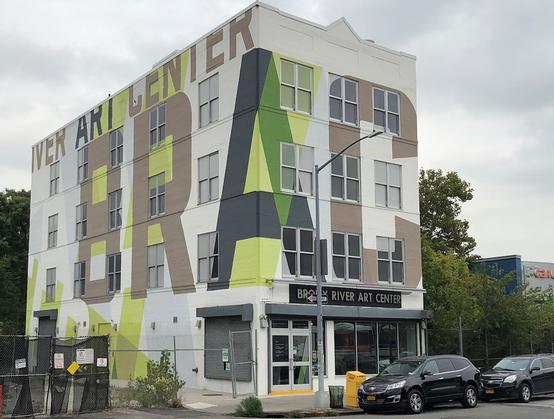 This is the Bronx, 10/10/18
Bronx River Art Center: Building of the Day!
By Gary Alexbank | web link
The gorgeous new building that houses the Bronx River Art Center (BRAC) at 1087 East Tremont Avenue has been selected as an Archtober "Building of the Day" for Wednesday, October 10, 2018. Movers and shakers in the architecture wold will be visiting and touring the building on that day from 12:00pm-1:00pm.
Archtober is New York City's Architecture and Design Month, the eighth annual month-long festival of architecture activities, programs and exhibitions.
Organized by the Center for Architecture in collaboration with 60+ partners and sponsors, the 2018 installment of Archtober gathers events ranging from daily building tours and lectures by design experts, to architecture-themed competitions and parties.
The refurbished BRAC with its unique wrap-around logo exterior deisgn and an interior that's been custom-designed for a variety of artists, art classes and galleries that maximizes creativity was designed by Sage and Coombe Architects.
In their description of BRAC, Archtober orgaizers wrote:
The Center occupies a four-story former warehouse building bordering the newly reclaimed Bronx River Greenway. The Art Center has a clear mission: to foster arts education within a framework of environmental stewardship. Taking this as design inspiration, Sage and Coombe developed environmental and architectural strategies that work in tandem.
To take advantage of the project's visibility from Tremont Avenue and the Greenway, as well as from the elevated subway that circumnavigates the site, the building is wrapped with a super-graphic that announces the Art Center and its mission.
The project received an AIA Merit Award for Unbuilt Design in 2010 and a Design Award in 2010 from the Public Design Commission.
The building took seven years to complete and during that time Executive Director Gail Nathan and her staff ran classes literally everywhere they could to keep their vital art programs going. thisistheBronX covered the issue and this video went a long way to moving the City forward in getting the building completed. It opened in the spring.