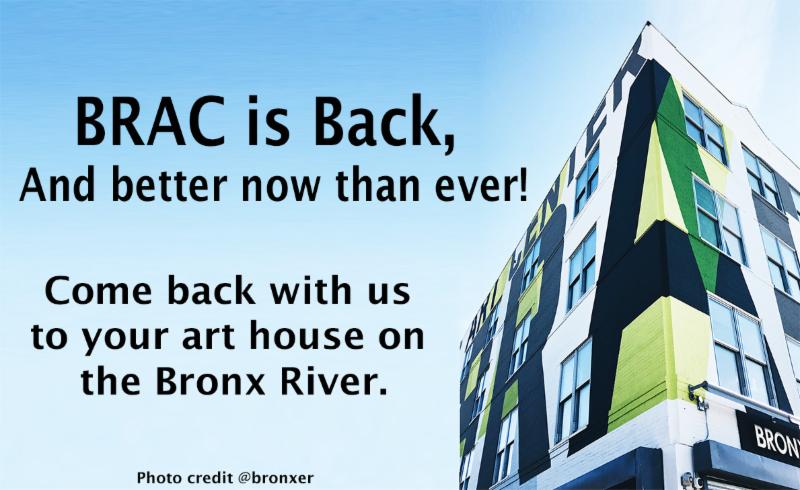 Help support the Bronx River Art Center and keep arts and art education in the Bronx accessible to all!
Please give what you can to help our cultural services thrive.
$30 – Memberships begin at just $30 for Senior Citizens and students. This level entitles you to early entry to all exhibitions and special events, discounts for perfromances and classes.
$50 - Individual Membership. This level offers member's previews to exhibitions and discounts for performances and classes.
$75 - Membership for families of up to 4 people. This level offers member's previews to exhibitions and discounts for performances and classes.
$175 – Become a supporting member at $175. See your name on a bronze plaque on our "Honor Wall" of donors, and receive exclusive invitations to "Meet the Artists Night" in our Studios program.
$250 – This will engrave your name on a silver plaque on our Donor Wall and offer special evening sunset cocktail parties on our green roof, in addition to "meet the artists" nights.
$500 – This offers a gold name plaque and, in addition to the above benefits, adds one free class series (10 weeks).
$1000 – The stakes get bigger with a "brick" sized gold plaque, in addition to all the benefits above, and a "Going to the City Art Night" outing.
$2000 and Up – Corporate sponsor and Big Spender Individual offers all the above benefits, as well as top row on our Donor Wall. And, an opportunity to lead "Building Your Business" forums with emerging Bronx-based creative entrepreneurs from our co-working space program.
You can donate any amount at all with your credit or debit card via PayPal:
(Note: After clicking the button, you can check the "make this a monthly donation" box to set up a recurring donation.)
---
You can also mail us your donation:
Please click here for information and a form to print.
All contributions are deductible within legal limits for income tax purposes. Bronx River Art Center is a not-for-profit 501 (c) (3) corporation, guided by a professional staff and dedicated board of directors.
---
Use https://smile.amazon.com/ to donate to the Bronx River Art Center with your Amazon purchases!
What is AmazonSmile?
AmazonSmile is a simple way for you to support your favorite charitable organization every time you shop, at no cost to you. AmazonSmile is available at smile.amazon.com on your web browser and can be activated in the Amazon Shopping app for iOS and Android phones. When you shop with AmazonSmile, you'll find the exact same low prices, vast selection and convenient shopping experience as Amazon.com, with the added benefit that AmazonSmile will donate 0.5% of your eligible purchases to the charitable organization of your choice. You can choose from over one million organizations to support.
How do I shop with AmazonSmile?
To use AmazonSmile, simply go to smile.amazon.com on your web browser or activate AmazonSmile in the Amazon Shopping app on your iOS or Android phone within the Settings or Programs & Features menu. On your web browser, you can add a bookmark to smile.amazon.com to make it even easier to return and start your shopping with AmazonSmile.
---
VOLUNTEER: Investing your time in BRAC is a REWARDING experience!
We have a variety of volunteer opportunities available at BRAC:
Cataloging and Archiving
Team Classroom Monitors
Education Programs Assistants
Entrance Monitors
Fundraising Committee
Student Exhibition Assistants
Website/Newsletter Team
Please contact us at bracvolunteers@gmail.com or 718-589-5819 for more information about internships or volunteer opportunities. Thank you!