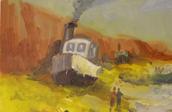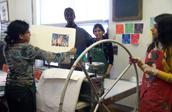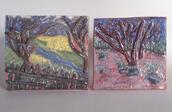 Adult Classes - Fall 2019
October 4, 2019 - December 19, 2019
Ceramics (Saturdays)
Instructor(s): Ana Ruiz-Castillo
Time: Saturdays, 2 - 4 PM
Location: BRAC - 3-D Studio (4th Floor)
Fee: $95
All ages welcome! Especially Parents with young children working together to learn the basics of ceramics with an emphasis on the creative use of clay to produce colorful sculptures. Both the art and craft are explored as participants create uniquely formed objects such as vases, boxes, cups and other utilitarian objects as well as realistic and abstract sculptures. Students will learn different modeling techniques such as pinching, coiling, slabs and glazing.
---
Digital Photography 102
Instructor(s): Hosea Johnson
Time: Saturdays, 10:30AM-1:30PM
Location: BRAC - Computer Lab (2nd Floor)
Fee: $120
This course will emphasize studio photography and natural light photography. Students will be encouraged to study commercial still life and portrait photography. Techniques like Natural light, fill light, flash fill, meter reading, color balance, professional strobe and continuous light source equipment use will be covered. This course will cover the basic concepts and practice of digital photography, including understanding the history and use of the camera, lenses, and other basic, light meter, photographic equipment. This course will use Photoshop for editing. The course will address aesthetic principles as they relate to composition, space, exposure, light and color. Technological requirements of digital formats will be addressed, such as file types and resolution. Basic digital manipulations of images will be taught in preparation for creating a photo portfolio of images.
---
Drawing & Printmaking
Instructor(s): Tammy Wofsey
Time: Fridays, 4:30pm - 6:30pm
Location: BRAC - 2-D Studio (4th Floor)
Fee: $95
Introduction to Printmaking
All ages welcome! Especially Parents with young children working together!
In this class we will explore different kinds of printmaking methods. We will first learn how to make our own handmade and marbled papers for chine collé then linocut prints, water color monotypes, stencils, drypoint and collographs. We will explore drawing and color with the printmaking tools we learn.
---
Introduction to Art
Instructor(s): Jennifer Tomaiolo
Time: Thursdays, 4:30-6:30 PM
Location: BRAC - 2-D Studio (4th Floor)
Fee: $95
Painting, Drawing and Sculpture
Let's get creative! This class will introduce you to a variety of art materials and methods that artists use to express themselves. We will paint, draw, make clay figures, create & paint masks, use tiles, stones, and paper. We will look at art & artists from all over the world to inspire us.
---
Painting
Instructor(s): Joel Adas
Time: Saturdays, 2 - 4 PM
Location: Bronx River Art Center
Fee: $95
Painting and Collage
We will explore the history of collage as it has related to painting throughout the history of art, starting with the early collaged cubist paintings of Picasso. We will explore how different and unusual painting techniques can be used in collage and we will use found as well as more traditional art materials to create our painted collages.
---
Registration Information:
Fee Information:
Please note: It is a first come, first serve policy. Reserve your spot as soon as possible!
Register before September 7 to receive a 10% discount!
All fees must be paid in full at the time of registration.
Or contact us at info@bronxriverart.org or call 718.589.5819
Cancellation Policy If a class does not meet capacity, it may be canceled, in which case students will have the option to either take another class or receive a full refund.
Unless otherwise noted, all classes include materials and use of professional equipment.