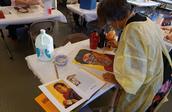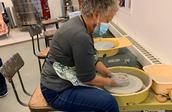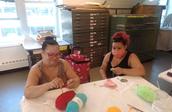 Adult Classes
SUMMER 2022 ADULT ART CLASSES
July 11th - August 12th
(Or register in-person at BRAC, Tues-Fri 2-6pm, Sat 10am-5pm)
---
Adult Classes (ages 21 and older): $58 for five sessions
---
FULL SUMMER 2022 SCHEDULE AND COURSE DESCRIPTIONS
(Click to expand menus)
Instructor: Jonathan Berry
This course will cover foundations of color theory, composition ideas, and canvas layout. Students will refine their technical skills using acrylic and watercolor as well as other techniques and methods in painting in order to expand their painting vocabulary. This course will culminate in an instructor-led multi week project aimed at producing a finished painting based on participants interests and themes.
Instructor: Julia Pontés
Imagine that you could create a map that better represents the place where you live… This Summer, selected participants in the program will work collectively to create a new form of mapping representing the West Farms and the Bronx River in "3D Interactive Mapping: Expanded Cartography." The five-week program will introduce production practices using photography, family and public archives, geology, and geography to create 3D maps and an art installation. We will collect materials in the river's surroundings, record sounds, and learn how to investigate satellite images. We will have 2 field trips to a museum to look at and observe different types of art installations and a library/archive where research methods will be shared. Our class goal is to have an art installation showcasing our final map. And our hope is that it serves as an expanded portrait of the West Farms and the Bronx River region.
Teen Project Studio +2.0 is an intensive, five-week, twice a week (Monday and Wednesday) visual arts program for teens and young adults ages 15-23 yrs. The free program is limited to 15 students, begins on July 11th, 2022, and meets on Mondays, Wednesdays, and Fridays, 4pm to 6 pm. TPS is a unique opportunity to experience and learn about the visual arts and creative industries in an interactive and challenging way. TPS is also an opportunity to meet other participants with similar interests; design experience is not required, just the willingness to learn, share, and create.
Instructor: Gregory Maldonado
This class focuses on learning about the structures of manga / anime characters using shapes and anatomy for movement. Students will focus on the creation of Chibi Style caricatures, develop pacing, setting up scenes using panels, working with depth, and the use of lighting and shadow techniques. Students will work on developing their own manga and anime characters to tell their own stories.
Instructor: Maria Ferrari
Arm yourself with the best tools possible for creating art digitally using Adobe Photoshop. This class teaches basic skills and good work habits that are essential to mastering Photoshop, and its complex range of possibilities - skills that will better prepare students for a lifetime of creating digital art with ease. Geared for ages 13 and up, this class will be valuable both for building portfolios for school applications and expanding job opportunities for adults in the digital design fields. In this course you will have great fun exploring your creative vision on the computer. This class is being offered hybrid with the teacher leading the class virtually on our large screen monitor. Students can take advantage of BRAC's state-of-the-art computer lab with a teaching assistant there to help you, or work virtually from their home. (Access to Adobe Photoshop is required for this class. BRAC welcomes students in this class for the Open Lab sessions).
3D Interactive Mapping: Expanded Cartography
Instructor: Julia Pontés
Registration is by application only! See the Teen Project Studio +2.0 page for more details.
Instructor: Cristen Shea
This course introduces students to creating ceramic forms utilizing the potter's wheel. A range of techniques will be demonstrated as starting points to using the wheel as a tool for creating forms. The design, function, decoration, and presentation of the thrown forms will be emphasized through course assignments.
Instructor: Hector Canonge Through the use of applications, demonstrations, and hands-on learning students will learn animation. By the end of the course students will have created their own animated shorts (30 seconds max.) This class is being offered hybrid with the teacher leading the class in our Media Lab and virtually through online platforms. Students can take advantage of BRAC's state-of-the-art computer lab with a teaching assistant on-site to help you, or work virtually from their home. (Access to Adobe Photoshop is required for this class. BRAC can provide a few temporary subscriptions of Adobe Photoshop for registered participants who chose to work remotely).
Instructor: Christopher Lopez
Participants will learn how to analyze, create, and speak about the images they see in their everyday lives. By discussing the technical aspects of digital photography students will learn about composition, framing, and form to better understand the deeper meaning of photographs. Students will have the opportunity to create their own original photos during every class in BRAC's Media Lab and the immediate surroundings, BRAC's garden and Green RoofTop.
NOTE: Classes may not run if there are less than eight registered students. If the class is canceled, you will be notified before classes start.
Proof of vaccination will be required upon entering building for first class. Negative tests required for under 12. Use of masks is required.
---
Registration & Fee Information:
Please note that we have a first-come, first-serve policy. Reserve your spot as soon as possible!
All fees must be paid in full at the time of registration. In addition, you can contact us at info@bronxriverart.org or call 718.589.5819
Cancellation Policy: If a class does not meet capacity, it may be canceled, in which case students will have the option to either take another class or receive a full refund.
Unless otherwise noted, all classes include materials and use of professional equipment.
---
Locations of Classes & Travel Directions:
In-person classes will take place at the Bronx River Art Center, located at 1087 E. Tremont Avenue, Bronx, NY 10460
Virtual classes will take place over Zoom, with links sent out no latter than two hours before class time.