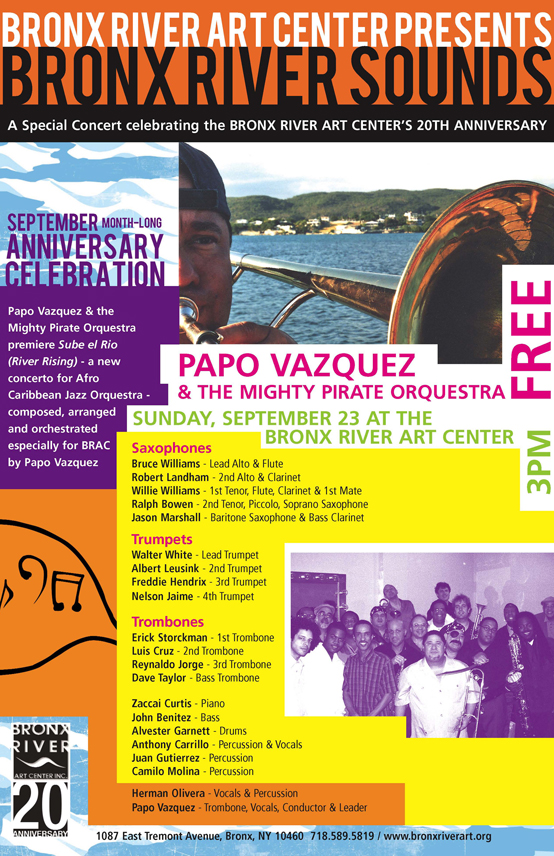 Papo Vazquez and the Pirate Orquestra perform El Sube Rio, composed especially for BRAC
The 3rd event in BRAC's month-long 20th Anniversary Celebration, and the final concert of 2007 Bronx River Sounds, a music series that includes commissioned works inspired by the Bronx River.
Trombonist, composer, and arranger Papo Vazquez is an innovator of three important musical movements in the history of contemporary music. First, Papo was a founding member of a group of musicians that began a resurgence of Afro-Caribbean Jazz in New York during the late 1970's, which included Jerry Gonzalez, Hilton Ruiz, and Dave Valentin, among others. After moving to Puerto Rico in 1980, he co-founded Batacumbele – a progressive and influential modern band in the history of Puerto Rican music. He later established the group Papo Vazquez Pirates Troubadours. Recently, Papo Vazquez created a new suite of compositions for a 20-piece Afro-Caribbean Jazz Orchestra, named the Mighty Pirate Orquestra for his hometown of Philadelphia. In the same spirit, Vazquez has composed a new piece entitled Sube el Rio (River Rising) that has been commissioned by BRAC for this special performance.
Saxophones:
Bruce Williams - Lead Alto & Flute
Robert Landham – 2nd Alto & Clarinet
Willie Williams – 1st Tenor, Flute, Clarinet & 1st Mate
Ralph Bowen – 2nd Tenor, Piccolo, Soprano Saxophone
Jason Marshall - Baritone Saxophone & Bass Clarinet
Trumpets:
Walter White - Lead Trumpet
Albert Leusink – 2nd Trumpet
Freddie Hendrix – 3rd Trumpet
Nelson Jaime – 4th Trumpet
Trombones:
Erick Storckman – 1st Trombone
Luis Cruz – 2nd Trombone
Reynaldo Jorge – 3rd Trombone
Dave Taylor - Bass Trombone
Zaccai Curtis - Piano
John Benitez - Bass
Alvester Garnett - Drums
Anthony Carrillo - Percussion & Vocals
Juan Gutierrez - Percussion
Camilo Molina - Percussion
Herman Olivera - Vocals & Percussion
Papo Vazquez - Trombone, Vocals, Conductor & Leader