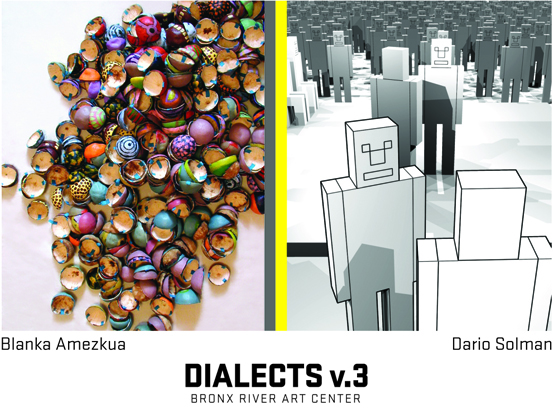 Dialects v.3
On View from January 29, 2010 – March 20, 2010
curated by José Ruiz
Blanka Amezkua – Interminable recurrence in my mind (Gallery 1)
Dario Solman – The Heart of Perspective, the Making of the Film (Gallery 2)
Bronx River Art Center (BRAC) is pleased to present the third of its four-part exhibition series DIALECTS. Working under the umbrella of local and international dialogue, research, and collaboration, local Bronx artists and international artists are paired together to create and present side-by-side solo exhibitions in BRAC's storefront gallery. In order to further the definition of the "international" and "New York" artist, while simultaneously bridging cultures and ideologies, BRAC has invited artists who hail from countries that are currently underrepresented in the global art scene as a parallel response to the Bronx's own position within the New York art community.
DIALECTS v.3 presents new, site-specific works by Blanka Amezkua (Bronx, NY) and Dario Solman (Croatia) and is curated by BRAC's Gallery Director & Curator, José Ruiz. The juxtaposition of these exhibitions heightens the contrast between two different types of artistic reasoning and process, while further focusing on the overlap of parallel concepts and concerns. On the surface, Blanka Amezkua's installation, Interminable recurrence in my mind, builds upon the organic, abstract, and handmade, to mine colorful aesthetic tendencies that present an alternate dimension to the works that she is primarily known for: the hyper-depiction of women as a character of power that evolve out of the pages of Mexican comic books and other popular paraphernalia. For this exhibition, the Mexican-born, Bronx-based artist unveils a new installation that highlights the various aesthetic motifs that have constantly paralleled her projects over the last fifteen years, so that the exhibition process exposes the often-private investigations that arise in her studio. Organic patterns painted on the wall, abstract crocheted compositions, and an extensive suite of doodles done on mail envelopes are just some of the elements of her installation. Additionally, Amezkua plans to work in BRAC's gallery throughout the course of the exhibition, in order to continuously shift an environment marked by fluidity, addition, and change.
Dario Solman presents a selection from his ongoing project, The Heart of Perspective, the Making of the Film (2001-present), in order to construct digital narratives through a Post-Cold War lens. The artist's rigid, linear, black-and-white works are a combination of animations, drawings, and soundscapes that offer fragmented inquiries into issues of power, conformity, and individuality. Setup as a non-linear "film" project, The Heart of Perspective transforms the formal art term perspective (a drawing technique used to create an illusion of three-dimensional space on a two-dimensional surface) to create a heightened sense of space and time based on psychological implications of existence and order. The individual's need for common purpose is outlined through the interplay between the act of adulation and the self-will of devotees, as they congregate around higher structural, geometric beings. The modularity inherent in Solman's work is perhaps emblematic of the compartmentalized lifestyles and cubicles of modernity that limit our individual voices.
About the Artists:
Blanka Amezkua is based in the Bronx and was originally trained as a painter, studying in Florence, Italy, and receiving her B.A. from California State University - Fresno. She has shown in numerous galleries, museums, and biennials in the United States and Mexico, including The Bronx Museum of the Arts, El Museo del Barrio, Queens Museum of Art, Mission Cultural Center for Latino Arts in San Francisco, and Movimiento de Arte y Cultura Latino Americana (MACLA) in San Jose. In 2007, she received the BRIO award from the Bronx Council on the Arts, and the following year, Blanka began an artist-run project called the Bronx Blue Bedroom Project.
Dario Solman was born in 1973 in Split, Croatia. He studied at the Academy of Fine Arts in Zagreb and received his MFA degree from Ohio State University. He has participated in the P.S.1 International Studio Program, the Woolworth Building Studio Program in New York, and the Cimelice Castle residency program in the Czech Republic. Solman has recently shown in Alexandria, Egypt; Riga, Latvia; Melbourne, Australia; Kyoto, Japan; Merano, Italy; Zagreb, Split; and Rijeka in Croatia, as well as at various venues in New York and the U.S. He currently lives and works in New York.
Image Captions:
1-4. Blanka Amezkua, Interminable recurrence in my mind, 2009, installation details, dimensions variable
5-8. Dario Solman, The Heart of Perspective, 2009, installation details, dimensions variable