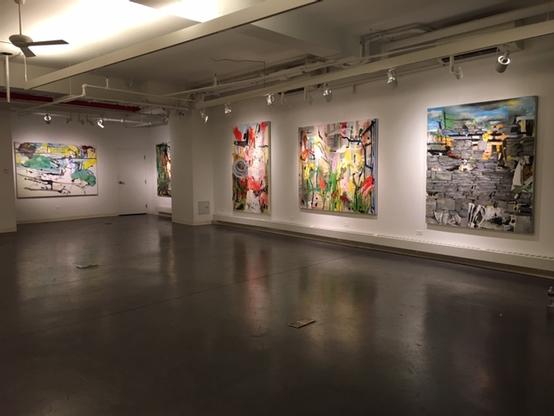 2 Painters
On View from November 08, 2019 – December 14, 2019
Gary Bower (above)
Richard Saba (above)
2 Painters
Gary Bower
and
Richard Saba
Nov 8 - Dec 14, 2019
Opening Reception: Friday, November 8, 2019, 6-8pm
GALLERY HOURS: Wednesday - Friday: 3 - 6 PM Saturday: 12 - 5 PM
---
Curator's Statement:
The mid-1980s found many artists forced out of their large and inexpensive industrial lofts of Soho in lower Manhattan. Some moved to the "outer boroughs" in search of affordable space, while others moved upstate. It's hard to say why some left the City and others stayed, but it is clear that a large number of painters headed north to the Catskill Mountains. Like the painters of the famous Hudson River School of Painting of the mid-19th Century, they were drawn to the natural splendor of the landscape and sublime light.
Painting inspired by landscape is an admirable endeavor in this era of appropriation and socio-political context. Committed to an ongoing dialogue with painting's history against the present post-modern backdrop and the inevitable declaration that "painting is dead" — which occurs at least once a decade — these artists were determined to breathe new life and relevance into the tradition of exploring light, space, color and form as the primary criteria of painting.
2 Painters presents the work of two such painters — Gary Bower and Richard Saba — who, after establishing their careers in New York City in the 1970s, left the City in the 1980s and now live about 20 miles across a mountain ridge from each other in the Catskill Charlotte and Cherry Valleys. There, in relative isolation, they have continued their practices for over 40 years in the spectacular landscape that surrounds their studios and their lives. While their paintings resonate with this environment in quite different ways, expanding painting's possibilities is fundamental to both.
Bronx River Art Center is pleased to present these two artists who have defied decades of fad and fashion in contemporary art making. In their remote locations, and by the sheer force of their honest and dedicated commitment to the act of painting, they are producing some of the most exciting and innovative art being done today.
Gail Nathan, Executive Director
---
This program is made possible with support from the New York City Department of Cultural Affairs in partnership with the City Council, the NYS Council on the Arts with support from Governor Andrew Cuomo and the NYS Legislature, NYS Assembly Member Karines Reyes and State Senator Luis Sepulveda. Additional support is from Bronx Borough President Ruben Diaz Jr., Council Members Ritchie Torres, Andrew Cohen, Andy King, Mark Gjonaj, Ruben Diaz Sr. and the Bronx Delegation, as well as Con Edison, Power of Giving, BronxCare Health System and individual donors.
Gary Bower, Portrait shot with Gladioli, 68" x 82.5", 2014-2016
Gary Bower majored in philosophy in undergraduate school and earned a MFA in painting from The Ohio State University. He has received various awards and honors, including an Individual Artist Grant from the National Endowment for the Arts. His work has been included in numerous solo and group exhibits in the U.S. and France, as well as having two traveling exhibits, Gary Bower/Abstraction and Image and Gary Bower/Abstract Paintings 1969-1993, which were also catalogued with essays by Nina Sundell and David Rubin. Bower's work has been represented by O.K Harris, Max Protetch, and Ed Thorp galleries in New York City and is in major museum, corporate, and private collections including The Walker Art Center, The Cleveland Museum of Art, The Wexner Center for the Arts, The Allen Art Museum, The Joslyn Art Museum, and The Whitney Museum of American Art. He and his wife, Ursula Barbara, have been based in the northern Catskills since 1974, with periods of residency in Minnesota, Ohio, and five years in Provence, France.
"Except for 10-15 years, I have lived most of my life in rural environments. Living in the "sticks", I have always been able to hear or see wild or farm animals, be it in the woods or fields, within 5 minutes of home. This has had a great effect on my work. This exhibit concentrates on a set of pictures with trees, flowers, ferns, vegetables. I use things at their measurable scale in a color environment. The underlying yearning is to affect a structure apart from cognition. Ideas, tropes, subjects are all "a dime a dozen"; they are always mutable and contingent. Use them and lose them: "relevancy", "provocation", "significance", "authenticity". All cooked up, all go cold."
Richard Saba, Portrait shot with End of Night, Acrylic on Canvas, 58 " x 48", 2019
Richard Saba earned his M.F.A. degree from the University of Washington after receiving his B.F.A. at the Minneapolis College of Art and Design. The recipient of numerous awards from the Pollock-Krasner Foundation, the Alkazzi Award of Excellence, and the Ford Foundation, Saba's work has been featured in over 70 solo and group shows throughout the last 50 years, and are in public collections such as the Museum of Art, Fort Lauderdale, the American Embassy in Bahrain, and the National Museum of Contemporary Art in Gdansk Poland, as well as many major corporate collections.
"There are no theories or codified ideas at work in my paintings. I find the magical transformation of concrete materials into evocations of space, light, and motion endlessly engaging. But that is not what has driven me to paint. More importantly it is about freezing that eternal moment when conception/creation, mind/body become one. I feel my spontaneous method of acting in the face of not knowing becomes the truest metaphor I have for life at large."