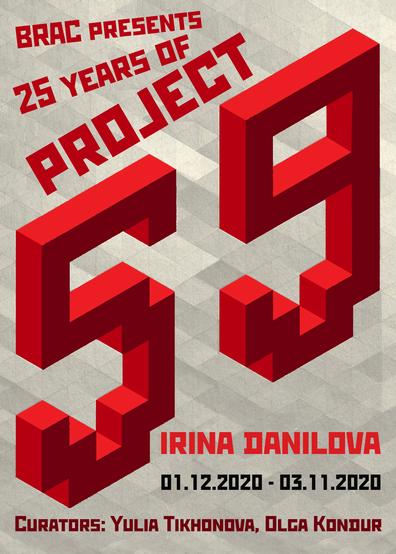 Celebrating 25 Years of Project 59, 1995-2020
On View from January 12, 2020 – March 11, 2020
Celebrating 25 Years of Project 59, 1995-2020: A Retrospective of Ukrainian-American Artist Irina Danilova
Curated by Yulia Tikhonova and Olga Kondur
Artist: Irina Danilova, in collaboration with Hiram Levy
Exhibition runs from January 12 to March 11, 2020.
Opening Reception Sunday, January 12, 2020 / 2pm - 5pm
Bronx River Art Center is pleased to present "Celebrating 25 Years of Project 59": A Retrospective of Ukrainian-American Artist Irina Danilova", which will take place at the Bronx River Art Center from January 12 – March 11, 2020. The show will present installations, performances, video, events, and interventions of this mid-career, international, but decidedly American, immigrant artist.
The exhibition will examine Danilova's art through the eyes of like-minded (Russian/Ukrainian) immigrant curators: Yulia Tikhonova, Coordinator of Gallery and Museum Services, Eastern Connecticut State University, and Olga Kondur, Ph.D. Candidate, Department of Art History, Pennsylvania State University. Both have an in-depth knowledge of pre- and post-Soviet non-conformist artistic practice and particularly the rarity of women artists in this mix. Tikhonova and Kondur strongly identify with, and support, the struggle of women artists in general, and particularly in the still-male dominated arts circles of Eastern and Central Europe. Through thoughtful curatorial analysis, this exhibition aims to locate the art of this ingenious multi-disciplined and multi-national artist on the contemporary map of conceptual and participatory art.
According to Olga Kondur, "Irina Danilova's life-long art project is based on a deceivingly simple concept of a randomly-chosen two-digit number, 59, which she uses to intervene in all possible spheres of human existence, ranging from everyday life and socio-political realms, to aesthetic matters and metaphysical inquiries. On the surface, Danilova's art appears to be obvious, she has been collecting or recording every single evidence of 59 she encounters in the world for the last 25 years — material objects which contain the number in various media. The obsessive and utopian nature of this project not only brings it close to such quintessential conceptual artworks as Douglas Huebler's portraits of everyone, but also poses a broader question: what is the potential of a single random criterion in building its own world of relationships? Danilova's idiosyncratic project reveals that such a world is far from being simple and obvious."
Trained as an artist in Ukraine (BA), Irina Danilova immigrated to the United States in 1995 and received an MFA degree from the School of Visual Arts in New York City (1996). She has been teaching at Kingsborough College of CUNY in Brooklyn, NY since 2002. Irina has participated in numerous group shows in museums and galleries throughout the US, including the Zimmerli Museum at Rutgers University, Smithsonian Museum, Islip Museum, and Weisman Art Museum in Minneapolis, as well as major art spaces including the Mattress Factory in Atlanta, Spaces Gallery in Cleveland, Elizabeth Foundation, Gallery Project Space, the Bronx River Art Center, Vilcek Foundation, and the Center for Book Art in New York. Internationally she has shown her work, performed and lectured, in Russia, Ukraine, Bulgaria, Italy, Germany, Iceland, Australia, Chile, France, Israel, and the UK. Despite this prolific career, she has not had a solo survey or retrospective exhibition yet. This show, and its associative catalogue, with in-depth curatorial essays, intends to bring to light this ingenious and prolific multi-disciplined and multi-national artist.
Danilova has had a long history with BRAC, having curated two ground-breaking exhibitions in our galleries — "e-Europe", in 1999, an early internet-based exhibition of Eastern European artists that included live transmission with artists from Poland, Ukraine and other Eastern European countries; and Brurel: Shattering Phenomena, 2014, an exhibition of artists from Russia and New York that mined the impact on local communities and individuals by the Chelyabinsk Meteorite and Superstorm Sandy for its unique cultural content. We look forward to giving this extraordinary artist and individual her own stage to shine her star upon.
This multi-media exhibition runs until March 11th. Entrance to the exhibition is free and open to the public, Monday - Friday from Noon - 6 PM and on Saturdays from Noon - 5 PM. The opening reception is Sunday, January 12th 2pm - 5pm.
---
Closing Events - March 7th at the Bronx River Art Center
Events include artist-led tours of the exhibition, presenting installations, performances, video, events, and interventions of this mid-career, international, but decidedly American, immigrant artist. Tours run from 12pm to 5pm.
Closing Reception begins at 5pm, including an Artist talk and Screening from 6-8pm.