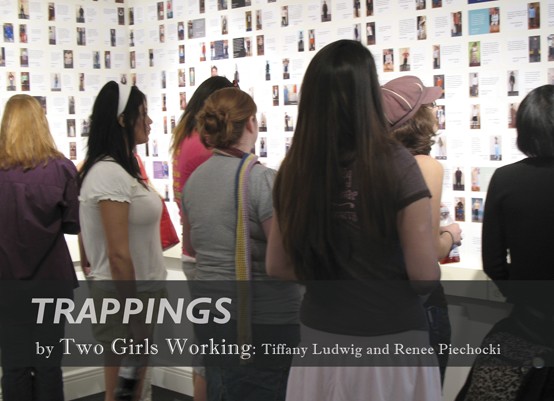 Trappings: Stories of Women, Power and Clothing
On View from March 07, 2008 – April 12, 2008
By Two Girls Working: Tiffany Ludwig & Renee Piechocki
New York Women Are Part of a National Traveling Art Exhibit Making a Stop at the Bronx River Art Center for Women's History Month - project uses clothing as a vehicle to explore identity, power, and appearance.
For over six years now, more than 500 women of all shapes, sizes, ethnicities and social backgrounds have been put on the spot with one, simple question: "What do you wear that makes you feel powerful?" More than two dozen women from New York participated. The point was not a fashion gossip session, but instead a look inside the minds of American women's thoughts on power and identity.
Entitled Trappings: Stories of Women, Power and Clothing, the exhibition includes interviews of women from a vast cross-section of American society, including many women from New York. From students and amateur boxers, belly dancers and CEO's, housewives, hockey players, and everyone in between, the multi-media artwork installation includes photography, video, and audio created from Trappings participant interviews. The exhibition also includes project ephemera that presents the artists' process for interviews and artwork creation.
Trappings is an artwork by Tiffany Ludwig of Glen Ridge, New Jersey and Renee Piechocki, of Pittsburgh, Pennsylvania. The pair, known as Two Girls Working, has been cultivating this national public art and performance project since 2001. They have personally interviewed 76 groups of women, ranging in age from 4 through 92, in 15 states. They have traveled to each region of the country to meet with more than 500 participants.
Interviews have been conducted in group environments that are deliberately modeled after a Tupperware or Mary Kay house party in order to appropriate a format, which historically allows women the opportunity to gain work experience and financial independence. They first interviewed women from New York in 2001 at the offices of Women's Wear Daily and at private home in Patchogue, Long Island. In February 2004, the artists were invited to Baruch College to interview a group of students and mentors affiliated with the Financial Women's Association. In 2005, they interviewed a group of artists at the home of Martha Wilson in Brooklyn.
"New York women contributed outstanding interviews," said Ludwig. "It is exciting for us to present their photographs and interviews in context of the national project. When people visit this exhibition, they have the opportunity to encounter women's stories that will expand their ideas about what power means and investigate the assumptions they make about other's appearance."
The artists say they were dismayed by a lack of dialogue about feminism and women's issues by diverse groups, and initiated Trappings to explore individualized approaches to power through interview-based community dialogue.
"This is not a statement about fashion," Piechocki explained. "The project uses clothing as a starting point for conversations about identity, power, and appearance. Trappings explores and reveals the cultural expectations and reservations placed upon each of us as dictated by our gender, culture, race, class, or profession."
Visit: www.twogirlsworking.com