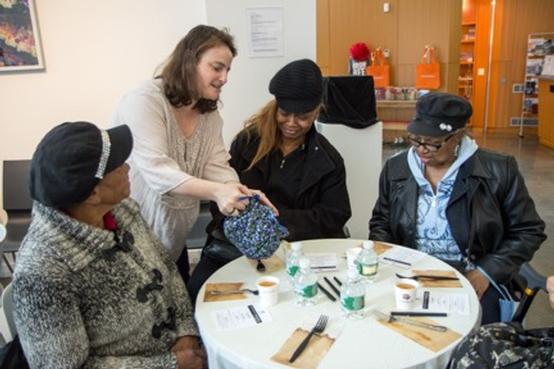 Women's History Month
On View from March 20, 2021 – March 21, 2021
Photo: Tea with Michele Brody
Bronx River Art Center presents:
A weekend-long festival of Workshops, Live music and Tea with BRAC's Woman Teaching Artists and Performer
In celebration of Women's History Month.
This Saturday and Sunday, March 20 and 21
11 AM - 5 PM Saturday, and Noon to 5 on Sunday.
At BRAC, 1087 East Tremont Avenue
[with COVID-19 safe spacing and PPE]
Individuals and families of all ages are welcome to join in artmaking activities, watch a performance or just have some tea with us, to celebrate the strength and passion of our wonderful women artists. This weekend is also the vernal equinox (first days of spring), an apt day in the calendar to honor the process of rebirth after a long and difficult year.
Our beautiful women artists will bring their talents to the community for one of the first on-site productions this year, now that cultural institutions are allowed to reopen at 25% capacity. BRAC is opening its doors safely by reserved attendance. Please select your place for one or more events of your choosing. Each event has a limited capacity. These events are FREE for all participants. Contributions are always welcomed.
Saturday, March 20th 11am-5pm Create a Floral Mural with Marta Blair
?Join artist Marta Blair to design and create a Floral mural at Bronx River Art Center on the first day of Spring. All ages are welcome to contribute to this exciting community based project using tape in a variety of vibrant colors. Participants can join Marta throughout the day and stay as long as you'd like, no experience is necessary.
Marta Blair was born in Medellin, Colombia and moved to NYC in 1997. She has been a part of the Washington Heights / Inwood community for many years. She is a mother of two children and a member of Cornerstone Studios since 2015.
2pm - 4pm Bring the Art Outside! Printmaking Workshop with Tammy Wofsey
Let's enjoy the fresh air and spring growth by making artwork inspired by nature right outside our doors. Using a hybrid washer printing press we will make one of a kind art from the leaves and plants we find. Open to all levels of skills and age groups. This workshop will take place inside in the event of inclement weather.
Tammy Wofsey is a printmaker, publisher and teaching artist. She established her printmaking studio in the Mott Haven section of The Bronx. Her prints and artist books are in university libraries, museums and private collections. For more information you can go to her website Plozingpress.com
Sunday, March 21st Noon Tea with Michele Brody
Tea is part of an ongoing interactive community-based art project titled "Reflections in Tea." The ritual performance of preparing loose-leaf tea is shared with groups and individuals, after which participants' stories are preserved as they are transcribed onto repurposed tea stained paper filters. The artistic goal behind "Reflections in Tea" is to exhibit the markings imprinted by the tea, and how the text and stains together create an aesthetic object capturing the essence of an ephemeral experience.
Michele Brody is a Bronx-based environmental artist who has had one-person shows in France, Costa Rica, Chicago, Germany and throughout New York City. Brody has kept up a full time studio/exhibition practice for the past 25 years while working as an Artist/Educator throughout New York City.
1pm Primavera Flowers Workshop with Blanka Amezkua
You can wear, exchange, or gift Primavera Flowers. This is a special invitation to create dazzling flowers through the humble use of pipe cleaners. With this versatile material we will create flowers that can be worn on our hair, on our wrists as a bracelet, or worn on our necks or simply to hold as we walk on a beautiful sunny day, while welcoming la primavera, Spanish for springtime.
Blanka‌ ‌Amezkua‌ ‌is‌ ‌a‌n artist, ‌cultural‌ ‌promoter,‌ ‌educator‌ ‌and‌ ‌project‌ ‌initiator‌ ‌based‌ ‌in‌ ‌South‌ ‌Bronx.‌ ‌Formally‌ ‌trained‌ ‌as‌ ‌a‌ ‌painter,‌ ‌her‌ ‌practice‌ ‌is‌ ‌greatly‌ ‌influenced‌ ‌and‌ ‌informed‌ ‌by‌ ‌folk‌ ‌art‌ ‌and‌ ‌popular‌ ‌culture.‌
3pm Performance by Cellist Elizabeth Glushko
Elizabeth Glushko will perform with an electric cello and looping pedals. She will play music honoring famous female musicians; Sade to Tina Turner to Patsy Cline.

Elizabeth Glushko is a Bronx-based award-winning cellist, composer, and educator. Classically-trained, her vast repertoire spans a multitude of genres, ranging from Bach to rock. Elizabeth has performed regularly as both a soloist and collaborator with a variety of groups and orchestras. Some notable venues she has performed at are the Saratoga Performing Arts Center, Flynn Theater, Cutting Room, and Tarrytown Music Hall. Elizabeth is also a seasoned recording artist, whose music has been featured on over two dozen recordings, as well as numerous films, television shows, and music videos. She draws inspiration for her work from current events, silent films, worldwide travels, and vivid dreams.