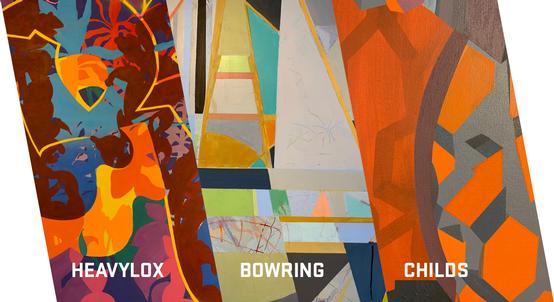 Cutting an Edge: Hard Edge Painting Today
On View from April 04, 2021 – May 15, 2021
Cutting an Edge: Hard Edge Painting Today
Curated by Gail Nathan
Featured Artists:
Sally Bowring
Mike Childs
Heavylox
April 10 - May 15, 2021
Opening Reception will be both in-person with reserved timed tickets and streamed on Facebook.
Saturday April 10th 6:00 - 8:30
Hard-edge Painting has a long history in America Modern Art dating back to the early 1930 and the WPA murals program. American painters such as Thomas Hart Benton, Stewart Davis and Burgoyne Diller (born in the Bronx) with direct influences from the original European and Eastern-European avant-garde abstract, and constructivists artists, such as Mondrian, Sonia Delaunay, Kandinsky and Uruguayan artist, Joaquin Torres-Garcia, forged a distinctly American style that continued to influence American painting for decades to come.
But it wasn't until the 1960s that the term Hard Edge Painting took hold when a new movement of Minimalism came to the fore in reaction to the then dominant American, painterly style of Abstract Expressionism. New York artists such as Frank Stella, Agnes Martin, Elsworth Kelly and Kennith Noland sought a similar purism of the early Modernists, this time seeking a definitive style of color activated geometric abstraction.
Minimalism was just about extinguished by the advent of Post-Modernism and Neo-expressionism that emerged with a wave of excitement in the late 1970s and early 80s that seemed to reverse the direction of the stylistic trends once again.
However, geometric, color-field abstraction's deep roots in American art remains to this day a beloved and driving force in contemporary painting, and this exhibition presents three prime examples of artists working today.
Please join us April 10th from 6 - 8:30 PM at a live (at a limited capacity), opening of this eye catching exhibition of three artists working in this genre today. Admission is FREE by timed ticketing. RSVP to reserve your tickets on Eventbrite. We look forward to greeting you through our doors, but please be prepared with full COVID-19 protective gear of masks and keeping safe distances.
Mike Childs, Long Distance, 2012-21, Acrylic and spray paint on canvas, 48" x 72"
Born in Toronto, Canada, Mike Childs completed his undergraduate degree at Guelph University in Fine Arts and philosophy as a student athlete before immigrating to the US to complete a Masters of Fine Art at Florida State University in 1993. After completing a residency/teaching award in Florence, Italy, he moved to New York City in 1995 to engage with the international art community and broaden his knowledge of Contemporary Art. He became active as a working and exhibiting painter in the Brooklyn artistic community.
He received a Lower Manhattan Cultural Council grant in 1996 and the Pollock Krasner Grant in 2003. Solo exhibitions include The Cue Art Foundation, Heidi Cho Gallery, Lesley Heller Projects, Robert Henry Contemporary and at Wave Hill in the Bronx most recently. His work has also been included in a group show at The University of Bridgeport Gallery, and featured on the Law and Order program. Mike presently lives and works in the Bronx and is represented by David Richard Gallery in Harlem.
Sally Bowring, All Around, 2020, Acrylic on panel, 48" X 72"
Sally Bowring, a native New Yorker, received her first degree from the Fashion Institute of Technology in textiles, her BA from Goddard College and her MFA from VCU in 1983. Bowring teaches painting at Virginia Commonwealth University and the Virginia Museum Studio School. She is presently the Interim Director of Administration for the Painting and Printmaking Department. She is an art advocate and active member of 1708 Gallery, past director of the 1% For Art for the City of Richmond and Commissioner then Chair of the Public Art Commission.
She was the recipient of the Virginia Museum of Fine Art Professional Fellowship and the Theresa Pollak Visual Arts Awards 2003-2004. She has received (2017- 2000) 5 Fellowships to the VCCA. Represented by Reynolds Gallery, in Richmond, VA; Blue Print Gallery, Dallas, TX; Art Registry, Washington, DC/ Colorado; Les Yeux du Monde, Charlottesville, VA. Her artwork has been exhibited extensively nationally and internationally.
Heavylox, Version on Theme March 2021, 2021, Acrylic and spray paint on canvas, 49"x 88"
Heavylox is a New York based artist primarily focused on public works utilizing aerosol paint. He has been exploring the concrete and abstract relationships between letters since 1983. While letters are at the core of Heavylox's work, they are not the sole entry point into each work. Heavylox creates dichotomous works that can be accessed by both experienced style writers and laymen.
Painting both sanctioned and unsanctioned works, Heavylox has participated in festivals from Tahiti and Denmark to the streets of Hong Kong.
In 2019 he painted his largest work to date (approximately 120x40 meters) as an invited artist for Rust Magic; a mural festival in Edmonton CA bringing international artists together to paint large scale works across the city.