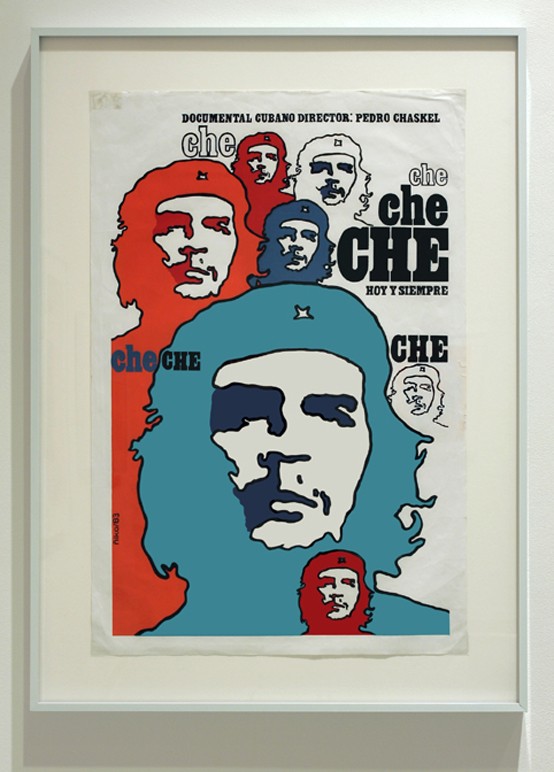 Beauty is in the Street
On View from January 11, 2008 – December 16, 2008
curated by Gerry Beegan
An exhibition of historic Che Guevara posters from the Lisbet Tellefsen collection and especially commissioned works by contemporary artists, collectives and designers.
There are linked questions at the heart of this exhibition. In what ways do the meanings of images change when we collect them, reproduce them, or exhibit them? Are political images drained of their subversive power, co-opted, and aestheticized when removed from their original context? Beauty is in the Street explores these concerns using one of the most compelling images of the last four decades, the image of Che Guevara. The printed likeness of this controversial Argentinean revolutionary retains a remarkable cultural presence and resonance 40 years after his violent death.
Despite the historical Che's hard-line politics and his military failures, his icon has become a symbol of hope, of Latino identity and unity, and of opposition. It has also uniquely found its way into popular culture on T-shirts, advertising, and CD covers. Does the ubiquity of Che's image indicate that he has simply become an empty signifier, a meaningless surface on which any meaning can be inscribed? In order to look at this complex and contradictory phenomenon the exhibition sets up a dialogue between one of the finest collections of Che Guevara posters in existence and specially commissioned works by contemporary artists, collectives, and designers.
The exhibition includes artists and designers from USA, Cuba, Central and South America, and Europe. Artworks include posters, prints, photography, installation, and animation, as well as collaborative works made with the local community. As an exhibition that focuses on the printed image, Beauty is in the Street highlights issues of multiplicity and reproduction through the selection, display, and juxtaposition of posters and artworks, many of which play with repetition in various ways. Its final question is, what is the place of beauty and of aesthetics in the social and political – the beauty of a design, an action, or an idea?
The posters in this exhibition are from the collection of Lisbet Tellefsen , a poster collector, archivist, and curator of the Movement Archive, a digital archive created to preserve the posters and printed materials from a variety of social justice movements.
Participants:
Karlos Carcamo
Born in El Salvador, Karlos Carcamo studied at the School of Visual Arts and at Hunter College, NY. He lives and makes artworks in Beacon, NY where he directs the gallery Go North.
Experimental Jetset
Experimental Jetset is an Amsterdam graphic design unit founded in 1997 by Marieke Stolk, Erwin Brinkers and Danny van den Dungen. They focus on printed matter and installation work and teach at the Gerrit Rietveld Academy.
Karolyn Hatton
Karolyn Hatton is a New York based artist who studied at the University of Chicago, the London College of Printing, and Goldsmiths, London. Her written texts and artworks have been published and exhibited internationally.
Liselot van der Heijden
Liselot van der Heijden is an artist from the Netherlands who works in New York City. She has shown art projects and videos throughout Europe, the US and South America. She has a BFA from the Cooper Union and a MFA from Hunter College.
Henry VIII's Wives
Henry VIII's Wives is a collaborative consisting of artists Bob Grieve, Rachel Dagnall, Sirko Knupfer, Simon Polli, Per Sander, and Lucy Skaer founded in 1997 based in Scotland and Scandinavia. Its members have been involved in numerous collaborative performative works and installations.
Pedro Lasch
Pedro Lasch was born and raised in Mexico City, and has since lived in New York and Durham, NC, and teaches at Duke University. His work has been published and shown internationally at both alternative and mainstream institutions.
Cristóbal Lehyt
Cristóbal Lehyt was born in Santiago , Chile and now lives and works in New York . He studied at Universidad Católica de Chile, Hunter College and on the Whitney Independent Study Program. Notable past exhibitions include Kunsthaus Dresden, Artists Space, Shanghai Biennale and the Whitney Museum.
Aleksandra Mir
Born in Lubin, Poland and a citizen of Sweden Aleksandra Mir lives in NYC, USA and Palermo, Sicily. Her work has been featured in many solo and group exhibitions including Kunsthaus Zurich, Switzerland, White Columns, NYC and the Greengrassi Gallery, London.
Carrie Moyer
Carrie Moyer is a New York-based painter and one half of the public art project, Dyke Action Machine! (DAM!). Her paintings and public art collaboration have been widely exhibited and reviewed in both the US and Europe .
Stefan Saffer
Born in Germany and now living in Berlin Stefan Saffer studied at Academy of Fine Arts Nuremberg , Goldsmiths, London and the Whitney Program in New York . He has taken part in residencies, exhibitions, and public art projects internationally including Kate MacGarry, London , Pavel Zoubok Gallery , New York and Villa Grisebach Gallery , Berlin .
About the Curator:
Gerry Beegan is a writer, curator, and designer who creates exhibitions, visual works, and historical/ theoretical texts that explore the relationships between art, design, media, and audience. His writings on the history and theory of reproduction include the book The Mass Image (Palgrave Macmillan, 2007) and he has also contributed to books, journals and magazines internationally.