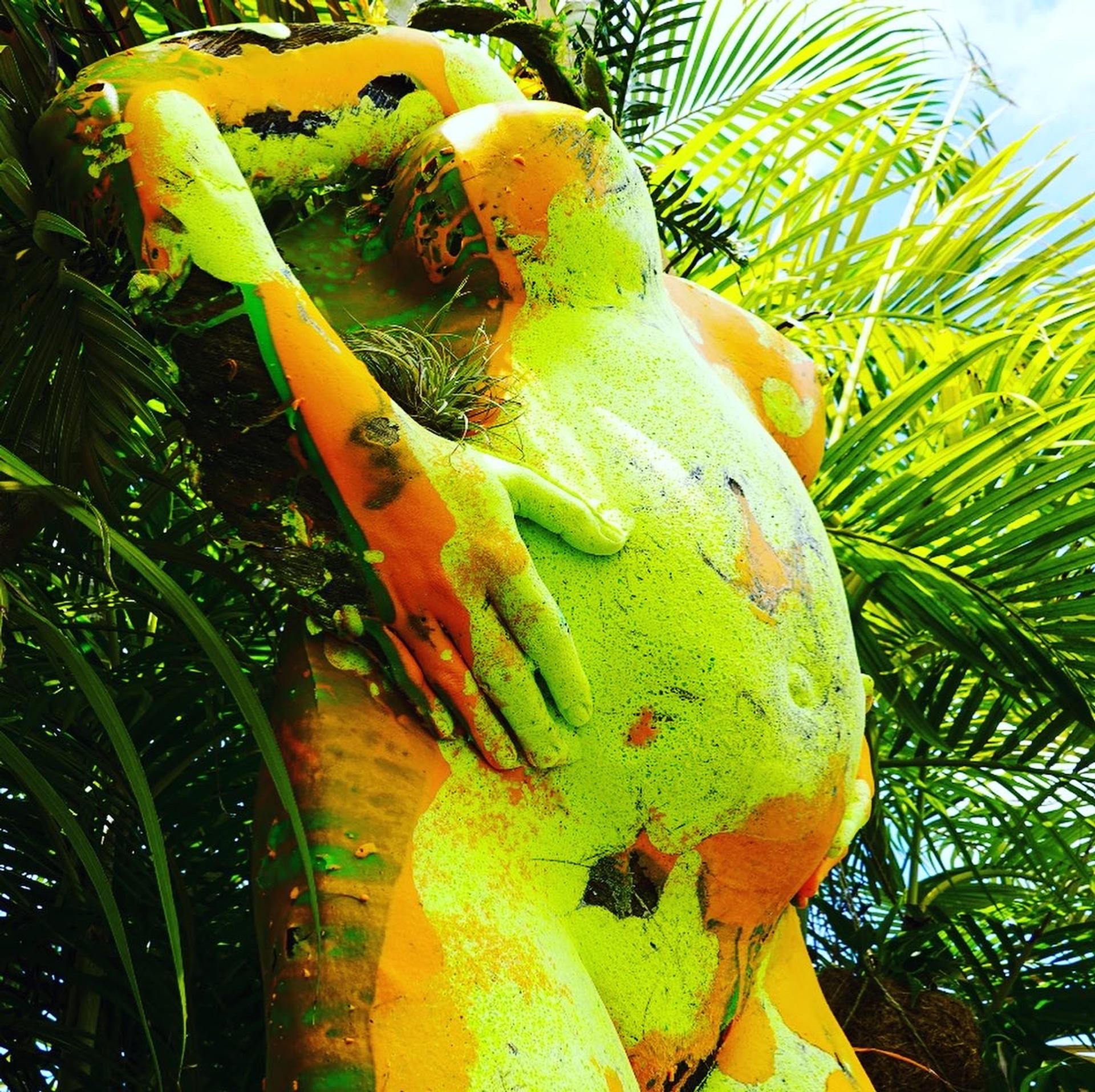 Mother Mold
On View from October 30, 2021 – December 11, 2021
Photo: Citrus skin weighing on a pear or tear shape (Drain the swamp or it will drain you), 2020, Palms fronds, air plants, plastic, resin, foam, latex paint
Bronx River Art Center Presents
Coralina Rodriguez Meyer: Mother Mold Project & Mama Spa Botánica
On view October 30 — December 12, 2021
Opening Sat. Oct. 30, 12-6pm
Bronx River Art Center
1087 East Tremont Ave Bronx, NY 10460
Community Reception - November 20th / 2-7pm
Mama Spa Botánica Birthing Justice Virtual Discussion - Saturday November 13th / 1-2:30pm
Mama Spa Botánica all-ages sculpture and photography workshop - November 18th /
12-2pm or 4:30-6:30pm
Bronx River Art Center presents an exhibition and programs to improve maternal health in communities targeted by the reproductive health crisis.
Photo: Mother Mold Project Installation at BRAC
The exhibition will open to the public on October 30th with a community reception on November 20th.
To celebrate the NYCxDESIGN Festival, Coralina will lead "Mama Spa Botánica", an all-ages sculpture and photography workshop centering Black and Indigenous People of Color and their families on November 18th from 12 - 6pm. Community members are invited to make plaster "mother molds" of their faces and hands to engage their embodied experiences and critical perspectives on the reproductive justice movement. These public works will join pregnant figures in Coralina Rodriguez Meyer's immersive installation. At the close of the exhibition, participants will reclaim their work as mementos for future healing and agency building.
Bronx River Art Center (BRAC) is pleased to present a solo exhibition by Quipucamayoc (urban designer, culture keeper, community organizer) artist Coralina Rodriguez Meyer. The social-practice project, titled Mother Mold Project & Mama Spa Botánica, documents the birthing justice crisis in American BIPOC communities through sculpture, photography, and tableau installation. The exhibition will be on view from October 30 - December 11, 2021.
Rodriguez Meyer's multi-generational and multi-national collaborative project confronts the rising rate of infant and maternal mortality in the Americas. As Mama Spa Botánica collaborator Doula Nicky Dawkins characterized the crisis, "hospitals do to Black and Brown women on the birthing bed what cops do to our men on the street." By celebrating ancestral survival traditions in birthing-justice childbirth seminars, sculpture, and photography, the work memorializes people and rituals that have been subjugated and undermined in colonial mythologies. The exhibition encompasses immersive multimedia maternity tableaux of the photographic series, Linea Negra (2008-ongoing) and the sculpture series, Mother Molds (2020-ongoing) which Rodriguez Meyer produced from Mama Spa Botánica workshops.
Photo: Mother Mold Project Installation at BRAC
Together, the sculptures and photographs represent Rodriguez Meyer's cultural translation of the legacy of institutionalized and biological violence in the artist's biographical community. Built with a maternal healing recipe and identity construction materials, the Mother Mold sculptures formalize the intersections between the maternal health crisis and climate change. The cumulative impact of land seizures and development projects, as well as the accelerated extraction of natural resources in the last five hundred years has forced millions in the Global South to abandon millinery traditions for military medicine. In response, Rodriguez Meyer builds monuments to mixed motherhood that present intimate ephemera and environmental waste as powerful monuments of survival. The sculptures are bound by biological and biographical family remains; bathed in resin, painted with fruit, housed in palm or corn husks, insulated by hair, tucked in sea debris, and braided with palm fronds.
To create the Linea Negra photographs, Rodriguez Meyer draws on sacred signifiers of motherhood across spiritual traditions that position maternal figures in radiant abundance while delineating the social and political risks that melanated people face in our ranked society. The resulting ritual tableaux present crowning images of Black and Indigenous families.
The Bronx River Art Center will serve as a threshold for participants to celebrate life-cycle traditions across the Americas and Caribbean during Hispanic Heritage Month, Dia de Los Muertos, and Interdependence Day. Transforming the gallery into a center for reproductive reparations, Rodriguez Meyer will invite maternal care workers, pregnant people, and their families to participate in a 2-hour Mama Spa Botánica. Working one-on-one with Black and Indigenous expectant mothers, the artist documents their pregnancies in Mother Mold sculptures and Linea Negra photographs as they prepare for their birthing experience with confidence.
By facilitating radical communion between parent and child, parent and self, birth-worker and patients, Rodriguez Meyer grounds her project in community and caregiving, nurturing the raw and tender psychic networks of procreation. Moreover, as a community-building tool, and a means of empowerment, the Mother Mold Project & Mama Spa Botánica workshops share Indigenous resistance wisdom to navigate and survive the maternal health crisis and refigure the migratory stigmas of climate change.
Photo: Mother Mold Project Installation at BRAC
Mama Spa Botánica workshops are dignity-training tallers that offer decolonial childbirth classes and agency building art therapy for procreative BIPOC and their families. The workshops are taught by reproductive health workers such as doulas, midwives, healers, and birthing justice leaders who help deliver tools to transgress medical violence in the colonial US.
Linea Negra is the melanin line that appears during gestation, most prominently for women of color. As the human's first mark on the procreative body, la linea negra signifies the first sign of our creative humanity. Rodriguez Meyer's photographic series, La Linea Negra, combines vernacular images of fertility with ancestral consciousness to build methods of resistance against institutional trauma. The project documents the inception of gender, power, and race structures embedded in the cultural fabric of the colonial US to build visibility around economic, environmental, and reproductive uncertainty for the most vulnerable members of the birthing community. Rodriguez Meyer deconstructs the status of motherhood as a ranked, reproductive product into a social-monumental form of dignified personhood in American civic life.
Mother Mold sculptures are maternal monuments created by, of, and for pregnant people. The artist casts her Black and Brown birthing community within their own life force to create sculptures that resonate with the complex beauty and terror of creating life and giving birth in America. Drawing on sculptural technologies developed in Indigenous and revolutionary societies, Rodriguez Meyer's references range from mummification in ancient Egyptian, pre-Columbian Andean, and Incan civilizations to Death Masks in the French Revolution.
This exhibition is made possible by support from YoungArts, Oolite Arts and Miami Dade Artist Access Grant.
For more information please contact info@bronxriverart.org
EXHIBITION EVENTS
Saturday, October 30, 12-6pm
Live music by Brad Shepik Quintet, exhibition opens
Saturday, November 13, 1-2:30pm
Mama Spa Botánica artist & collaborator
Virtual Discussion Google Meet
General Public RSVP
Thursday, November 18, 12-6pm
Mama Spa Botánica
Photography & Sculpture Workshop
General Public RSVP
Saturday, November 20, 12-6pm
Interdependence Day Celebration Exhibition Reception, featuring refreshments from Torca & music
General Public RSVP
Sunday, November 21, 12-6pm
Mama Spa Botánica
Private Photography & Sculpture Workshop for BIPOC families
Registration Required RSVP
VISITOR INFORMATION
Open Tues-Fri, 2-6pm and Sat. 12-5pm
Admission is open and free to all
ARTIST STATEMENT
Serving the BIPOC birthing community in the Americas (whose death rate in the US is 6-11x higher than white women), the Mother Mold project began in 2018 after the artist's own high-risk hospital delivery. Following the umbilical cord to her late mother's birth (a 1st generation indigenous-immigrant) to Coralina in a car outside the Everglades swamp, the artist destigmatizes welfare queen narratives and the legacy of the Castas system that continues to threaten the survival of her unvanquished community. Mother Mold is a deeply personal and political project that recasts the aesthetic and medical institution as a material and maternal refuge.
ARTIST BIO
Coralina Rodriguez Meyer is an indigenous Colombian American, Brooklyn and Miami based artist who translates structural and domestic violence into American heirlooms. Raised queer between the rural US South and the Caribbean, Coralina mends her Muisca/Inca, mixed-race, Latinx identity into navigational tools to transform American colonial mythology and transcend trauma. Her role as a Quipucamayoc (urban designer, culture keeper, community organizer) activates vulnerable communities to perform their citizenship by building sovereignty and solidarity with civic action. In the wake of Ferguson and the Great Recession, she founded FEMILIA (City of Today for Feminine Urbanism) in 2009 as a masterplan for survival, proposing intimate solutions for urban scale problems.
Coralina Rodriguez Meyer studied painting at Maryland Institute College of Art (MICA) (2001) and completed her architecture BFA at Parsons School of Design at The New School (2004) and MFA at Hunter College CUNY (2013). Her work was exhibited at the Contemporary Art Center New Orleans, Mana Contemporary Miami, Queens Museum, Bronx Museum, A.I.R. Gallery, Bitforms Gallery, Künstlerhaus Bethanien Berlin, the Smithsonian Museum DC and Perez Art Museum Miami. She has held residencies and fellowships at the Bronx Museum, Museo de Sitio Machu Picchu, The Artist's Institute CUNY, Syracuse University Florence Italy, and Mildred's Lane PA. Rodriguez Meyer is the recipient of fellowships and awards, including the Oolite Arts Ellies Creator Grant, NYFA, Graf Travel Grant in Inca Urban Design & Khipus, Universität der Künste Leutz Riedel Fellowship and the Kennedy Center VSA Arts Grant. Coralina has been featured in The Guardian, The New York Times, Village Voice, Hyperallergic, London Review of Books, Univision and Jezebel. Rodriguez Meyer is mother of Zaita and recently an adjunct professor in the Department of Landscape Architecture & Environmental and Urban Design at Florida International University (FIU).
CURATOR BIO
Taylor Bradley specializes in modern and contemporary art with a focus on the history of photography and conceptual art. She received her BA in Art History with distinction from Boston University (2008) and earned her MA (2012) and PhD (2019) from The University of Texas at Austin.