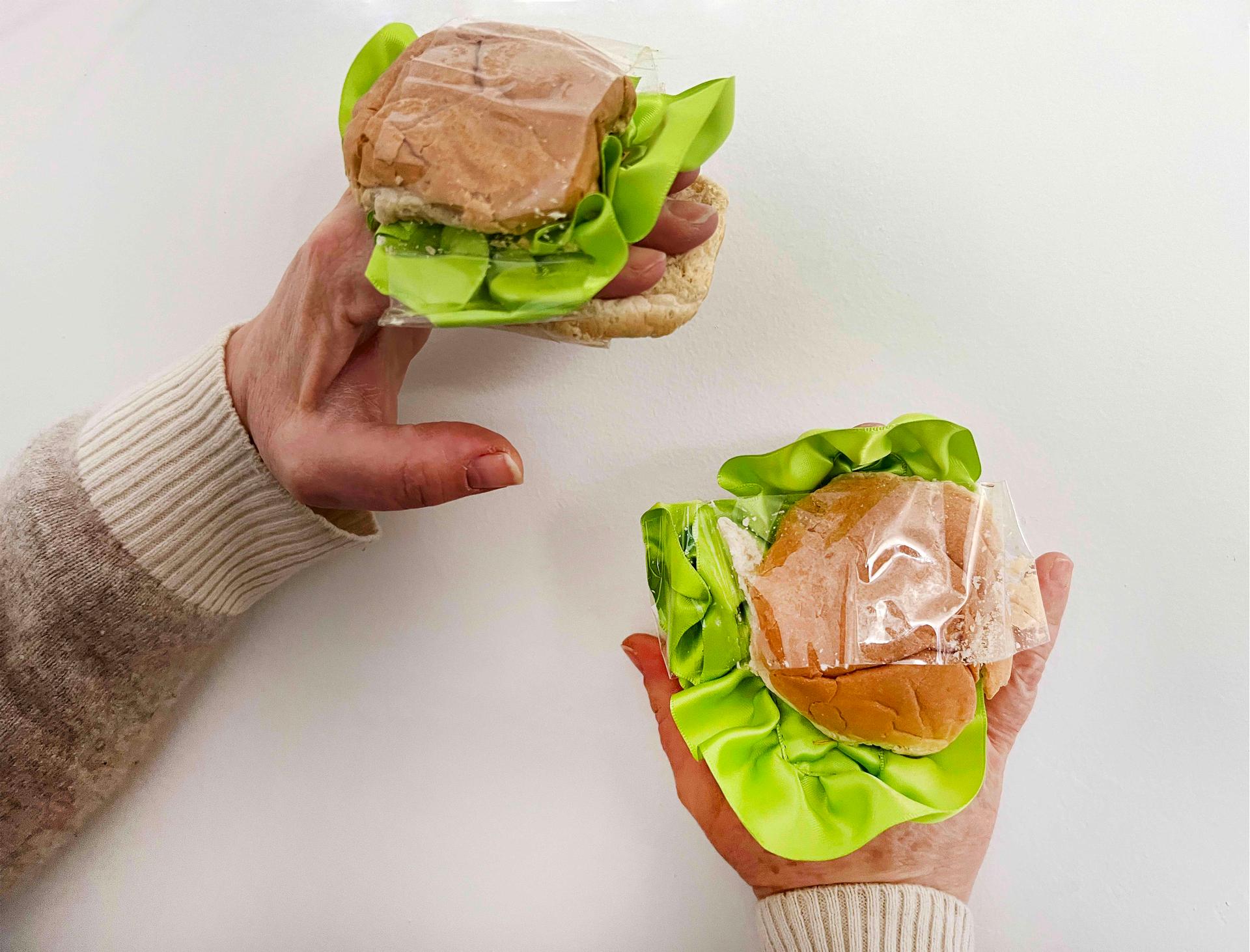 ROCKING THE MARKET
On View from May 06, 2022 – June 11, 2022
Photo: Nao Bustamante, Hamburger Hands, 2021, photograph. Courtesy of the artist
ROCKING THE MARKET
An Exhibition of Performance Art by Three Queer Latina/x Artists from New York and California:
Participating Artists: Nao Bustamante, Carmelita Tropicana, and Marga Gomez
Curated by: Bronx-based artist Nicolás Dumit Estévez Raful Espejo Ovalles
May 6 - June 11, 2022
Opening Reception, May 12th 6:30 - 9:00 PM.
Nao Bustamante Performing Live at 7:30
In ROCKING THE MARKET three queer Latina/x performance artists, Nao Bustamante, Carmelita Tropicana and Marga Gomez, experiment with food through performance, video, audio and written art forms.
Food represents and embodies life in all of its manifestations and nuances. Taste is the idiom the tongue usually remembers even when native languages have been suppressed, surrendered, hybridized, slowly forgotten or eradicated. Food is political; encompassing non-human animal rights, eco-activism, veganism, vegetarianism, food justice, and hunger. These food 'conversations' include, what is eaten and who gets to eat on our generous, but exploited planet. Forget sexuality, politics and religion; they are all contained in any given dish. Buen provecho.
Nao Bustamante's intimate dialogues with flour, water, and salt, while baking bread during the isolating Covid pandemic is an act of reclaiming somatic connections in her West Coast kitchen that transforms into an 80's discotheque. In a podcast, Carmelita Tropicana talks to us about her obsession with food while simultaneously using humor as a weapon to decolonize a number of food items that are no longer associated with their actual birthplaces. Marga Gomez shares the script for a Cuban Mojito, a drink that has been so utterly gentrified that she has to argue against a white-washed recipe that calls for vodka instead of Caribbean rum, because the latter is "…too dark." Any way you experience it, be certain that this exhibition will not prompt you to fast.
Photo: Carmelita Tropicana roof top, Photo by Uzi Parnes
ROCKING THE MARKET refers to two interpretations of "to rock." In the case of a baby, it entails infusing security in the newborn, as we move them gently from side to side. However, it also points to an iconoclastic reading, which alludes to shaking something to the core of its foundations until the house crumbles like a coffee cake. Likewise, this exhibition delves into food and eating as it pertains to indigeneity, immigration, hybridization, memories, and appropriation within the context of the United States. ROCKING THE MARKET 's understanding of the market, with a capital "M", is that of the establishment or temple-like structure taking the shape of oppressive and outdated systems overdue to be Rocked furiously. Their quivering and melting hopefully allows for regeneration.
This exhibition finds its home in the South Bronx, a place that houses the biggest produce market in the U.S. and yet is where the majority of our neighbors experience a food apartheid on a daily basis. The three cult figure artists in ROCKING THE MARKET stir a cast iron cauldron of ingredients in their performance and comedy that spices up the presentation!
Along with the exhibition, there will be a series of live actions including Hamburger Hands by Nao Bustamante to be performed live during the opening on May 12th. In June, Carmelita Tropicana will do a performance for children and families involving fruits and vegetables while Marga Gómez will join us online with a cabaret style comedy. Check back for updates and more information.
This exhibition is dedicated to the late José Esteban Muñoz
This exhibition is a prelude to INDECENCIA! opening at Leslie-Lohman Museum of Art this coming Fall.
– Nicolás Dumit Estévez Raful Espejo Ovalles
Masking and vaccination requirements are still in effect for indoor public activities at BRAC until further notice. Please help us stay safe through the current surge of the highly contagious BA2 variant.