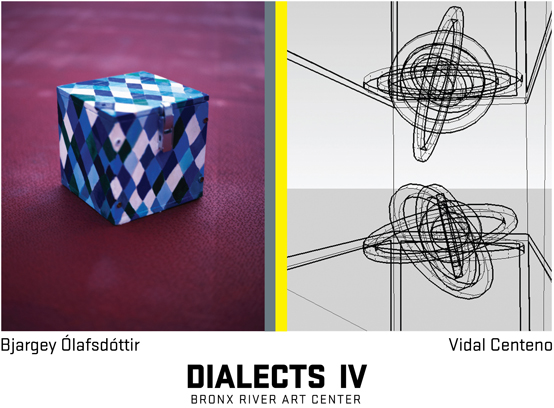 Dialects IV
On View from April 09, 2010 – May 29, 2010
curated by José Ruiz
Bjargey Ólafsdóttir (Reykjavík, Iceland) - Scintilla - Gallery 1
Vidal Centeno (Bronx, NY) - 1:24 - Gallery 2
DIALECTS IV is the fourth and last exhibition of BRAC's DIALECTS exhibition series, pairing local Bronx artists with international artists. Working under the umbrella of local and international dialogue, research, and collaboration, local Bronx artists and international artists are paired together to create and present side-by-side solo exhibitions in BRAC's storefront gallery. In order to further the definition of the "international" and "New York" artist, while simultaneously bridging cultures and ideologies, BRAC has invited artists who hail from countries that are currently underrepresented in the global art scene, as a parallel response to the Bronx's own position within the New York art community.
In Scintilla, Icelandic artist Bjargey Ólafsdóttir uses her camera to recapture the transitional state in between dreaming and waking up. This series of images, guided by memory, explore the ephemeral areas of the artist's psyche. Each photograph is gracefully constructed with no digital or printing manipulation and simultaneously engages universal concerns of existence, landscape, and time.
Bjargey Ólafsdóttir was born in Reykjavik in 1972. She studied Visual Arts at the Iceland Academy of the Arts and got her M.F.A. from the Finnish Academy of Fine Arts Helsinki. While studying, she did exchange studies in Photography and Filmmaking at the University of Art and Design Helsinki, the University of Film and Photography in Gothenburg, Sweden, and at the Universidad Complutense de Madrid. Bjargey also did studies in Film Directing and Screenwriting at the Binger Film Lab, Amsterdam. Her art and films have been shown in museums, galleries, and film festivals in over 30 countries. She lives and works in Reykjavík, Iceland.
In 1:24, Vidal Centeno compresses BRAC's rear gallery into a 1:24 scale model, with two rotating gyros puncturing the space. The gyros present the duality between the two-person show and the context of such an exhibition within West Farms: a confluence of streets, highways, train tracks, and bus zones. In this state of transfer, transport, and exchange, the artist's model/sculpture – once set in motion, filmed, and projected – bisects the room's angular shape by extending perceived, interior space and absorbing exterior sounds and movements. The aspect of time is also compressed, but in reverse (24:1 – 24 hours into an hour) and made visible by the changing direction of the light: from east to west, dark to light, and dark again.
Vidal Centeno is a visual artist living and working in the Bronx. He primarily focuses on projects that combine assemblage, installation, and various other media. Centeno has recently exhibited at the Bronx Museum, El Museo del Barrio, Longwood Arts Gallery in the Bronx, and Westport Arts Center in Connecticut. At Pratt Institute in NY, Vidal studied painting and graphic design from 1978-1982.
Image Captions:
1-2. Bjargey Ólafsdóttir, Scintilla, 2010, installation details, dimensions variable
3. Bjargey Ólafsdóttir, Magic Box, 2009, giclee print, 32.25" x 32.25"
4. Bjargey Ólafsdóttir, Dream Mountains, 2009, giclee print, 32.25"x32.25"
5. Vidal Centeno, 1:24 (installation view), 2010, single channel video, 37min 56sec
6-8. Vidal Centeno, 1:24, 2010, stills from single channel video