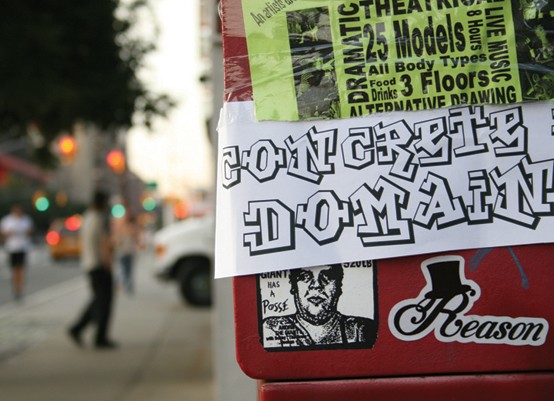 Concrete Domain
On View from July 28, 2006 – August 31, 2006
Wall paintings and prints by Billy Colbert & Kelly Towles
curated by José Ruiz
Bronx River Art Center is proud to present Concrete Domain, an exhibition of new wall paintings and recent prints by two emerging artists who have based their oeuvre on what most denizens consider to be the mis en scene of urban wasteland. From this perspective, these artists have found a graceful visual language to discuss the atrophy of contemporary society: its irony and its maladroit humor. Influenced by the Harlem Renaissance, Pop Art and Graffiti Art movements of the 20th Century, Billy Colbert and Kelly Towles bring forth this generation's take on the post-urban aesthetic.
About the Artists:
Billy Colbert is a one-man artist, gallery-owner, provocateur and educator based in Washington, DC. He has received numerous awards, including the Purchase Prize & Best of Show Award at the African American Museum in Dallas, Texas and a Presidential Fellowship from the University of Delaware. He is the founder of Cubicle Ten Gallery in Baltimore, MD and currently serves as an adjunct professor at American University in Washington, DC.
Kelly Towles is an artist and graphic designer. Raised as a graffiti artist, Kelly has curated several prominent exhibitions based on street art, such as Wallsnatchers & Bollocks, which featured an international array of contemporary street artists. Towles' work has been recently exhibited in New York and Miami, FL and is represented by David Adamson Gallery in Washington, DC.