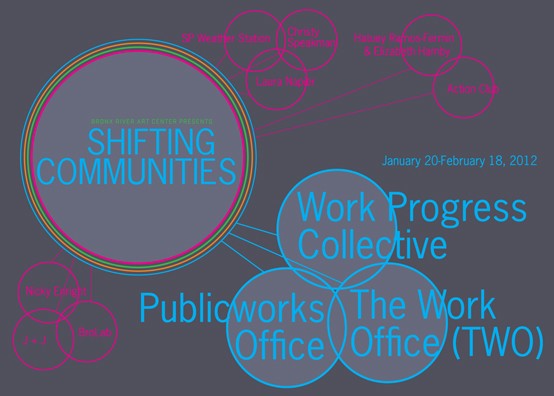 Shifting Communities: The Work Office (TWO), Publicworks Office (PwO), Work Progress Collective (WPC)
On View from January 20, 2012 – February 18, 2012
Opening Reception: January 20, 2012 from 6-9pm
305 E. 140th St. Bronx NY 10454
Bronx River Art Center (BRAC) is proud to announce Shifting Communities: The Work Office (TWO); Publicworks Office (PwO); Work Progress Collective (WPC). This is the fourth of four exhibitions and continuation of the roundtable dialog series from our 2011-2012 gallery program.
Shifting Communities highlights dynamic initiatives in culture and the arts currently at work in the margins of the art world and American society. The goal of this project is to create a paradigm where community-centric contemporary art and artist think-tanks can be a tool for public service; a language for the exploration and investigation of the broader aspects of culture and society; and a magnet that can bring different cultures and ideologies together in order to strengthen a more inclusive definition of community.
In the fourth exhibition of the series, three collaborative projects The Work Office (TWO), Publicworks Office (PwO) and Work Progress Collective (WPC) present workworkwork, which examines various approaches to the idea of work and how it is defined and viewed. Creating sites of work in the gallery, workworkwork will investigate work as physical labor, work as symbolic labor, and work as work. TWO will hire artists for a week and compensate them with Depression-era wages. PwO will publish a volume of analytical/speculative case studies and create an installation of symbolic objects "re-collected" from local communities of material and symbolic exchange. WPC will conduct surveys and focus groups, creating generative inflows to the workworkwork process as well as a broader project archive.
The Work Office (TWO) is a multidisciplinary art project disguised as an employment agency. Modeled on the Works Progress Administration (WPA) of the Great Depression in the 1930s, TWO is a gesture to "make work" for visual and performing artists, writers, and others by giving them simple, idea-based assignments to explore, document, or improve daily life in New York. From a temporary central office at BRAC's gallery, TWO's administrators—Katarina Jerinic and Naomi Miller—interview, register, and hire employees; assign, collect, and exhibit work; and distribute Depression-era wages to artist employees. At the exhibition opening and through an online open call, TWO will recruit artists and others to apply for work to create Bronx-centered projects responding to one of TWO's assignments. Applications are due January 24 and are followed by interviews. Once hired, artist employees will have a week to complete their assignments. At a Payday Party on February 10, artist employees will be paid $23.50, the weekly wage for an artist in the Federal One Project (the arts division of the WPA). Employees will receive their paychecks and the public will be invited to view their work and learn about the project. Completed assignments will remain on view from February 11-18.
Publicworks Office (PwO) proposes a reassessment of discarded urban objects that have exited the "legitimate" logistical flow of material production (i.e. manufacture-wholesale-retail-landfill distribution) to "re-collect" around informal urban aftermarkets (e.g. the flea market). Through improvised partnerships with local stakeholders, passersby and researchers, principal collaborators Jeff Maki and Alexandra Woolsey Puffer will develop an analytical/speculative case study in an unlimited edition (for re-collection and spontaneous re-circulation by gallery visitors) and an installation of objects re-collected from local communities of material and symbolic exchange. The project is a call for the recovery of objects that tell stories of power, and an intersecting investigation of the spaces, policies and practices through which individuals inhabit and transform the City of New York.
In its current incarnation, Work Progress Collective (WPC) functions as an agency interested in the present state of socio-statistic data of jobs, employment and work; exploring the possibility that each term can exist as mutually exclusive of the other(s). Administering a variety of questions through survey and focus groups, Erica Leone, Felisia Tandiono and Heather M. O'Brien of WPC engages South Bronx residents throughout local neighborhood areas of commerce, social and cultural activity (e.g., libraries, grocery stores, schools, churches, etc.). WPC research findings serve as a beginning form of community engagement, as foundational project archive materials, as well as a source of local information to feed the broader collective project, workworkwork. Public opinion research findings and the WPC archive will be displayed during the length of the exhibition. Gallery visitors are invited to contribute their responses to the questionnaire available at WPC's office corner within the gallery.
Alongside this exhibition will be a series of roundtable presentations, workshops, and discussions including a panel discussion moderated by Alicia Grullon: "Becoming Green in the Bronx" on February 5. Please refer to our website for more information about this panel and the ongoing schedule of Shifting Communities events.
Image Captions:
1. Shifiting Communities Promotional Graphic, 2011. Courtesy of Bronx River Art Center.
2. The Work Office (TWO) Logo. Courtesy of The Work Office (TWO)
3. Publicworks Office, Sensor City (Kenny Chesney concert air quality emissions plot), 2007. Courtesy of Publicworks Office.
4. Lower Manhattan Cultural Council Art Center at Governors Island Open Studio, 2010. Courtesy of Work Progress Collective.
Images from the Opening Reception:
This exhibition is made possible with support from the New York State Council on the Arts, a state agency. Additional support is provided by the New York City Department of Cultural Affairs, Bronx Borough President Ruben Diaz Jr., Majority Leader Joel Rivera, the Bronx Delegation of the New York City Council, New York State Senator Ruth Hassell-Thompson, The National Endowment for the Arts, the Deutsche Bank Americas Foundation's Arts & Enterprise Place-Based Revitalization Program, and The Andy Warhol Foundation for the Visual Arts.
The Andy Warhol Foundation for the Visual Arts
Beer has been lovingly provided by Brooklyn Brewery