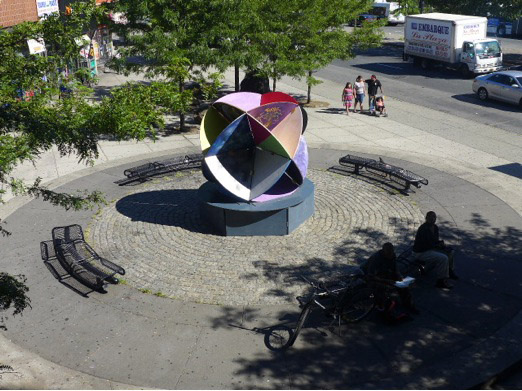 Tetra-Elements
On View from October 03, 2013 – February 01, 2014
BRONX RIVER ART CENTER AND NYC DOT UNVEIL "TETRA-ELEMENTS," A 9'-TALL SCULPTURE IN THE HEART OF WEST FARMS, BRONX THURSDAY, OCT. 3 AT 4:30 P.M. IN WEST FARMS SQUARE PLAZA
The Bronx River Art Center (BRAC) and the New York City Department of Transportation (DOT), through its Urban Art Program's Arterventions initiative, are pleased to unveil a new, temporary public art sculpture by Bronx-based artist Manuel Acevedo in collaboration with the Bronx River Art Center's Teen Project Studio. Acevedo's sculpture, Tetra-Elements will be on view for several months at the center of West Farms Square Plaza—located at the base of the West Farms Square/East Tremont Avenue subway station on the corner of East Tremont Avenue and Boston Road in the Bronx, one block from the Bronx River Art Center.
Manuel Acevedo, who is a BRAC teaching artist, and local teen artists developed the designs for Tetra-Elements. The tetrahedron, which stands [9'x8')] and is made from plywood, is inspired by natural and urban elements from the Bronx River community and West Farms. The physical structure is made up of equilateral triangles and graphic symbols expressing a universal design in which the energy of creation organizes itself into a form.
Tetra-Elements is the third collaboration between BRAC and DOT's Urban Art Program to temporarily install public art at this location. As part of its commitment to enhancing the public realm and strengthening community partnerships, the Urban Art Program identified the sculpture's location as a priority site for temporary public art due to its proximity to mass transit and the area's commercial corridor and the community's support for beautification initiatives for the plaza.
Through a Deutsche Bank Americas Foundation's Arts & Enterprise Place-Based Revitalization Grant, BRAC launched the West Farms Square Renewal Committee, a consortium of local businesses and organizations to renew the public spaces that make up West Farms Square.
About the Artist:
From the New York Times by Holland Cotter, Published on August 18th, 2010:
"Born in Newark in 1964, Mr. Acevedo is known for his inventive mixing of photography, video, flip-book animation and camera obscura optics, as well as for his success at sustaining indie-artist status. He has let his professional life unfold almost entirely within the sphere of alternative art organizations, relying on teaching, community work and residencies to circumvent reliance on the commercial gallery system."
About NYC Department of Transportation's Urban Art Program: Launched in October 2008, DOT's Urban Art Program is a dedicated public art program that helps bring the agency's vision of "World Class Streets" to life by working with nonprofits and community-based organizations to install murals, sculptures and other art forms in plazas and on medians, triangles, sidewalks, jersey barriers and construction fences for up to 11 months. For more information, visit www.nyc.gov/urbanart. For photos, check out DOT's Flickr site at http://www.flickr.com/photos/nycstreets/collections/.

This project is made possible with support from the NYC Department of Transportation, Deutsche Bank Americas Foundation and the Simon Bolivar Foundation.
VISITING Tetra-Elements
* VIEWING HOURS 7 days a week / 24 hours a day
* ADMISSION Free