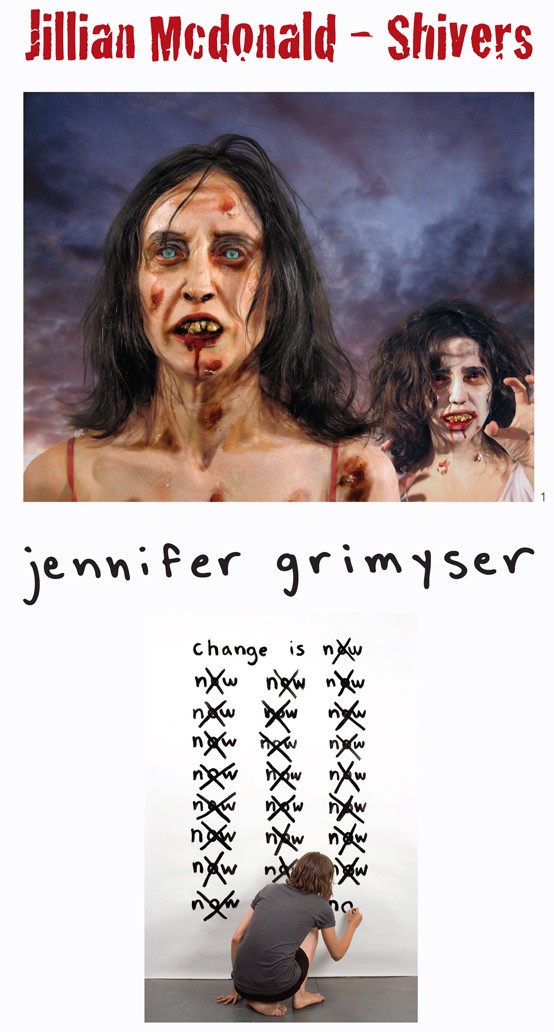 Jillian McDonald - Shivers  |  Jennifer Grimsyer
On View from January 16, 2009 – March 14, 2009
The Bronx River Art Center opens two solo exhibitions on Friday, January 16, 2009 at 6pm. The exhibitions feature NY artists Jillian Mcdonald in Gallery 1 and Jennifer Grimyser in Gallery 2. The exhibition will be on view until March 14, 2009.
Jillian Mcdonald's exhibition, Shivers, features recent work in photography and video that chronicles her ongoing deconstruction of the psyche of horror — as witnessed in movies, cartoons and popular culture. By adopting the character of the haunted or hunted, the artist often performs or captures herself as a zombie, vampire or victim. The sensational premise of standardized "horrorshows" allows the artist to exploit the absurdities of these exaggerated story lines with deadpan and humorous gestures that bring us back to human reality. The choice to reference such an animated and accentuated genre initially offers the viewer a sense of familiarity. The invitation is later turned on itself when the viewer is asked to engage in works that can only be experienced through interactivity and participation, such as, The Sparkling – an interactive video installation that causes a chandelier to rattle and shriek as the viewer enters its proximity or Zombie Portraits – a series of lenticular photographs that expose transformations between human and zombie depending on the viewer's position.
Jennifer Grimyser's self-titled exhibition frames the contexts in which language and image co-exist and often dominate one another. Through photography, drawing and printmaking, the artist explores the disparity between language and image to create visual statements built to spill, fracture and juxtapose her own expressive acts. Grimyser's recent work encompasses a series of performative acts that create earnest compositions driven to scribble or draw themselves out of their corners. Through lyrical/linear gestures of addition, omission and separation, the work confronts the stagnant act of verbal/visual usage and interpretation. As guest writer Erin Sickler states, "Many of Grimyser's works whisper in this dialect of absence, where what remains unsaid is given as much weight as what is. This indirectness is closely tied to ambiguity—that which makes all communication tenuous. Quietly, it wonders aloud at the lengths we must go in order to make ourselves understood."
Essays by guest writer Erin Sickler also accompany the exhibitions. Click here to read the essays.
About the Artists:
JILLIAN MCDONALD
Education:
MFA, Hunter College, New York, NY, 1999
BFA, University of Manitoba School of Art, Winnipeg, 1993
Selected Awards / Grants / Fellowships:
New York Foundation for the Arts, Video Art Fellowship, 2008
Headlands Center for the Arts, Artist in Residency, 2008
New York University, Scholar-in-Residence, 2007
Lower Manhattan Cultural Council, Workspace Residency, 2006
Selected Exhibitions:
La Sala Naranja, Valencia, Spain, 2008
Moti Hasson Gallery, New York, NY 2007
Jack the Pelican Presents, Brooklyn, NY, 2006
YYZ Gallery, Toronto, Canada, 2005
JENNIFER GRIMYSER
Education:
BFA, Maryland Institute College of Art, Baltimore, MD, 2006
Selected Awards / Grants / Fellowships:
Women's Studio Workshop, Residency Grant, 2008
Vermont Studio Center, Artist Fellowship, 2008
Women's Studio Workshop, Studio Fellowship, 2007
Selected Exhibitions:
Binnewater Arts Center Gallery, Rosendale, NY, 2008
3rd Ward Gallery, Brooklyn, NY, 2008
Gallery 2 Project Space, Chicago, IL, 2007
Current Gallery, Baltimore, MD, 2006
GUEST WRITER: ERIN SICKLER
Erin Sickler is the New York correspondent for the German art magazine Kunst Bulletin and the Curatorial Assistant and Exhibitions Manager at the Queens Museum of Art. She received her undergraduate degree in Visual Art from Oberlin College and an interdisciplinary graduate degree in Art History and Museum Studies from New York University.