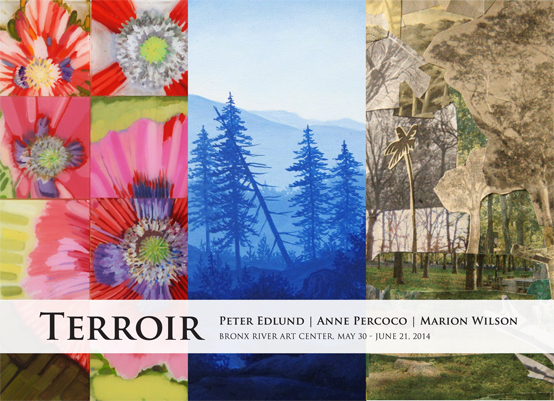 TERROIR
On View from May 30, 2014 – June 21, 2014
Peter Edlund, Anne Percoco and Marion Wilson
Curated by Tattfoo Tan
Session FIVE of our Curatorial Practice Series
Opening Reception: Friday, May 30 from 6-9pm
305 East 140th Street (off Alexander Avenue)

Terroir is a group exhibition that endeavors to investigate and rekindle our relationship with the land. War, hunger and inequality are all social conflicts that have historically influenced the issues of rights and ownership of land in order to benefit the few. The alienation and disassociation with the concepts of place and land severely impact the daily lives of all citizens in our global village. Place and space is a continually evolving subject matter that shapes aesthetics, geography, politics and the social welfare of a nation resulting in a variety of visual articulations through art.
Terroir features the work of three visual artists whose artistic practice evoke powerful undertones that foster an expansive discourse about the complexities of our society's relationship to land. Peter Edlund finds meaning in Native American heritage and language via its relationship to geography and history, Anne Percoco repurposes everyday objects and upcycles these materials into art and Marion Wilson creates acrylic "skins" inspired by our urban and suburban environment.
Exhibition Events:
Exhibition Opening
May 30th, 2014, 6pm - 9pm
ADMISSION FREE
Workshop:
A workshop with Peter Edlund
Native American Origins of the place-names in New York
June 5th, 2014, 5pm - 6:30pm
ADMISSION FREE
Live Gallery Performance:
Music/Video Performance by Michael Durek
Jun 13th, 2014, 7pm - 8pm
ADMISSION BY SUGGESTED DONATION
Peter Edlund creates paintings that examine contemporary social and political issues. He uses nature and landscape paintings as a metaphor to explore the struggles of the disenfranchised, the revision of history and our psychological conditioning. Edlund's latest series of work Forgotten New York: Re-Tagging our Native Heritage investigates the relationship of geography and history, in an effort to rediscover the original names of various localities based on American Indian languages translated into English.
Anne Percoco assembles her collages from images of trees and shrubs that she collected from New York and New Jersey phone books, a product which is quickly becoming obsolete. Most of these images come from ads for landscaping companies, which seek to control nature and may use toxic chemicals for aesthetic effect. In her other work, the artist uses disposable found materials like scrap fabric, water bottles and recycled paper. These everyday objects are constantly in production but we overlook the labor and energy that goes into making them. By repurposing and recontextualizing them as art materials, this energy and potential is reclaimed and put to use.
Marion Wilson works like a scientist looking through a microscope and studying the both endangered, native and plant materials; she abstracts the cell structure and every form and structure the plant offers in a series of oil paintings called "Anatomy of a Flower". Or Wilson presents drawings in a tray of slides, which evokes the feeling of a plant library - a knowledge that we are yet to unlock and discover. The miniature scale asks us to stop and look closely, and to do the same when outdoors. Wilson pays attention to the weeds in the cracks and ditches of our urban and suburban environment. And finally she also creates acrylic "skins" that are only visible when seen at different angles due to the iridescent nature of the acrylic paints.
About BRAC's Curatorial Practice Series:
Terroir is the fifth exhibition of BRAC's "Curatorial Practice Series," which sparks dynamic, inter-disciplinary collaborations between guest curators, artists, and art students enrolled in BRAC educational programs. The program curator is Karine Duteil. BRAC is dedicated to stimulating social growth through the arts by deepening our understanding of our mutual reliance, our dependence on the environment, and the interconnection of the natural and man-made parts of our urban world.