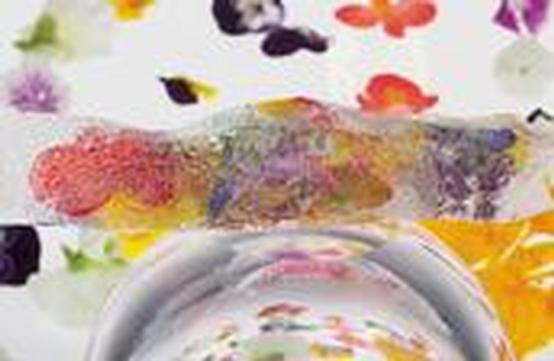 The Food Design Show
On View from January 09, 2015 – January 31, 2015
The first of our 2015 Exhibition Series, Food Systems, Surroundings & Sensibilities
Opening Friday, January 9, 2015, 6–9pm
305 East 140th St. in the Bronx, N.Y.
Month-long run includes Lecturers, Workshops and Film screenings.
The Bronx River Art Center (BRAC) is pleased to announce its first art exhibition of 2015 entitled, The Food Design Show - Food as Molecular Gastronomy, Artifact & Biosensor, opening with a reception on Friday, January 9, 2015 , 6–9 pm, at BRAC's temporary gallery space at 305 East 140th St. Bronx, NY. This is the first of a year-long series of exhibitions that will run through 2015, collectively called Food Systems, Surroundings & Sensibilities.
The Food Design Show addresses the content, or "container," of our sensory experiences and the act of food consumption through the eyes of artists. The exhibit seeks to break the boundaries of past limitations of how food is thought of (its culinary science) by addressing it through the lens of the visual arts and curatorial practice. Here, food is designed as molecular gastronomy, artifact and bio-sensory experience.
The exhibition will run through January 31, 2015 and will be accompanied by the following special events:
Opening Reception, Friday, January 9, 6-9pm
Workshop with Stefani Bardin and Dr. Toby Heys, January 12, 5-6:30pm
Lecture by Brett Littman, Executive Director at The Drawing Center, on "Ferran Adria?, Notes on Creativity", January 22, 7-8pm
Curated by Karine Duteil, the exhibition will feature the work of: Master Chef Ferran Adria? (curated by Brett Littman, Executive Director of The Drawing Center), Emilie Baltz, The Cotard Syndicate (Dr. Siddharth Ramakrishnan, Stefani Bardin, Dr. Toby Heys + Engineer Eric Rosenthal), and visual artist Maggie Nelson.
Ferran Adria, who was the head chef of elBulli restaurant in Spain's Costa Brava region, ,addresses food as molecular gastronomy. He currently works at the el Bulli Foundation, where he's developing a cooking lab and museum dedicated to the history and theory of cuisine, as well as the culinary wiki, Bullipedia. A true artist, Ferran applies his creative concepts on food to communicate his understanding of the world.
His first exhibition, Ferran Adria: Notes on Creativity was presented at the The Drawing Center, and curated by its executive director, Brett Littman (January 25 – February 28, 2014). This was the first major exhibition to focus on the visualization and drawing practices of the master chef. The works featured at the Bronx River Art Center will give insight to his creative process, and offer an extraordinary visual journey into one of the most creative mind.
Emilie Baltz is a playful artist who works at the intersection of technology, design, performance, strategy and visual arts. Her process mirrors that of a chef in the kitchen, mixing ingredients of expression by blending photography, product, environment and intention with the human senses to provoke new points of entry into the individual and collective experience. As a personal passion, she uses the eating experience as both lens and machine for cultural reflection and creation. In this way, Emilie works to reframe, re-question and remind us of the fundamental place food occupies in our life as a portal into both the primitive and the civilized. Here she explores the American dream through its food consumption.
Maggie Nelson designs objects that are concerned with utility and craft, and which have direct or suggested interactivity. The components of her floor piece "Tea Cozy" are held together by the design of the rug upon which they sit, and which could be considered a vessel for the fellowship that is an inherent part of breaking bread with others, or in this case drinking tea. At the same time, the rug is a functional object, which serves the purpose of holding something that is directly nourishing to the body.
"Vessels" and "Honey Pots" are concerned with similar ideas. Though abstracted from direct utility- each vessel is either being held or is holding another vessel, and though each is visible inside the other, appearing empty, they are all full of water. The "Honey Pots" suggest figures overflowing with golden liquid that draws the participants into a circle, and simultaneously the work is highly tactile, made of a sticky, edible liquid oozing from the clay pieces. The proximity of these three components to things which we ingest and that hold our food brings up ideas of nourishment, to contain and to be contained literally and conceptually, and the ritual of eating and drinking together as an act of communion.
Food as Biosensor through the work M(y)Crobes, a project by The Cotard Syndicate explores our cohabitation with microbes that live within, on and around us. Bacteria communicate with and influence each other with recent evidence pointing toward a contiguous network of filaments that allow for long- range communication of bacteria that use human forms as hosts. These artists and scientists have developed a wearable biosensor for the neck and wrist comprised of a disk of agar that is laid into a 3D printed bezel of recyclable ABS plastic that is exposed to the elements. Chia seeds or radish sprout seeds are implanted into the agar medium to track the microbial growth through the sprouting of these small plants. Thus, the wearer will see, in real time, the effects of their own biotic micro-ecosystem in concert with the macro-ecosystem of the environment. Microbiotic specimens collected from different part of the Bronx will be cultivated and documented throughout the exhibition.
This first exhibition of the series Food Systems, Surroundings & Sensibilities will be followed by four other exhibitions over the course of the next year. This important and timely project aims to find viable solutions to develop a more livable and healthy environment for our Bronx communities. Participating artists will explore such topics as the engineering of food, food activism, urban farming, food distribution systems, social justice, hunger, ethno-botany and ethnic foods, specifically in terms of community building.
This exhibition series is designed to shine light on the fact that although The Bronx is at the heart of New York City's food system (the Bronx Terminal Produce Market supplies fruits and vegetables to supermarkets and restaurants across the city, feeding millions of its inhabitants). Ironically, many parts of the borough are identified as "food deserts." This paradox engenders questions that our project will seek to answer: How are Bronx residents affected by available food choices? What are the challenges for a 21st-century city to feed all of its population? How are ideas of sustainability, livability and healthy environments being explored –and how should they be implemented for the future of our community? What roles can artists, community organizations and local activists play within these scenarios? The conceptual framework of Food: Systems, Surroundings & Sensibilities addresses these perspectives in order to identify inspiring and achievable solutions through the cross-fertilization of artists with our community's diverse groups of inhabitants and within its specific and distinctive landscape.