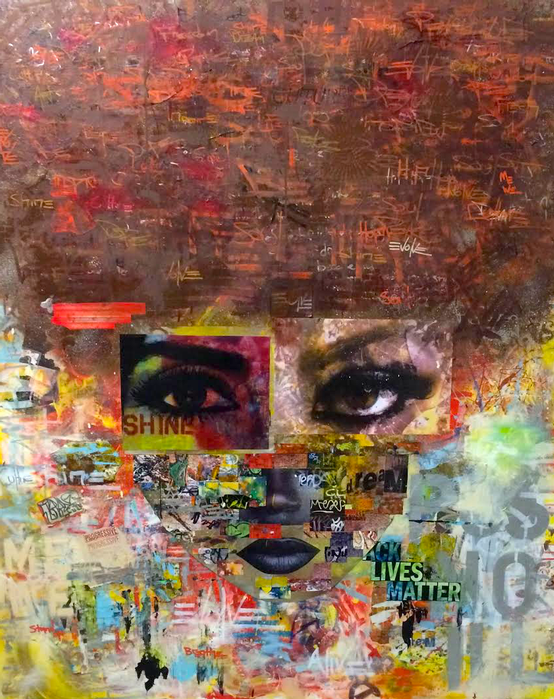 Africa: In Rhyme & Rhythm
On View from April 01, 2016 – April 30, 2016
Opening Reception: Friday, April 1st, 6-9PM
Live Performance by David "D-Black" Roberts
Featured Artists:
Lance Johnson
Mwende "FreeQuency" Katwiwa
Lerato Mokobe
Toluwanimi Obiwole
David "D-Black" Roberts
Curated by:
Christie Gonzalez & Gail Nathan
At Our Pop-Up Gallery:
Bronx Music Heritage Center
1303 Louis Nine Blvd
Bronx, NY 10459
Gallery Hours:
Wednesday - Friday: 3:00 - 6:30 PM
Saturday: 12:00 - 5:00 PM
The Bronx River Art Center (BRAC) is pleased to announce our two upcoming exhibitions, presented in partnership with The Bronx Council on the Arts' Bronx:Africa programming, which is a celebration of our borough, and the influence and art of African cultures that strengthen and transform us as a city.
The first exhibition, Africa: In Rhyme & Rhythm, on view through April 30th, focuses on the power of words, as they are written, illustrated and spoken. Spoken word poetry has traditionally been a form of activism, the poetry of people who have been repressed, linked to feminist, anti-discrimination and anti-war movements throughout history. Words have power, words are power.
"It is never my custom to use words lightly. If twenty-seven years in prison have done anything to us, it was to use the silence of solitude to make us understand how precious words are and how real speech is in its impact on the way people live and die." - Nelson Mandela
This April marks the 20th anniversary of National Poetry Month, which was inaugurated by the Academy of American Poets in 1996. Over the years, National Poetry Month has become the largest literary celebration in the world with schools, publishers, libraries, booksellers, and poets celebrating poetry's vital place in our culture. This exhibition is 30 days of celebrating the joy, expressiveness and power of poetry through the work of 5 artists who pay tribute to culture and identity. Opening with a live performance by one of the exhibiting artists, D-Black, Africa: In Rhyme & Rhythm includes projected footage of performances by four spoken word artists and activists, mixed-media work by a visual artist inspired by Hip Hop, and a Create-Your-Own Poetry Wall for the public to participate and become a part of the exhibition.
Lance Johnson is a mixed media artist born and raised in NY. As a young man raised in the Golden Age of Hip Hop, Johnson fell in love with art when he was introduced to the work of a pioneer of the Jazz Era, Romare Bearden. As Jazz informed Bearden's work, Hip Hop informs Johnson's. Bearden's gritty energy and improvisational style can be seen in Johnson's mixed media work, such as in his 48"x60" piece in the exhibition, titled "Shine", 2016.
Mwende "FreeQuency" Katwiwa, born in Kenya, is a Black, Immigrant, Queer Womyn poet based in New Orleans. Known for her social justice work and poetry, she was ranked 3rd at the 2015 Individual World Poetry Slam, FreeQuency is also an Anti-Racist and Reproductive Justice organizer. Her Spoken Word performances being presented as part of this exhibition are "Lessons on Being An African Immigrant in America", "The 7 Deadly American Sins", and "Embracing Weakness".
Lerato Mokobe, based in Cape Town, South Africa, is a black transgender award-winning slam poet and the founder of Vocal Revolutionaries, a literary organization focused on empowering African youth. Mokobe is also a teaching artist and 2015 TED Fellow, his TED performance about what it feels like to be transgender is included in the exhibition, along with another titled "Cancer".
Toluwanimi Obiwole, born in Nigeria, and Colorado-raised. Announced last year as Denver's inaugural Youth Poet Laureate, Obiwole works with youth to promote poetry in everyday life, and has authored two books. Her own poetry explores ideas of family, cultural identity and femininity, such as in the performances included in our exhibition, "Passport", "How To Make A Whole City Your Home", and "Sugarcane".
David "D-Black" Roberts, is a Bronx native who has been writing and performing poetry for a number of years. Being a direct descendant of an African mother (from Sierra Leone) and being born and raised in African-American surroundings has helped D-Black to look at his culture from "both sides of the fence." His work often deals with Black awareness and unity, as in his performances included in the exhibition, "4 Men" (A Tribute to Nina Simone's Four Women), "WORDS", and "Curriculum".
The exhibition opens with a reception, including a live performance by D-Black, and an interactive poetry wall for the community to create their own poems and become a part of the exhibition, on Friday, April 1st, from 6 p.m. to 9 p.m. at BRAC's pop-up gallery, while our building's renovation is just months from completion. The Bronx Music Heritage Center is located at 1303 Louis Nine Blvd, off the Freeman St stop on the 2/5 Trains.