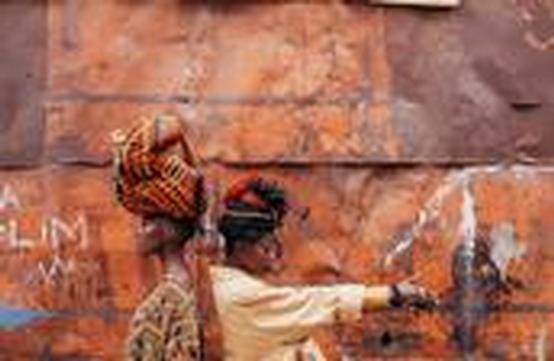 Africa: In Fashion & Fabric
On View from May 06, 2016 – June 04, 2016
Opening Reception: Friday, May 6th, 6-9PM
Closing Reception: Saturday, June 4th, 1-4PM
with AFRIPOP Fashion Pop-Up Shop, Fashion Show & More!
Featured Artists:
Jojo Abot
AFRI-NA-LADI Collective
Archel Bernard & The Bombchel Factory
Curated by:
Christie Gonzalez & Gail Nathan
At Our Pop-Up Gallery:
Bronx Music Heritage Center
1303 Louis Nine Blvd
Bronx, NY 10459
Gallery Hours:
Wednesday - Friday: 3:00 - 6:30 PM
Saturday: 1:00 - 6:00 PM
RSVP on Facebook or Eventbrite.
The Bronx River Art Center (BRAC) is pleased to announce our upcoming exhibition, Africa: In Fashion & Fabric, the final in a two-part series presented in partnership with The Bronx Council on the Arts' Bronx:Africa programming, which is a celebration of our borough, and the influence and art of African cultures that strengthen and transform us as a city. The first exhibition, Africa: In Rhyme & Rhythm, is still on view through April 30th, and focuses on the power of words, as they are written, illustrated and spoken, celebrating National Poetry Month.
In this exhibition, we are presenting African fashion design and fashion photography. As fashion has become the focus of an increasing number of museum exhibitions, we are tasked with the question, "When does fashion become art?". Fashion and art are both a translation of an idea, a response to inspiration, an expression of emotion, and a result of an artistic process. They can both have commercial aspects to their creation and can be produced in multiples or a series. Conceptual art is defined by the idea or concept behind the work, rather than the finished art object. Ideas expressed in terms of fashion are accessible to audiences in a way that contemporary art is not, we do not have to be fashion scholars to understand the language of fashion. We use fashion every day to express our own ideas, about our heritage, culture, society, identity, and self.
"An artist's duty, as far as I'm concerned, is to reflect the times."
- Nina Simone
Africa has been getting a lot of attention in the fashion world lately, and for good reason as these designers are changing the scene by basing their business models on local resources, artisanal skills and sustainable production. With designs inspired by the colors, sounds and heritage of the continent, they are capturing the essence of today's African fashion. Old meets new, with bright traditional prints in contemporary styles.
This recent increase in media presence for African fashion may be attributed to the influence of social mediums like Instagram and Facebook, where trends jump borders instantaneously. Africa is now home to more than 1.2 billion people, and it is estimated that nearly 67 percent of the population across the continent is aged below 30. This large youth population is bringing incredible growth and energy to the fashion industry, showcasing their talent on an international stage.
Africa: In Fashion & Fabric presents the work of several contemporary African fashion designers and artists, who are doing amazing things both within their communities, as well as internationally. In this exhibition, the artists explore and celebrate the rich traditions and culture of Africa, in the medium of fashion.
Jojo Abot is a Ghanaian creative juggernaut who channels her creativity through multiple mediums and media including but not limited to fashion, music, film and design. In the exhibition, Abot is presenting both solo design and film works as well as works from a collaborative art residency in Nairobi, Kenya. Abot curated the residency, which later evolved into the artists collective, AFRI-NA-LADI.
The AFRI-NA-LADI Collective was created as the result of a collaborative multimedia residency featuring a selection of Africa's most innovative underground artists in Film, Photography, Music, Fashion & Literature. The residency took place in Nairobi, Kenya from December 2015 through March 2016. The project was documented online and curated by Jojo Abot, and the collective was formed following the residency.
Archel Bernard founded The Bombchel Factory, producing ethically made, high quality garments by hiring disadvantaged workers in Liberia, including Ebola survivors, rape survivors, and students from the Hope School for the Deaf. The mission and the clothes are unforgettable, and several designed garments are presented as part of the exhibition.
The exhibition opens with a reception on Friday, May 6th, from 6PM to 9PM at BRAC's pop-up gallery, while our building's renovation is just months from completion. A closing reception will also be presented at the gallery space on Saturday, June 4th, from 1PM to 4PM, including an African Fashion Pop-Up Shop, a Fashion Show, and more to be announced. The Bronx Music Heritage Center is located at 1303 Louis Nine Blvd, off the Freeman St stop on the 2/5 Trains.