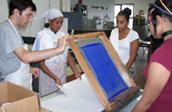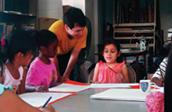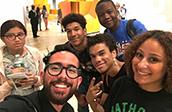 Our Teaching Artists
Drawing & Painting
Manuel Acevedo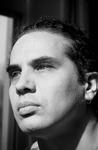 Manuel Acevedo's work combines projected image, wall drawing, animation, and photography to explore how light and movement shape experience. Through various media he employs visual language in ways that transform flat, static images into active spaces of experimentation. Acevedo has been exhibiting his work in the United States and abroad for over twenty years. Recent exhibitions include Translated Cities, at the Shirin Gallery in NY, Playing with Fire at El Museo del Barrio in NY and Our America: The Latino Presence in American Art (traveling exhibition) curated by E. Carmen Ramos at the Smithsonian American Art Museum in Washington D.C. He has had solo exhibitions at the Bronx River Art Center, Latino Cultural Center in Dallas, TX, and Jersey City Museum. Among his awards and residencies are those received from the Joan Mitchell Foundation, Visual Artist Network, Longwood Arts Project, Mid-Atlantic Foundation, and Studio Museum in Harlem, AIR.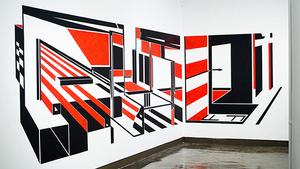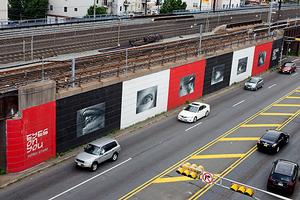 ---
Joel Adas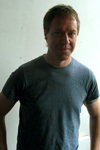 Joel Adas began painting and drawing in earnest during adolescence; his early heroes included Albert Ryder and Pablo Picasso. In 1988, Adas was fortunate enough to spend a year in Florence, Italy. The beautiful landscape and rich painting tradition were just the inspiration he needed to launch him on a career as a painter.
Shortly after earning a Bachelor of Fine Arts at Mason Gross, the art school at Rutgers University, in 1992, Adas moved to New York to pursue a Master of Fine Arts at SUNY Purchase college. Having obtained his MFA in 1996, he moved to Williamsburg, Brooklyn — then and still a hotbed for young artists and gallerists — where he continues to reside.
Adas has and continues to paint landscapes often showing natural settings with a hint of human presence in the form of a cabin, power lines, a skyscraper, or an airplane. His atmospheric, painterly works recall those associated with the Hudson River School or the likes of Camille Corot. He shows an adept ability to capture the fleeting moments of ever-changing light.
Adas, also like Corot, keeps his works small and intimate. But unlike the master, his work only hints at humans, never actually including them. He also brings a fresh perspective, presenting unique cropping and framing — the top of a steeple with a lot of sky, or branches in the immediate foreground framing a faraway cloudscape.
Recent paintings focus to a great degree on riverscapes, rough with windswell, with strong horizon lines and ever-more hazy objects, most often a cargo ship. Other paintings focus completely on sky and clouds. While still clearly representational, these edited works lean toward abstraction and a greater sense of emotion.
Adas has exhibited with a number of galleries both in Williamsburg and Manhattan. His studio in Greenpoint, Brooklyn, is a block from the East River, and he often takes breaks by walking down to the shore and taking in the beautiful mix of buildings, water, boats, birds, and sky.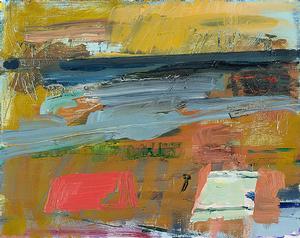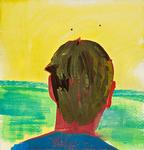 ---
Michele Brody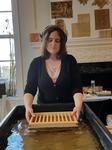 Michele Brody has been working with BRAC since 2010. She received her BA from Sarah Lawrence College in 1989 and an MFA from the School of the Art Institute of Chicago in 1994. Utilizing her strong background in the liberal arts, Michele creates site-specific, mixed-media installations and works of public art that are generated by the history, culture, environment, and architecture of a wide range of exhibition spaces. While living and working in such places as France, Costa Rica, California, the Midwest, Germany, and her home of New York, her art career has developed into a process of working in collaboration with each new community as a means towards developing an interpretation of the sense of a place as an outsider looking in. Michele has recently had exhibitions of her work at The Bronx Museum of the Arts and the Julio Valdez Project Space in Harlem, and she also recently worked as as an artist in residence at the Wave Hill Winter Workspace.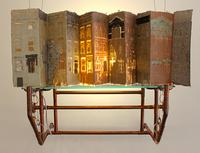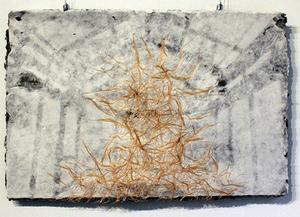 ---
Diane Davis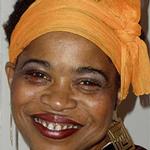 Diane recently joined BRAC as a teaching artist. Diane Davis mixes color palettes to provide emotional density through textures and form. Her ongoing visual exploration of the urban environment is acknowledged for its range and scope.Two paintings, Sunrise Dancers and Log Cabin, are in the permanent collections in The Schomburg Center for Research and Black Culture, New York, NY. She has exhibited nationally. Among the many museum and gallery exhibitions to her credit are the Hampton Museum, Hampton, Virginia; the MoCada Museum, Brooklyn, NY; The Elizabeth Foundation for the Arts, New York, NY; The Longwood Art Gallery, Bronx, New York; and The National Black Fine Arts Show, New York, NY, 2008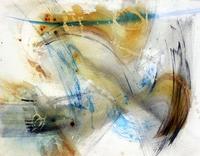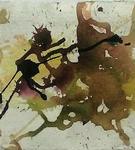 ---
Michael Ferris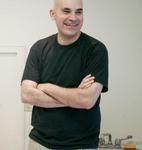 Michael Ferris lives and works in Bronx, NY. He received a B.F.A. in painting from the Kansas City Art Institute in 1991 and a M.F.A. in painting from Indiana University Bloomington in 1996. He has attended residencies at RAIR, Roswell Artists-in-Residence, Roswell NM; Sculpture Space, Utica, NY; Henry Street Settlement, NYC; Saltonstall Residency, Ithaca, NY; and The Walsh-Walentas Space Program, NYC.
He produces figurative sculpture with a colorful surface ornament of inlaid patterns by employing reclaimed wood and a self-invented wood overlay technique. His work is informed by his own Lebanese heritage, especially Middle-Eastern inlaid backgammon tables that were present in his childhood home in Chicago.
Through his sculpture, made from reclaimed wood, Michael addresses the issues of environmentalism and waste of our consumerism-oriented society. His desire is to transform previously discarded material into ornate, beautiful and penetrating works of art.
Ferris has lectured at many institutions including: The Elmhurst Art Museum, IL: Lehman College, Bronx, NY; The New York Academy of Art, New York, NY; and The New York Studio Residency Program, Brooklyn, NY. Michael has also served on the Artists' Advisory Committee for the New York Foundation for the Arts, NYC.
His work has been exhibited widely throughout the nation at notable institutions including: The Elmhurst Art Museum, IL, The Bronx Museum, NY; The Queens Museum of Art, NY; ATM Gallery, New York, NY; Katonah Art Museum, NY; Stefen Stux Gallery, New York, NY; de Young Museum, San Francisco, CA; and The Illinois State Museums, IL.
Michael has received awards from numerous organizations including: The New York Foundation for the Arts (2009), The George Sugarman Foundation (2005), The American Craft Council (2002).
Ferris' work can be found in public collections, such as the de Young Museum, San Francisco, CA; Illinois State Museum, Springfield IL; and Crystal Bridges Museum of American Art, Bentonville, AR.
His exhibitions have received reviews from: The New York Times, The New York Daily News, and The Chicago Tribune. His work is included in the recent book, "The Figure, Painting, Drawing and Sculpture", published by Rizzoli International.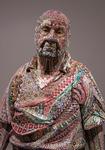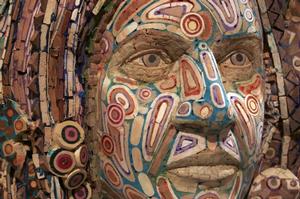 ---
Rosemarie Fiore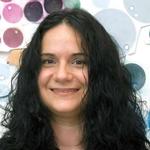 Rosemarie Fiore lives and works in Bronx, NY. She typically produces artwork out of the actions of mechanisms by converting popular technology such as lawn mowers, cars, waffle irons, floor polishers, pinball machines, fireworks and amusement park rides into painting machines.
Fiore received her BA and BFA from the University of Virginia, Charlottesville and MFA from The School of the Art Institute of Chicago. She has attended residencies at Art Omi International Artists Residency Program, Ghent, NY, Yaddo, Saratoga, NY, Skowhegan School of Painting and Sculpture, Skowhegan, ME, The MacDowell Colony, Peterborough, NH, Roswell Foundation AIR Program, Roswell, NM, Sculpture Space, Utica, NY, and the Bronx Museum (AIM Program), Bronx, NY.
She has received awards through The New York Foundation for the Arts, Brooklyn, NY, The New York State Council for the Arts, New York, NY, The Sally and Milton Avery Foundation, The Bronx Council on the Arts, Bronx, NY, The Walentas-Sharpe Foundation, Brooklyn, NY, The Lower East Side Print Shop, New York, NY, The NYC Department of Cultural Affairs and The Dieu Donne Paper Mill, New York, NY.
Her solo and group exhibitions include: The Weatherspoon Art Museum, Greensboro, NC, The SCAD Museum of Art, Savannah, GA, Von Lintel Gallery, Los Angeles, CA, Winkleman Gallery, New York, NY, The Anderson Gallery VCUarts, Richmond, VA, Grand Arts, Kansas City, MO, The Bronx Museum, Bronx, NY, The Queens Museum of Art, Flushing, NY, Socrates Sculpture Park, Long Island City, NY, Anderson Museum of Contemporary Art, Roswell, NM and The Franklin Institute of Science, Philadelphia, PA.
She has been reviewed by The New York Times, New York Magazine, Art in America, Artforum, The Village Voice, NY Arts Magazine, FLAUNT Magazine, Art Papers Magazine, The Washington Post, Art on Paper, Artcritical.com and Art Ltd. Magazine.
Her work is included in many public collections including UBS Art Collection, Zurich, Switzerland, Fidelity Corporate Art Collection, Boston, MA, Weatherspoon Art Museum, Greensboro, NC, The Cosmopolitan Hotel, Las Vegas, NV, Neuberger Berman, New York, NY, The Aspen Collection, New York, NY, Capital One, Richmond, VA and The Franklin Institute of Science, Philadelphia, PA.
Fiore is represented by Von Lintel Gallery, Los Angeles, CA.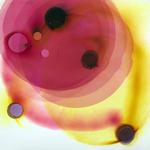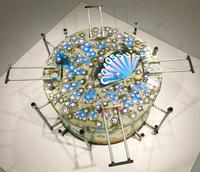 ---
Larry Jackson
Larry Jackson is an illustrator that loves all things design. He considers himself a problem solver that finds interesting solutions through the creative process of design. As an educator, he is skilled at applying all aspects of creativity to design highly-engaged, successful, appealing solutions to any educational project. He also possesses a proven ability to lead project teams to successfully deliver agreed-upon, superior-quality solutions.
---
Arthur Kvarnstrom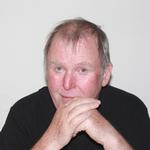 Arthur Kvarnstrom is a landscape painter whose work has been exhibited in galleries and museums throughout the United States, including Trahern Gallery at Austin Peay State University in Clarksville, TN and the Noyes Museum in Oceanville, NJ. In New York, his paintings have been exhibited in solo shows at the Prince Street Gallery, where he has been a member for ten years. New York group exhibitions include the George Billis Gallery and the Kouros Gallery. Recently, Kvarnstrom was awarded an artist's residency by the Heliker-LaHotan Foundation on Cranberry Island Maine. He has an MFA from Kent State and currently lives in Manhattan.
Painting outside onsite offers a set of experiences completely different from studio painting. Being outside, immersed in the sights, sounds, and smells that are an inevitable part of the environment, provides sensory input not available in the studio. Kvarnstrom likes to think that these ephemeral and peripheral experiences somehow become part of the final work and are subsequently communicated to the art audience. While there are some distinct disadvantages to painting outside, with each season providing its own unique inventory of miseries, the positives offset the negatives. Working directly from nature encourages freedom from formula. Since everything changes quickly, it also supports the cultivation of simplicity of means, boldness, directness, and a reliance on intuition.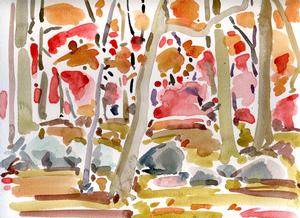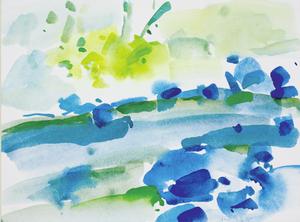 ---
Tiffany Miller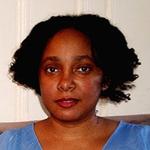 Tiffany Miller is a multi-disciplined, experimental artist from The Bronx. She is primarily a self-taught artist, though she studied briefly at The Arts Students League. Tiffany's paintings are surreal, expressionistic, mournful, and darkly humorous. Many of the bright colors she uses invoke the Caribbean Carnival tradition. She is a poet and storyteller who experiments with visual storytelling methods to explore themes of colonialism, spirituality, colorism, death, transformation, and carnival. Her work was featured in France and Brazil as part of the Street Art without Borders Project and at various galleries in the New York Area, most recently at the Corridor Gallery in Harlem.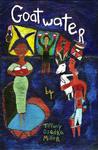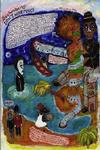 ---
Ana Ruiz-Castillo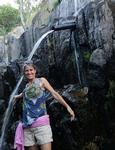 For 16 years, Ana Ruiz-Castillo has taught visual arts to children ages 2-18 at numerous public schools throughout the NYC area, as well as in Connecticut and Massachusetts, including her time spent as Director of Visual Arts at Harlem School of the Arts (2012-2015).
Ana has partnered with institutions such as No Longer No Empty, the National Black Theatre of Harlem, and City College, where she engaged the students in exhibitions on social justice and income inequality. She has also participated in exhibitions at the Harlem Arts Fair, The Wright Museum, and the Sugar Hill Building.
Her teaching experience ranges from specific subjects such as sculpture, ceramics, drawing and painting, and mixed media, to curricula-integrated classes in the public school system, including 10 years (2002-2012) as an artist in residence at the School for Excellence in the Bronx (High School) and after-school programs throughout the city. Furthermore, Ana has experience working with students with mental disabilities and autism, having worked with PS 176 and ARC for several years.
Ana has served as a panelist for the Brooklyn Arts Council Art Regrant twice, Apex-Art, and the Harlem Arts Alliance, and she has created a few Staff Development workshops for teachers from PS 176 and School for Excellence.
From 2015 to 2016, Ana opened her studio to the neighboring children in Bridgeport, CT, starting her own after-school program where she taught art to children from the South End and Hope School. Now, back in NYC, she is a teaching artist for Marquis Studios and teaches throughout the city's Public schools.
Ana has managed to continue creating her own artwork in her studio, having evolved from sculpture to painting. She has been committed to arts education in the arts, yet she has also participated in exhibitions in the University of Bridgeport, Bridgeport Art Trail, Biennal Latinoamericana del Bronx, Lincoln Hospital, Centro Español, Harlem School of the Arts, National Black Theatre of Harlem, and the Queens Museum of Art.
Ana firmly believes that exposing children to the arts is crucial in their development as productive, creative happy human beings.
---